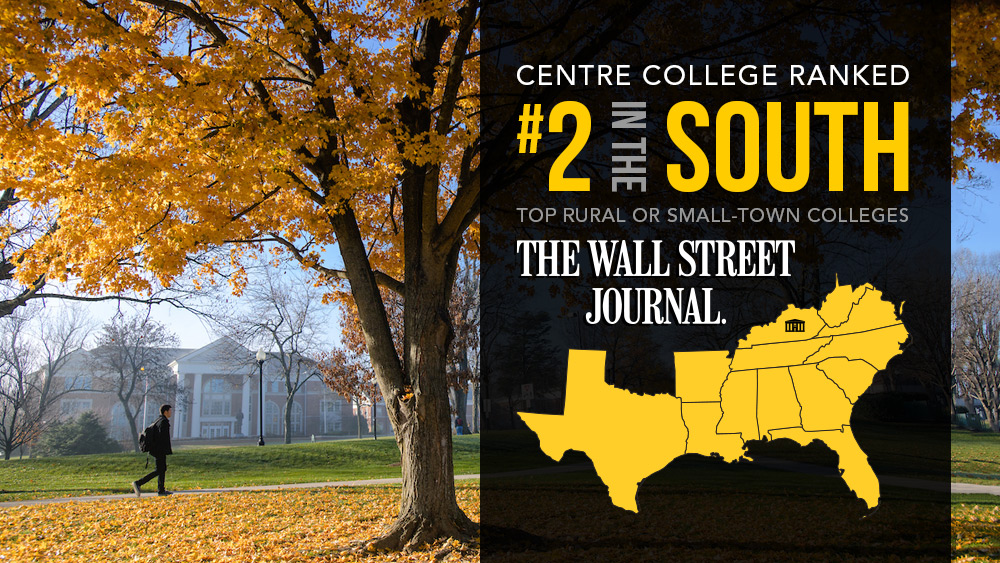 DANVILLE, Ky. (Feb. 1, 2018) – When the Wall Street Journal set out to determine the top 10 colleges in the South in small-town settings, Centre College came in at #2 on the list, just behind Washington and Lee University and ahead of Sewanee: The University of the South.
The ranking was conducted in partnership with the Times Higher Education weekly magazine based in London. By definition, institutions in a small-town or rural setting have populations of less than 25,000 but greater than 2,500.
Many of the nation's best colleges fit these criteria.
On a similar list for Top Northeast Schools, for instance, schools like Dartmouth, Williams, Middlebury, Bowdoin, Colgate, Bucknell and Colby appeared among the top 10 in that ranking.
The rankings methodology focused on four categories: resources, engagement, graduate outcomes and learning environment.
As part of the ranking, students responded to a survey and Centre scored high marks in terms of prompts about "right choice," "career preparation" and "inspiring" environment.
Students scored Centre highest when asked, "If you could start over, would you still choose this college?"
The second highest response rate occurred when current students were queried, "Is your college effective in helping you to secure valuable internships that prepare you for your chosen career?"
Finally, student responses were similarly positive when asked, "Does your college provide an environment where you feel you are surrounded by exceptional students who inspire and motivate you?"
When town size is not a criteria, Centre does equally well in other rankings that delineate by region.
Forbes, for example, has ranked Centre as high as #3 in the South. Kiplinger's Personal Finance, which looks at best values in higher education, recently ranked Centre #4 in the South, behind only Davidson College, Washington and Lee University and the University of Richmond.
Complete information about this WSJ/Times Higher Education ranking is available here.