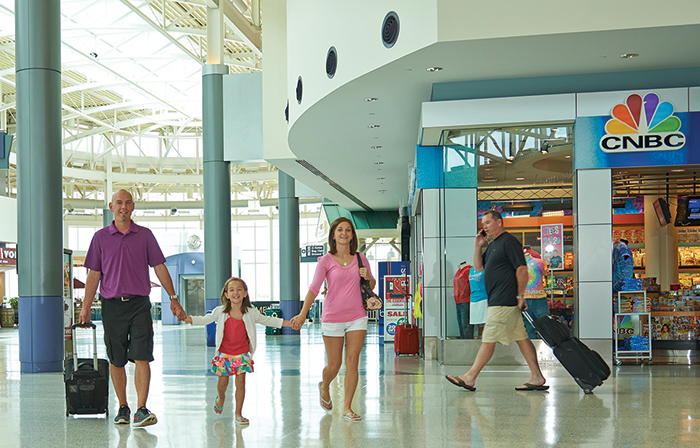 By Susan Gosselin
If recent predictions from the Kentucky Data Center are true, the state's population will grow 10.4 percent by 2040, and Boone County will contribute disproportionately to the total, becoming Kentucky's third most peopled county by 2035 just behind Jefferson and Fayette, home to Louisville and Lexington.
That's one of many reasons transportation infrastructure grows ever more crucial to Northern Kentucky's future, experts say. This importance, however, is providing even more lift to a rising mood at the airport, where years of efforts are paying off now in more carriers, flight destinations and reduced airfares. 
CVG creates $4.4 billion economic impact
Cincinnati/Northern Kentucky International Airport is making continued gains on passenger traffic, thanks in part to the recent addition Southwest Airlines, as well as adjusted schedules on Delta Airlines, and additional Frontier, Allegiant, and United Airlines flights. In fact, according to the U.S. Department of Transportation, the airport has seen year over year passenger growth of 16 percent for 2017, versus a national average of just 4 percent. CVG has the only nonstop flight to Western Europe in Kentucky and Ohio.
"CVG has real momentum, and we're looking for ways to keep that momentum going," said Candace McGraw, CEO of the CVG. "We're looking well into the future, and asking a lot of questions. What will be the changes in airline technology in the future? How will people want to park their cars? What kind of passenger amenities will we need to have? In the next 16 months, we're continuing a study and expect to finish our public input to come together with a plan that will help keep this region moving. We're looking forward to it."
McGraw is quick to point out that air travel is a major driver of economic growth – with the airport directly responsible for $4.4 billion in economic impact in the region, according to a recent study by Northern Kentucky University and University of Cincinnati.
"We have 450 direct employees of the airport but 13,000 employees who work at some part of our campus through our vendor/partners. Our airport is already a DHL Express (air freight) super hub, and with Amazon Prime's Air new cargo hub coming in soon, those employment numbers will skyrocket," McGraw said. "We're able to do all this because our airport has the advantage of being very land rich. We have 7,500 acres, and our plan is to make much of that land available to other companies in logistics, travel and aircraft maintenance. It's a symbiotic relationship that helps all our businesses grow, together."
Now in the design and planning stages at CVG, the Amazon Prime Cargo Hub promises game changing potential for the region, with $1.5 billion in investment and 2,700 employees coming on board when the facility is finished. The company has leased 920 acres from the airport for the next 50 to 65 years, and McGraw said CVG already is starting to see a lot of interest from other related companies that want to locate nearby.
These new additions have made the Cincinnati metro area's airport the fastest growing cargo airport in North America.
On the road to expanded ground transportation
The airport is big Northern Kentucky news, but there is continuous activity with regard to moving people on the ground, an issue intrinsically tied to workforce development and quality of life.
"Only 5 percent of jobs today are reachable by public transit," said Andrew Aiello, general manager of TANK, the Transit Authority of Northern Kentucky, "and that has to change. More population is moving into the cities, especially the suburban areas of those cities. And the trend toward suburbanized employment is kicking up, too, as more plants and headquarters and retail opens in those locations. A critical link is needed now."
TANK serves 35 cities in Boone, Campbell and Kenton counties, with 11,000 people riding its buses daily. Of those, 1,200 pass through the TANK Transfer Center in Covington, which recently underwent a $1 million renovation. An additional new transit center is planned near the mall in Florence, which TANK hopes will give it the opportunity to develop new services and connections in the area.
Addition of a new East-West route two years ago has helped connect all its service areas, Aiello said, and more route changes are being implemented after TANK's recent network study revealed growing and persistent needs in the area.
"TANK is focused on getting people back and forth to employment," Aiello said. "And with the expansion of companies like Toyota and Amazon, there is more need than ever for people to have safe, affordable transport. We've been very fortunate to have the support of local companies, who have been working with us to try pilot programs with busing service aimed at their large employee bases."
He points specifically to TANK's recent pilot with Amazon, which allows TANK to provide weekend service connecting employees at the retail fulfillment giant's distribution center in the Hebron area. Like other companies now considering pilot programs, Amazon helped TANK defray the cost of adding the service. After six months, TANK has declared the pilot successful enough to continue the route, with ridership exceeding initial projections. TANK also is working on a pilot program with Cincinnati-based Convergys, Aiello said.
TANK is making investments in mobile amenities providing real-time information for passengers. It is creating tools for the mobile phone that allow passengers to plan their trip, track the location of busses, and even pay fares electronically.
"People need to have access to our services in the most convenient, and timely way possible," Aiello said. "Technology is a part of that. This region is growing, and the potential for continued growth could be stymied if we don't invest in higher levels of frequency for our routes. Our success will rise and fall based on how effectively people move in this region. It's critical to our economic future."
Like most states, Kentucky has more road project needs than money to complete them. However, the Kentucky Transportation Cabinet's new grading system, Strategic Highway Investment Formula for Tomorrow, has ranked several Northern Kentucky roadwork projects high on its list. According to the SHIFT priority listing released in late 2017, the Cabinet will invest $1.8 billion to reduce congestion from US 27 to the Ohio state line, and $1.5 billion for the rehabilitation and replacement of the Brent Spence Bridge, as the projects are number seven and 12 on the list, respectively.
Northern Kentucky also is known for its opportunities to travel by foot or bicycle, thanks in part to pedestrian friendly projects like the Purple People Bridge, Cincinnati Red Bike, Riverfront Commons, and a sidewalk on the historic Roebling Bridge.
AAA Florence Taxi Service
Florence
At Your Service Taxi
Newport – atyourservicetaxinky.com
Cincinnati/Northern Kentucky International Airport
Hebron – cvgairport.com
Red Bike
Cincinnati & Northern Kentucky – cincyredbike.com
TANK/Southbank Shuttle
Fort Wright – tankbus.org