By Susan Gosselin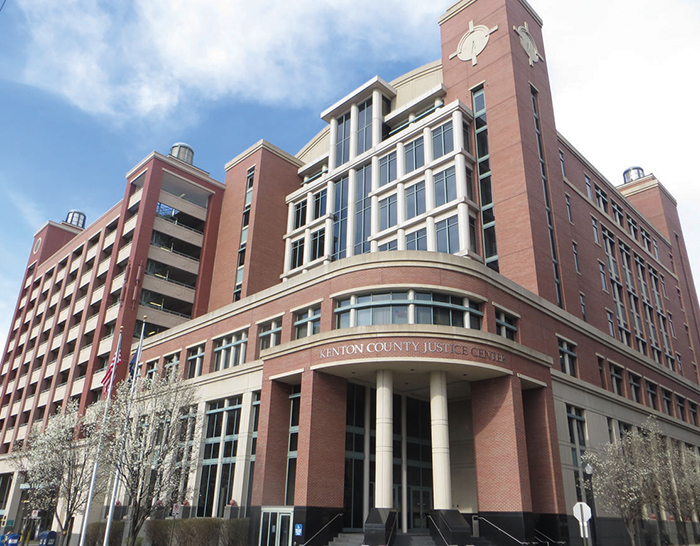 A deep bench of legal services talent is contributing to Northern Kentucky's economy boom.
Bill Geisen, partner at Stites & Harbison PLLC, opened the firm's Northern Kentucky office in Covington in 2012, and has presided over a steady increase in business. The region's upward economic trajectory means there now are five lawyers in Stites' Northern Kentucky office.
"The Greater Cincinnati economy is booming, and Northern Kentucky is strong, too," Geisen said. "The construction market is on its way upward, which means commercial real estate is on the rise. The banking industry is looking good again, and it's growing. We're seeing a major uptick in mergers and acquisitions, and due to the information age we live in, a big focus on cyber security and data privacy. All of it bodes well for the legal industry, and we're seeing increased opportunities to serve our clients in new and meaningful ways."
Jim Dressman, managing partner/CEO of Dressman Benzinger LaVelle PSC in Covington, points to recent development announcements in the area as the culprit for much of the increase in work. In particular, he named Amazon's early 2017 revelation that it will build its first ever Amazon Prime Hub employing 2,700 people at the Cincinnati/Northern Kentucky International Airport.
"Amazon has driven a lot of real estate transactions and rezoning outside the airport property, in particular," Dressmen said. "There's significant engagement with Frankfort right now, as companies are looking for corporate deals in Kentucky. Our firm is rooted in the community, and top of mind, so we are picking up a lot of work related to that."
Bingham Greenebaum Doll LLP, a major regional firm based in Louisville, said it plans to expand its office in Cincinnati to keep up with the opportunities it sees in the metro area.
"We do have plans to aggressively grow our Cincinnati office," said Bradley C. Arnett, partner at the Cincinnati office.  "This is driven partially by the growth in Northern Kentucky, and recent efforts by private and public entities in both Cincinnati and Northern Kentucky to pull together in a more regionally
focused manner."
According to the Kentucky Annual Report from the University of Kentucky's Gatton School of Business and Economics, Northern Kentucky's employment growth at 1.9 percent for 2016 is well above the national average and that of many parts of Kentucky.
Opportunity in niche expertise
Arnett said that much of the growth in the Bingham Greenebaum Doll office tracks the rising tide of the economy around many of Kentucky's key industries.
"Legal needs in the Northern Kentucky area tend to be for clients operating in the areas of automotive support, financial services, distribution and logistics, and food manufacturing and processing," he said.
All of those interviewees for this story agreed that law firms have, in general, been affected by the migration of more legal work to in house corporate legal departments. It doesn't mean work has disappeared, though. It means more of the routine work is being handled internally, but the need for outside counsel has actually increased as the complexity of the business landscape
has increased.
"More and more these days, we are competing with law firms inside companies. But we are seeing growth coming from our ability to develop deep niches of expertise," Dressman said. "For instance, the regulatory pressures on healthcare continue to grow, as more organizations compete for (hospital bed) certificates of need, or grapple with HIPPA privacy regulations. The size of banking transactions and the sophistication of borrowers has driven the level of complexity in legal contracts for the banking industry. And as the business landscape gets more complex, we're also seeing more 'bet-the-company' type corporate litigation cases, too."
Geisen said legal work centered around real estate is a big part of what his firm does in Covington. But, like most other legal firms, it is seeing a consistent need for legal work surrounding cybersecurity that spans many segments.
"It's a product of the world we live in," Geisen said. "The need to keep data private affects every part of a company. Companies are asking for solid legal advice around the storage and use of data – data about their customers, their products, and even their own employees. The agreements companies have with their employees are a concern as well, as it is now so easy to share proprietary information over the Internet. We are lucky to have deep resources in cybersecurity through the Stites network, and we're seeing a lot of demand for that in our area."
As Northern Kentucky, like the rest of the nation, continues to gray and more people than ever head for retirement, they are seeking lawyers to help sort through it all.
"Estate planning work is growing quite a bit for us," Dressman said. "Wills that were completed 30 years ago are now being updated. Succession plans are being drawn up to turn over companies to the next generation. More and more, my clients are giving thought to how they want to donate their money after they are gone. Many want to make sure they don't overindulge their children and grandchildren, and they want to make sure they've made an impact on the community."
As they look to the future, Northern Kentucky is a business community where they see sustained growth opportunities.
"The growth of the legal industry really reflects the vibrancy of our market here," Geisen said.
Northern Kentucky's bright legal services future is shaped partly by its storied past. The late William Robinson III who practiced for nearly 50 years, including his final stint at Frost Brown Todd LLC, helped shape legal practices and education in the region, as well as intense community involvement in all sectors. And he was also an American Bar Association president in 2011-12. His great leadership presence helped mold the business scene in Northern Kentucky.
Bingham Greenebaum Doll LLP
2350 First Financial Center
255 East Fifth Street
Cincinnati, OH 45202
(513) 455-7600
Bingham Greenebaum Doll LLP is a business law firm providing transactional, economic development, litigation, tax and succession planning services to clients ranging from Fortune 500 global companies to smaller, regionally based organizations across a variety of industries and business sectors for more than a century. The firm also provides estate planning and other services to individuals and non-profits. BGD has served the legal and business needs of clients for more than a century.
Stites & Harbison, PLLC
100 East RiverCenter Boulevard, Suite 450
Covington, KY 41011
(859) 652-7600
Stites & Harbison, PLLC is a full-service law firm known for managing sophisticated transactions, challenging litigation and complex regulatory matters on a daily basis. The firm represents a broad spectrum of clients including multinational corporations, financial institutions, pharmaceutical companies, manufacturing facilities, healthcare organizations, private companies, nonprofits, family-owned businesses and individuals.
Our approach to representing clients is straightforward. We make every effort to thoroughly understand each client's business and objectives in order to provide innovative solutions and exceptional client service. Including an office in Covington, Stites & Harbison maintains offices in Kentucky, Indiana, Tennessee, Georgia and Virginia.
Adams, Stepner, Woltermann & Dusing, PLLC
Covington – asdwlaw.com
Barron Peck Bennie & Schlemmer
Newport – bpbsla.com
BGD Law PLLC
Covington – bdglaw.com
Bramel & Ackley, P.S.C.
Fort Wright – bramelackley.com
Calfee, Halter & Griswold LLP
Cincinnati, OH – calfee.com
Cetrulo, Mowery & Hicks
Edgewood – cmh-law.com
Cors & Bassett, LLC
Cincinnati, OH – corsbassett.com
Dinsmore & Shohl LLP
Covington – dinsmore.com
Dressman Benzinger LaVelle PSC
Crestview Hills – dbllaw.com
Fessler, Schneider & Grimme, LLP
Fort Thomas – fsgattorneys.com
Freund, Freeze & Arnold
Fort Mitchell – ffalaw.com
Frost Brown Todd LLC
Florence – frostbrowntodd.com
Garvey Shearer Nordstrom, PSC
Fort Mitchell – garveyshearer.com
Graydon Head
Fort Mitchell – graydon.com
Greta Hoffman & Associates
Florence – hoffmanlawyer.com
John D. Christopher Jr., Attorney at Law
Alexandria
Katz, Teller, Brant & Hild
Cincinnati, OH – katzteller.com
Keating Muething & Klekamp PLL
Cincinnati, OH – kmklaw.com
Kenton County Attorney
Covington – kentoncoatty.com
Law Offices of B. Dahlenburg Bonar, PSC
Covington – lawatbdb.com
Law Offices of Shannon C. Smith
Covington – scsmithlaw.net
Legal Shield/ID Shield
Florence – legalshield.com
LegalShield
Union – greatworkplan.com
Linda S. Novakov & Assoc. PLLC
Florence – novakovlaw.com
Nielson & Sherry, PSC
Newport – nsattorneys.com
O'Hara, Ruberg, Taylor, Sloan & Sergent
Crestview Hills – ortlaw.com
Porter Wright Morris & Arthur LLP
Cincinnati, OH – porterwright.com
Raines, Buechel, Conley & Dusing, PLLC
Florence – rbcdlaw.com
Reminger Co., LPA
Fort Mitchell – reminger.com
Richardson and Vogt, PLLC
Covington – richardsonvogt.com
Smith, Rolfes & Skavdahl Co., LPA
Fort Mitchell – smithrolfes.com
Stites & Harbison, PLLC
Covington – stites.com
Strauss Troy Co., LPA
Covington – strausstroy.com
Taft, Stettinius & Hollister LLP
Covington – taftlaw.com
The Sanders Law Firm
Covington – thesanderslawfirm.com
Thompson Hine LLP
Cincinnati, OH – thompsonhine.com
Wallace Boggs, PLLC
Fort Mitchell – wallaceboggs.com
Weltman, Weinberg & Reis, L.P.A.
Brooklyn Heights, OH – weltman.com
William E. Hesch Law Firm, LLC
Cincinnati, OH – heschlaw.com
Wolnitzek, Rowekamp and DeMarcus P.S.C.
Covington – wrdattorneys.com
Wood & Lamping LLP
Cincinnati, OH – woodlamping.com
Wood, Herron & Evans
Cincinnati, OH – whe-law.com
Ziegler & Schneider, P.S.C.
Covington – zslaw.com