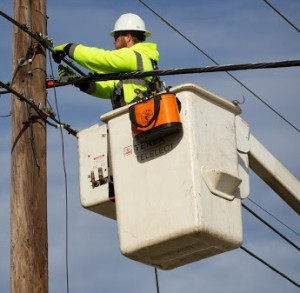 FRANKFORT, Ky. (March 1, 2018) — MuniNet Fiber Agency has entered into an agreement with the Commonwealth of Kentucky to build part of its KentuckyWired fiber optic cable project in Caldwell, Muhlenberg and Hopkins counties. MuniNet will construct approximately 66 miles of the 3,400-mile ultra-high speed cable network that will extend into every county in the commonwealth.
MuniNet chief technology officer Brent Shelton says the partnership will help make Kentucky a technological pioneer and leader in the U.S.
"Once this network is complete, it will provide a plethora of low cost services and resources not currently available to both the served and underserved areas of the state," said Shelton.
Sen. C.B. Embry, of Owensboro, added, "We are grateful to the folks at MuniNet for this commitment to build a significant portion of the KentuckyWired network in Caldwell, Muhlenberg and Hopkins counties. High-speed internet access is vital for improving economic development and education opportunities in our communities, and we are excited that this agreement will certainly improve access for our citizens."
"A project like KentuckyWired will be a great asset for Hopkins and Muhlenberg counties as well as the state overall," said Rep. Melinda Prunty, of Belton. "It will equip west Kentucky with the tools it needs to be an attractive place for job-creating businesses. It will give students improved internet access, which will enhance their educational experience and help mold them into productive future leaders of our state."
Phillip Brown, executive director of Kentucky Communications Network Authority (KCNA) — the agency charged with overseeing the KentuckyWired project — said, "This is a great benefit to the commonwealth, and we're happy to see the finalization of this partnership. Access to high-speed broadband internet is a must in today's world, and this agreement is a great step forward that will help speed up completion of the KentuckyWired project."
Similar agreements with Cincinnati Bell Telephone, Eastern Kentucky Network, Bluegrass Network, and Brandenburg Telephone have sped up the construction of the network and saved the KentuckyWired project over $23 million.
Further negotiations are currently underway for MuniNet to construct more of the KentuckyWired network in several other west Kentucky counties.