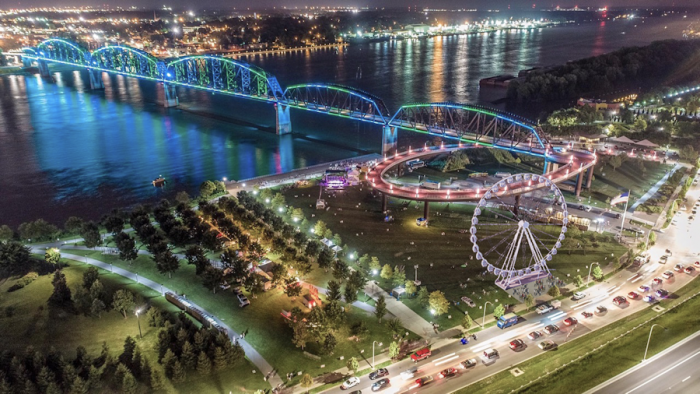 LOUISVILLE, Ky. (March 1, 2018) — The Waterfront Development Corp. joined Todd Schneider of SkyView Atlanta, Mike Berry of the Kentucky Derby Festival, and Stacy Owen of 91.9 WFPK Independent Louisville, to announce the spring debut of the SkyStar Observation Wheel at Waterfront Park's Big Four Lawn.
The Ferris wheel will land at Waterfront Park for a 5-week stay, providing rides on the Big Four Lawn from March 29-May 6.
"In addition to the local appeal the Waterfront Ferris wheel is sure to have, there are many groups meeting in Louisville in April that will be able to enjoy seeing the city from this fun vantage point as well," said Karen Williams, president & CEO of the Louisville CVB. "Some of those include students participating with Skills USA, VEX Robotics, and volleyball, drill and cheering competitions. Spring is a busy season for tourism in Louisville, including the build-up to the Kentucky Derby and Kentucky Derby Festival, so this is an excellent time to enhance our unique offerings with an additional attraction."
The SkyStar Observation Wheel is the culmination of years of planning and specialty design by SkyView Partners and Mondial World of Rides. Utilizing state-of-the-art technology and a specialty erection and dismantling system, the SkyStar Observation Wheel is not only one of America's tallest traveling wheels, but the most agile observation wheel in the world.
SkyStar features 36 climate-controlled 6-passenger gondolas that offer passengers impressive aerial views of the river over the top of the Big Four Bridge, Waterfront Park, and the Louisville skyline. In addition to the breathtaking views during the daylight hours, the Ferris wheel will feature a state-of-the-art LED light show every evening featuring over 1,000,000 colored LED lights.
SkyStar, Waterfront Park's newest visiting attraction, will be in operation during Thunder over Louisville and will serve as an anchor for a family-friendly area adjacent to the Big Four Bridge.
"SkyStar will be a new way for fans to experience Thunder on April 21st," said Mike Berry, Kentucky Derby Festival president & CEO. "The observation wheel will be a welcome part of Ford's Thunder on the Ground activities this year at Waterfront Park."
SkyStar will also be in operation during the April 25th WFPK Waterfront Wednesday, the season opener for the 17th year of this popular concert series.
"This season, WFPK Waterfront Wednesdays will introduce a new kids' activity area, led by 90.5 WUOL's Music Education Manager Jecorey Arthur," said Stacy Owen, WFPK's program director. "The SkyStar Observation Wheel will be a fantastic addition to the family fun we have planned!"
SkyStar will open on Thursday, March 29 and operate through May 6. Hours of operation will be Monday – Sunday, 11:00 a.m. – 11:00 pm. Ticketing and admission costs are as follows: Adult (Ages 12+) $14.15 + tax. Senior (Ages 65+) $12.74 + tax. Child (Ages 3 -11) $11.32 + tax. Children 2 & Under FREE. Military & Student (with valid ID) $12.74 + tax. Group tickets and special events inquiries via [email protected]; advance ticket purchases available at www.skystarwheel.com.
Food & Beverage: Upon entry, attraction guests will have access to Little Cheesers gourmet food menu and a full bar, including specialty cocktails. Directly outside the attraction, a family-friendly food court/zone will be provided by Festival Cuisine, making for a great family, friends, or date night experience.