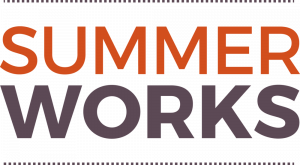 LOUISVILLE, Ky. (March 5, 2018) – A stronger pipeline of young talent is critical to Louisville's future, Mayor Greg Fischer said today in launching the SummerWorks youth jobs program for 2018.
"Summer jobs are critical building blocks for young people, and SummerWorks is crucial for the health of the local economy, because it creates a pipeline of future talent," Mayor Fischer said. "We want Louisville's business culture to be one where every company, large and small, hires or sponsors summer jobs for youth."
Last year, more than 160 companies and organizations hired SummerWorks youth. And already, momentum is building for this summer, with many employers hiring youth through the program for the first time, including Hilliard Lyons, Kelley Construction, Kentuckiana Comfort Center, iQor, Louisville Bats and Spectrum. Other companies, including Kentucky Kingdom and Thorntons, are increasing the number of young people they hire.
Today's program kickoff was at GE Appliances, where 13 SummerWorks participants have gone on to full-time work in the past two years.
"GE Appliances was one of the first Louisville companies to sign up for the SummerWorks program because we saw a critical need to build a pipeline of young talent who want a good career in manufacturing," said GE Appliances Vice President of Manufacturing Bill Good. "Working with SummerWorks has been a great experience, and I look forward to seeing the program grow as other companies begin to participate. It has been an excellent way to recruit motivated, energetic youth who have brought fresh thinking to our manufacturing operations."
Additional businesses where program participants have transitioned to full employment include the Hyatt Hotel, Humana, Kentucky Kingdom, Norton Healthcare and UPS.
Starting this year, SummerWorks will play an increasing role in creating more young talent through its alignment with the new Academies of Louisville initiative being rolled out at JCPS high schools. The goal is for every student to have had a summer job experience by the time they graduate their Academy high school.
"The SummerWorks program offers our students a unique opportunity to gain relevant and hands-on experience in the working world, which aligns perfectly with the Academies of Louisville structure," said Dr. Marty Pollio, JCPS Superintendent.  "And the benefits go both ways.  This summer experience not only builds on the classroom instruction, giving our students a real-world application to what they've learned, but because of the practical experience they've gained in the academies programs, they are sharper and more proficient employees for the SummerWorks business partners."
Companies and organizations that aren't able to directly hire youth this summer can instead sponsor jobs. A donation of $2,500 funds a summer job at a non-profit organization or city agency.
SummerWorks will continue creating job experiences that build entrepreneurial skills in young people by providing mini-grants to five local organizations: Empowered, Inc., Food Literacy Project at Oxmoor Farm, Jefferson Memorial Forest, New Roots and Pride Leadership Academy. The grants will fund work experiences for youth ranging from helping provide fresh produce in West Louisville, to developing fish hatchery tanks, to creating a business plan and website for a small business. Additional grants will fund job training and career exploration hosted at five local non-profit and public agencies.
SummerWorks is overseen by KentuckianaWorks, the workforce development agency for the Louisville area, in partnership with Louisville YouthBuild, which adds expertise in working with at-risk youth and provides mentoring and job-coaching. The goal is to provide even stronger long-term outcomes for young people involved in the program.
In 2014, SummerWorks was recognized by the U.S. Conference of Mayors as one of the nation's best summer jobs programs for young people.
The Mayor launched SummerWorks after taking office in 2011, in response to the elimination of federal funding for summer jobs. In that first year, the effort placed 200 young people in jobs. Last summer, more than 5,200 youth found summer work directly through the program and at its champion employers.
Other businesses that have committed to hiring SummerWorks youth this year include 4th Street Live, Dare to Care, GlowTouch Technologies, Interapt, Kindred Healthcare, Kroger, Louisville Zoo, Oxmoor Auto Group, Speedway and YMCA of Greater Louisville.
Employers and youth participants can sign up for the program at www.summerworks.org.