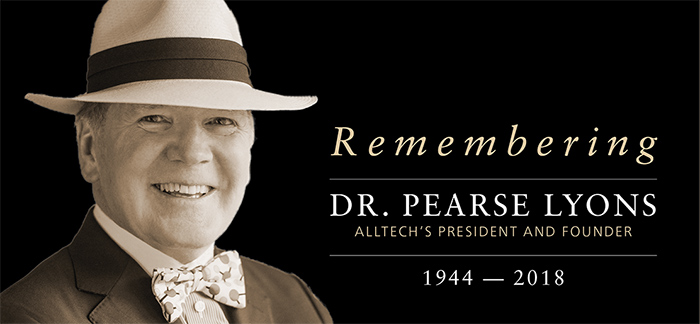 On Alltech president and founder Pearse Lyons' death Thursday, Lexington Mayor Jim Gray said: "Pearse was a builder. A builder of ideas and projects and people. A man of imagination, vigor, and enthusiasm. He was one of those rare, larger than life figures who had an influence far beyond our borders."
Agriculture Commissioner Ryan Quarles said: "It is with great sadness I have learned of Dr. Pearse Lyons' passing. Dr. Lyons was, at root, a visionary and an ambassador for Kentucky. When he founded Alltech in 1980, Kentucky agriculture changed forever. The institution he built, the jobs he created, and his boundless zeal for our state lit a spark that spread into a wildfire of innovation for Kentucky agriculture, from animal feed to our beverage, fuel, and industrial alcohol industries. Dr. Lyons also gave generously to numerous philanthropic endeavors and launched a global conference that has become a staple of Kentucky's spring calendar.
"A dear mentor of mine, he taught me the importance of continuous self-improvement and served as a role model and inspiration. My thoughts and prayers are with his wife, Deirdre; his children, Mark and Aoife; and the entire Alltech family during this difficult time."
House Democratic Leader Rocky Adkins said: "Kentucky lost one of the great ones today with the passing of Pearse Lyons. I don't know of anyone who was more innovative, who was more committed to excellence, or who was a better ambassador for the commonwealth. He made a true difference in all of our lives, and the legacy he established through Alltech will be felt for generations. He will be deeply missed."
"The Commerce Lexington Inc. family, its board of directors, and many throughout the regional business community at-large are saddened to hear of the passing of Alltech President and Founder, Dr. Pearse Lyons," said Commerce Lexington Inc. President & CEO Bob Quick.  "Dr. Lyons was not only a strong advocate for Kentucky and the Bluegrass, but through his visionary leadership, Alltech transcended business and industry to become a global leader in finding solutions to the world's most pressing issues.  We will greatly miss his optimism, involvement in the community, and his ability to see opportunity where challenges persisted.  We would like to express our condolences to Deirdre and the entire Lyons' family during this difficult time."
Tandy Patrick, the chair of the Kentucky Hose Park Commission, issued the following statement:
"The Kentucky Horse Park extends its deepest sympathy to the Lyons family upon the passing of our good friend, Dr. Pearse Lyons. The vision and support of Dr. Lyons and his wife, Deirdre, enabled the Kentucky Horse Park to host the 2010 Alltech FEI World Equestrian Games. The Alltech Arena, at the Kentucky Horse Park, is one of the nation's premiere equine event facilities. Both are legacies of his support.
"Dr. Lyons' energy, enthusiasm and belief that anything is possible will continue to be an inspiration to all of us."
University of Kentucky President Eli Capilouto: "The University of Kentucky, our alumni, and our friends are saddened to hear of the passing of Dr. Pearse Lyons. Dr. Lyons was a compassionate and committed community leader and global entrepreneur who founded Alltech and established it as a powerful brand and industry leader. He was a philanthropist, ardent supporter of the University, and deeply committed patron of the arts. Most notably, his support of UK Opera Theatre brought artistic expression and music performance to the community, and students supported by his generosity have shared their remarkable talent with audiences across the world. We are enriched by the legacy he leaves to our campus and community, and the UK family offers its condolences to Deirdre and the entire Lyons family at this time."