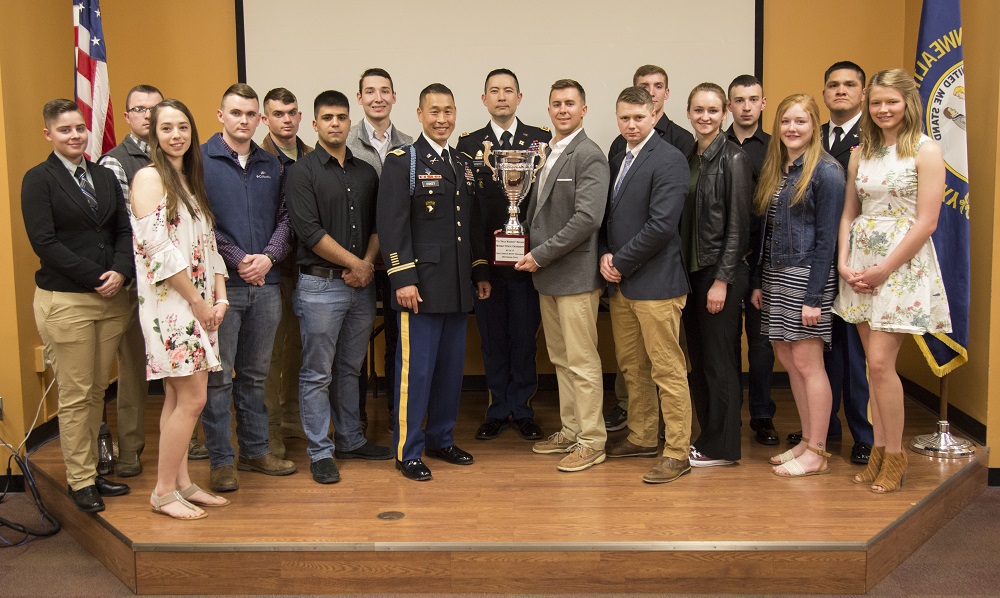 MURRAY, Ky. (April 12, 2018) — The Army ROTC program at Murray State University was recently honored with a regional recognition as the best Top Manned Partner program. The honor recognizes Murray State's ROTC program as the best extension program in the Kentucky, Tennessee, Ohio, Indiana and Michigan region.
The Top Manned Partner honor demonstrates officers' valuable contributions to the U.S. Army through a history of dedicated service. Murray State's ROTC program was established in 1952 and has a distinguished legacy of producing quality lieutenants.
"The award is a proud reflection of the continued standards and military tradition that have been a trademark of the Murray State program for the last 66 years," said Capt. Jason Payne.
A ceremony to honor the battalion was held April 12 in the Curris Center Barkley Room. The award was presented by Seventh Brigade Commander of the United States Army Cadet Command Col. Lance Oskey.
"This recognition honors the young men and women who have made ROTC a part of their Murray State experience on the way to serving our country," said Dan Lavit, interim dean of Murray State Regional Academic Outreach. "The University community is proud of the leaders produced through our ROTC program."