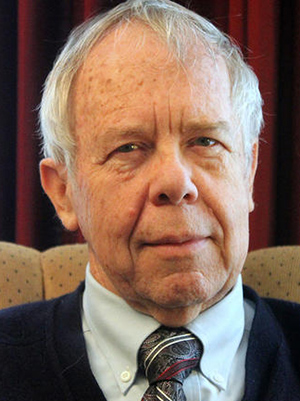 LEXINGTON, Ky. (April 23, 2018) ' Paul Eakin has been named the 2018 recipient of the William E. Lyons Award, co-sponsored by the University of Kentucky's Martin School of Public Policy and Administration and the Department of Political Science, in the College of Arts and Sciences.
This award is given each year to an individual associated with the university who has given outstanding service to UK, the community or the Commonwealth of Kentucky.
The award is named in honor of William (Bill) E. Lyons, former professor of political science and public administrator, who during his tenure at UK, also served as director of the Martin School and chair of the Department of Political Science. Lyons, who died in 1994, is credited with crafting the charter which created a merged government for Lexington and Fayette County in the early 1970's.
Eakin is a professor of mathematics at UK. The Louisiana native attended Louisiana State University, where he earned a bachelor's degree in math in 1964 and a doctoral degree in math in 1968.
Following a postdoctoral year at the University of Rochester, Eakin joined UK's math department. He spent the 1970s teaching, doing research and working with graduate students. Eakin served as the department chair from 1980-1986, but eventually began working with K-12 educators. His service-related research focuses on developing computing and communication facilities to allow collaboration between university mathematicians and in-service teachers. The effort, which began in the 1980s, continues to this day.
In a letter to the committee nominating Eakin for the honor, Russell Brown, chair of the UK Department of Mathematics said, "the work outlined above has only served to enhance his reputation. His work over the years is well-known across the state and is worthy of recognition by the W.E. Lyons Award."
One of Eakin's most remarkable accomplishments was working as the principal investigator of the Appalachian Mathematics and Science Partnership (AMSP). The project was a National Science Foundation (NSF) funded partnership to address student achievement in mathematics and science in 52 school districts across Kentucky, Tennessee and Virginia.
Previously, Eakin was honored by UK with the Provost Public Scholar Award in 2010-11.
?Paul's career exemplifies the way in which faculty use their expertise to serve our community as well as the university,? said Ron Zimmer, director of the Martin School.
The James W. Martin School of Public Policy and Administration is an academic, research and service unit of the UK Graduate School. It was named in honor of James W. Martin, a scholar, public servant and teacher whose accomplishments have created a lasting legacy of scholarship and service.