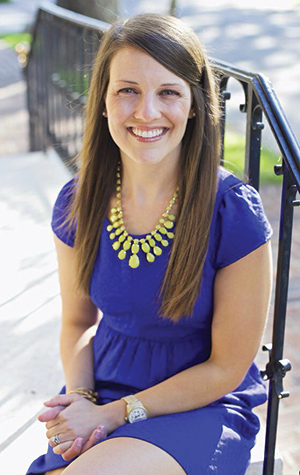 By Kathie Stamps
Local foods don't just magically appear in restaurants without help. Behind some of that magic is Ashton Potter Wright, whose job title is local food coordinator for the City of Lexington. She leads the Bluegrass Farm to Table program, or BGFT.
Wright was hired in June 2014 for the newly created BGFT with funding from the city, the Kentucky Agricultural Development board and private foundations. Similar programs exist throughout Kentucky. There's a Louisville Farm to Table program, a Community Farm Alliance in Eastern Kentucky and any number of farmers and food producers promoting agriculture statewide.
Wright's job in Lexington is focused on "leveraging local food as economic development," she said. "For my work, 'local food' is defined as something that was grown or raised on a Kentucky farm."
Wright grew up in Lexington. She has a B.S. in biology from Rhodes College in Memphis, Tenn. Her master's and doctoral degrees are in public health from Georgia State University and the University of Kentucky, respectively. Before coming back to Lexington to head BGFT, Wright worked for the Centers for Disease Control and Prevention in Atlanta, in a branch devoted to childhood obesity prevention.
Many of her work hours today are spent connecting farmers and local food producers with market opportunities with restaurants, schools and other institutions. She visits farms, facilitates meetings between producer and buyer, and works on various pieces of the supply-and-demand equation.
"Meeting with potential buyers to encourage them to purchase locally, is an example, and helping to troubleshoot the steps between the producer and the buyer." Factors typically involve storage, processing and distribution.
Wright steps in to help when farmers are looking for innovative ways to attract new consumers and tailor their business models to changing times, like increasing their social media presence and customizing community-supported agriculture (CSA) shares. She also collaborates with several young entrepreneurs who are working to solve logistics issues around getting more local food to more places.
"I'm trying to get more of the food local farmers grow into more places," she said. "Farming is a challenging profession, but the growers I work with love what they do."
She serves on advisory boards for different organizations in the food and farming space, and she was a co-leader of the Kentucky Double Dollars Program, which helps low-income families buy state-grown produce, dairy products, meat and eggs at participating locations in Central Kentucky. Kentucky Double Dollars is a joint effort between BGFT and Blue Grass Community Foundation for families receiving benefits from federal programs like Senior Farmers' Market Nutrition Program (SFMNP), Supplemental Nutrition Assistance Program (SNAP) and WIC Farmers' Market Nutrition Program (WFMNP).
Another aspect of bringing farmers and buyers together has Wright hosting and co-hosting events. An annual field-to-table dinner features products grown and raised in Kentucky and benefits a local food-related nonprofit organization. Double Dollars was the 2016 beneficiary, while proceeds of the 2017 field-to-table dinner went to FoodChain's teaching and processing kitchen.
In 2017, the Lexington-Fayette Urban County Government started a CSA pilot program for LFUCG employees; 101 participated and received a $200 voucher toward the purchase of a CSA farm share. For the 2018 season, 143 employees have signed up for the program.
At an Urban County Council work session in March, Wright shared that BGFT's impact to date has seen at least $850,000 in sales for Kentucky farmers.
"Everyone can and should participate in the local food movement," she said. "If every family in the state of Kentucky spent 10 percent of their annual food budget on Kentucky farm products, it would keep over $1 billion in our local economy."