By Chris Cathers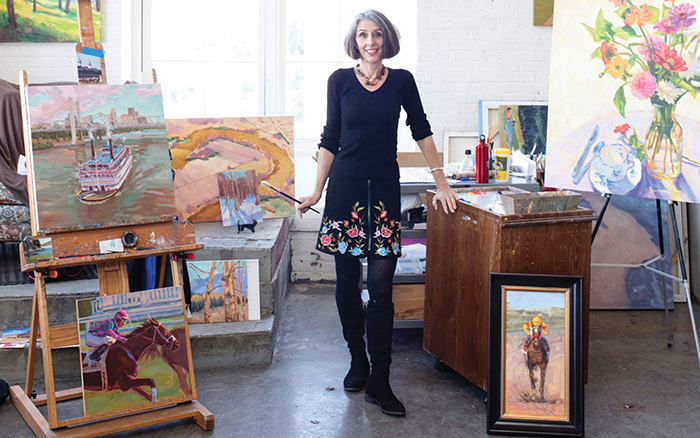 For the second consecutive year, Churchill Downs officials have commissioned a Kentucky artist to create the official 2018 Kentucky Derby and Kentucky Oaks posters.
Lynn Dunbar, a Louisville painter known for her landscapes, follows Bardstown artist Jim Cantrell, who created the 2017 Derby and Oaks posters. Cantrell was the first Kentucky artist in Churchill's 21 years of commissioning an official design for the Derby and Oaks posters.
"I was surprised. I actually couldn't believe it when they called me out of the blue," Dunbar said. "They asked me to send them some images. I told them I didn't really have paintings of horses, but to give me a couple of hours and I'd paint one."
Nick Bennett, Churchill Downs' licensing and marketing partnership activation manager, said the selection of a second consecutive Kentucky artist was a coincidence, but the track's success in selecting a Kentucky artist last year aided the decision.
"We got a lot of good publicity from Jim last year, and we got lucky with Lynn being from Kentucky, too," Bennett said.
---
•Sign up for The Lane Report business newsletter. Receive breaking Kentucky business news and updates daily. Click here to sign up
---
Denny Watson of Atlanta-based CAA Sports Licensing (formerly Fermata Partners), said collaboration with the Kentucky Arts Council, including consulting the arts council's adjudicated Kentucky Crafted directory helped in selecting Dunbar for the distinction.
Dunbar juried in to the Kentucky Crafted program in 2007. She credited her participation in the program as one of the reasons for getting the commission.
"I'm honored to be in Kentucky Crafted," Dunbar said. "It's like I've got the state's endorsement. I feel like it makes me a better artist. It helps present me as a professional."
Having the state seal of approval on her artistic excellence means a lot to Dunbar, who came to Kentucky 25 years ago from northern Indiana, where she was born in Gary and raised in Hobart.
In addition to the Derby and Oaks posters, Dunbar's work will appear on tickets, the printed program, short and tall drinking glasses, tote bags, Christmas ornaments, postcards, T-shirts, socks, scarves, paper plates, napkins and a variety of other Derby and Oaks merchandise.
"When I first saw the sales sheet with all the items on display there I was like, 'Wow! It really looks good!' " she said. "A lot of my art, when it's converted to prints, looks good."
Merchandise is available at selected retail outlets, including the Kentucky Derby Museum.
The commission has made Dunbar even busier than she already is. She received a commission for an original piece after a friend learned of the Derby and Oaks posters, she's been on television to talk about her experience creating the work, and she did a print signing in late March at theNorton Women's and Children's Hospital in St. Matthews, from which she donated part of the proceeds generated from print sales to breast cancer research.
Dunbar also will be signing copies of the Derby and Oaks posters at the following venues:
• April 12, noon-2 p.m. atMiddletown City Hall,11803 Old Shelbyville Road, Middletown.
• April 19, 6:30-9 p.m. at Derby Divas event at Rodes For Him and For Her.
4938 Brownsboro Road, Louisville. Proceeds benefit the Norton Cancer Institute Breast Health Program.
• April 28-29,10 a.m.-6 p.m. at Cherokee Triangle Art Fair, Louisville.
• May 4-5,Kentucky Oaks and Kentucky Derby at Churchill Downs,
700 Central Ave., Louisville. Dunbar will be signing posters in a booth on the main level near the grandstand and in Millionaire's Row.
In addition to being in the Kentucky Crafted program, Dunbar's other recognitions include the Owensboro Museum of Art, Science and History 2016 Award of Merit 2016; the 2014 Portland Heritage Arts Show Grand Prize; honorable mention at theSalon International 2013; the 2012 Owensboro Museum of Art Purchase Prize; and the 2011 Louisville Women's Club Grand Prize.
---
Chris Cathers is interim executive director of the Kentucky Arts Council.