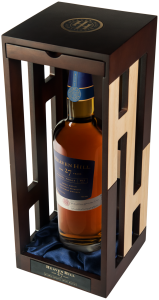 BARDSTOWN, Ky. (July 3, 2018) – Heaven Hill Distillery announced today the release of Heaven Hill 27-Year-Old Barrel Proof Small Batch Kentucky Straight Bourbon Whiskey, a rare bottling produced at Old Heaven Hill Springs Distillery before it was destroyed by fire in 1996. Only 41 barrels produced in 1989 and 1990 passed taste testing for inclusion in this limited release that represents Heaven Hill's heritage of distilling.
"As stewards of the Bourbon movement we take pride in the perseverance that is a hallmark of Heaven Hill's 83-year history," said President Max L. Shapira. "We remain committed to an enduring legacy of quality and patience, just as we have since 1935."
Heaven Hill Barrel Proof Small Batch Bourbon, selected from limited remaining stocks of pre-fire barrels, has been closely monitored and allowed to age for an astounding 27 years. All but five of the barrels in this small batch were aged on the first and second floors, where increased humidity and evaporation caused the proof to drop. When all 41 barrels were mingled for bottling, the natural barrel proof was an unusually low 94.7 proof (47.35% abv). The resulting taste profile begins with an aroma of dried fruits and baking spices, with pipe tobacco notes developing after some time in the glass. A gentle entry is followed by an explosion of vanilla and floral flavor with traces of pepper and clove. After a slow and warming build up, the finish is incredibly long, yet very soft.
This ultra-premium Bourbon will be released in an elegant, tall 750ml bottle placed in a custom wooden box bearing two H's on each side signifying the Heaven Hill name. The bottle is secured in the box with magnetic closure and sits in a blue satin-lined base. The distiller's notes label features hand-written bottle numbers, distiller tasting notes, and DSP-KY-31, denoting the Old Heaven Hill Springs Distillery. The one-time release of Heaven Hill 27-Year-Old Barrel Proof Small Batch Bourbon, shipping late fall 2018, will be available in limited markets for a suggested retail price of $399.