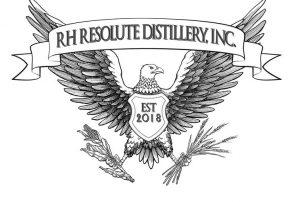 FRANKFORT, Ky. (July 10, 2018) — RH Resolute Distillery Inc. plans to locate in a previously unopened distillery in Hickman, creating 17 jobs with a $9.7 million investment, Gov. Matt Bevin announced Tuesday.
"The commonwealth's bourbon and spirits industry is a sector that continues to grow at a steady rate," Gov. Bevin said. "This project is particularly encouraging, as it puts a once unused facility to use in a region that will greatly benefit from the resulting job creation. We look forward to seeing RH Resolute Distillery begin production in the very near future, and to seeing its positive economic impact on many West Kentucky communities."
The company plans to finish construction and outfitting of a previous distillery project and begin distilling for the bulk spirits market by late summer. Initially, the operation's production will target 400 barrels per week and increase to a projected maximum capacity of 2,600 barrels weekly. The 17 new jobs include production, barrel filling, barrel handling and equipment maintenance positions.
"The opportunity to make great bourbon in Hickman is exciting for us and we are proud to welcome talented folks from the area as part of our project. We believe West Kentucky has a great deal to offer to the bourbon industry and we look forward to showcasing the quality of our Kentucky made product," said Sarah Jones, brand director at RH Resolute.
The startup distillery originated in Paducah and is the result of a partnership between Jones and her husband, Chuck, and Matt Haney, the company's chief operational officer, and his father, Mike. The Haney family also owns and operates HBS Copper, a still manufacturing plant in Barlow.
Thomas McKenzie, a 15-year-plus veteran of the spirits industry, will serve as RH Resolute's master distiller. McKenzie was previously a consultant for distilleries throughout Kentucky.
For RH Resolute's first production home, the company purchased a nearly complete distillery built by Ray Jamieson, a Memphis attorney with ties to the area. Although the facility never opened, the Haneys indicated it is well constructed and includes the original continuous beer still, fermenters and other equipment built and installed by Louisville-based Vendome Copper & Brassworks.
RH Resolute plans to use equipment from HBS in its future distilling operations, completing a production process that takes place entirely within Kentucky. The distillery will create heritage bourbon through historical methods, providing a unique full-flavored taste.
Sen. Stan Humphries, of Cadiz, noted the positive impact the Jones and Haney families could have on the community with the distillery's establishment.
"The Haney and Jones families, and all those affiliated with RH Resolute Distillery, have led the growth in the Fulton County spirits industry," Sen. Humphries said. "I support this company's repurposing of a previously unused facility, as promising economic times are ahead in Western Kentucky."
Rep. Steven Rudy, of Paducah, said this could be the beginning of an influx of business opportunities in the region.
"More jobs and economic activity are the positive trends that we continue to see more of thanks to pro-business economic policies," Rep. Rudy said. "I welcome RH Resolute to our district and look forward to seeing even more job creation thanks to tax reform enacted on the state and federal level."
Hickman Mayor David Lattus spoke on the benefits provided by additional job opportunities.
"We are excited about the new opportunity RH Resolute Distillery will provide for Hickman and Fulton County," Mayor Lattus said. "Our city is 100 percent in support of the new job and wealth creation this will bring to our citizens and entire area."
Fulton County judge-executive Jim Martin said local government is ready to begin a successful relationship with RH Resolute.
"We are very excited to have the RH Resolute Distillery investment in Fulton County. This project will bring other investment opportunity for additional business ventures in our county," Martin said. "Fulton County Fiscal Court stands ready to assist the company in meeting their goals and we support and appreciate the investment in Fulton County.
To encourage the investment and job growth in the community, the Kentucky Economic Development Finance Authority in May preliminarily approved the company for tax incentives up to $360,000 through the Kentucky Business Investment program. The performance-based incentive allows a company to keep a portion of its investment over the agreement term through corporate income tax credits and wage assessments by meeting job and investment targets.
In addition, RH Resolute can receive resources from the Kentucky Skills Network. Through the Kentucky Skills Network, companies can receive no-cost recruitment and job placement services, reduced-cost customized training and job training incentives. In fiscal year 2017, the Kentucky Skills Network provided training for more than 120,000 Kentuckians and 5,700 companies from a variety of industry sectors.
For more information on RH Resolute, visit https://rhresolute.com.
A detailed community profile for Fulton County can be viewed here.