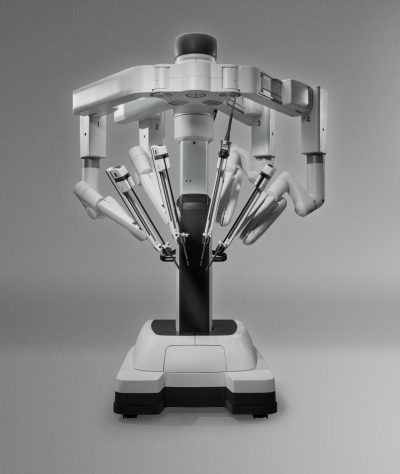 LEXINGTON, Ky. (July 2, 2018) — The robotic surgery program at Saint Joseph Hospital and Saint Joseph East is home to three da Vinci Xi robots, the most advanced technology available for minimally invasive surgery.
These facilities offer a number of procedures using the da Vinci Xi robotic surgical system, which allows patients to have surgery with shorter hospital stays, faster recoveries and minimal scarring. With more da Vinci Xi robots and trained physicians than any other facility in the area, KentuckyOne Health has the largest and most comprehensive robotic surgery program in the region.
The da Vinci Xi robot allows surgeons to perform the most complex and delicate gynecological, urological and general surgery procedures through very small incisions with unmatched precision. Using a console, surgeons control in real-time the equipment being used on the patient, offering precision and vision far beyond what their own hands and eyes could provide.
Saint Joseph Hospital is the only facility in the area that now has a second da Vinci Xi robot, and Saint Joseph East is the first hospital in Central Kentucky to be named a Center of Excellence in Robotic Surgery by the Surgical Review Corporation. As the KentuckyOne Health da Vinci Xi robotic surgery program continues to grow, patients are pleased with the results.
"I received a hysterectomy using the da Vinci Xi surgical system, due to a diagnosis with polycystic ovary syndrome, and it was a wonderful experience," said Bethany Milligan, a da Vinci Xi patient at Saint Joseph Hospital. "The da Vinci Xi system made a world of difference. It was an easy procedure and only took about 10 minutes. I had minimal pain, was up and walking the same day, and back to work in only three days."
Robotic surgery offers a minimally-invasive surgical option for patients facing an open procedure, helping give surgeons magnified and high-definition vision. Using the da Vinci Xi technology, the surgeon can both see inside the body and control the surgical instruments with much smaller incisions.
"At KentuckyOne Health, we strive every day to improve patient outcomes. Our robotic surgery program helps patients return to their lives more quickly, so the demand for these minimally invasive procedures has been strong," said Bruce Tassin, market CEO, KentuckyOne Health. "Collectively, with Saint Joseph Hospital and Saint Joseph East, we are proud to offer the region's largest and most comprehensive minimally invasive robotic surgery program."
To learn more about the da Vinci Xi robotic surgery program at KentuckyOne Health, visit www.kentuckyonehealth.org/hospital-da-vinci, or call (888) 229-4206 to schedule a consultation.