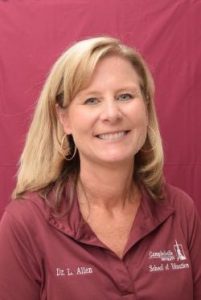 CAMPBELLSVILLE, Ky. (July 17, 2018) – Dr. Lisa Allen, associate dean of the School of Education, chair of graduate programs and associate professor of education at Campbellsville University, has been named interim dean of the university's School of Education.
"After much thoughtful consideration, Campbellsville University administration feel that Dr. Allen is the best choice for the institution and the School of Education," said Dr. Donna Hedgepath, provost and vice president for academic affairs at Campbellsville University.
"Dr. Allen's in-depth knowledge of the Council for the Accreditation of Educator Preparation (CAEP) accreditation process and her work and her relationships in Frankfort will allow Campbellsville University to move forward in a strong, positive direction."
"Also, Allen's successful work as associate dean gives her insight into the expectations of the dean's position," Hedgepath said.
Allen has worked at Campbellsville University since 2011, when she joined the faculty as an assistant professor of education.
Allen received her bachelor of science degree from Asbury University in 1988. After, she attained her masters of arts degree from Western Kentucky University in 1991. She received her Ed.D. from the University of Kentucky in 2009.
Allen is married to Jay Allen, and they have two children, Trey and Lori. She is the daughter of Paul and Margaret Scites of Bardstown, Ky.
Allen will remain the chair of graduate programs and associate professor of education.
Campbellsville University is a widely acclaimed Kentucky-based Christian university with more than 10,000 students offering over 90 programs of study including 20 master's degrees, six postgraduate areas and seven pre-professional programs. For more information visit campbellsville.edu.