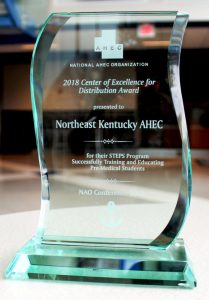 LOUISVILLE, Ky. (July 24, 2018) – The Northeast Kentucky Area Health Education Center (NE KY AHEC) has received the Center of Excellence Award in Distribution at the National AHEC Organization's biennial conference held July 8-11 in Arlington, Virginia.
"The work of David Gross and the Northeast AHEC exemplifies the incredible work performed by all of our statewide AHEC programs. We are so fortunate to have this effort recognized on a national level as we seek to close the health care gap in our rural areas," said R. Brent Wright, MD, acting statewide program director for Kentucky AHEC and associate dean for rural health innovation, UofL School of Medicine.
The regional center received the honor for its STEPS program. STEPS, or Successfully Training and Educating Pre-medical Students, was created in 2013 to level the playing field for local students interested in applying to medical school. Appalachian Kentucky, including most of the NE KY AHEC's service region, has a long-standing shortage of physicians.
Studies have shown shortages are partially attributable to factors including Appalachian students' inadequate academic preparation, limited exposure to health care occupations, low self-confidence and financial considerations. STEPS helps northeast Kentucky students overcome these barriers by providing participants with Medical College Admission Test (MCAT) preparatory courses as well as mock interviews, application process and personal statement tutorials, physician shadowing and other activities aimed at better preparing them for the process of applying to medical school.
"It's quite an honor to be chosen by our peers for one of only three Center of Excellence awards among the nation's nearly 250 regional AHECs," said David Gross, director of the NE KY AHEC. "The purpose of STEPS is to produce not just more, but more competitive, medical school applicants from our region. In part because of this program, we continue to see meaningful increases in the number of local students applying to and being accepted by in-state medical schools."
Since its creation, three cohorts of students have completed STEPS and the subsequent medical school application/ interview/matriculation cycle. Of the 25 students who met all program requirements, 22 matriculated to medical school.
The NE KY AHEC recently entered into a two-year contract with the Kentucky Primary Care Office to replicate STEPS among the other seven Kentucky AHECs.
AHEC is a collaborative effort of the University of Louisville Health Sciences Center, the University of Kentucky Medical Center and eight regional centers. The goal of the Kentucky AHEC program is to improve the recruitment, distribution and retention of health care professionals (particularly in primary care) in medically underserved areas throughout the state.
Each regional AHEC center serves a specific geographic area of the state, and is responsible for certain counties in their area. The University of Louisville serves as the central office for all eight regional centers.