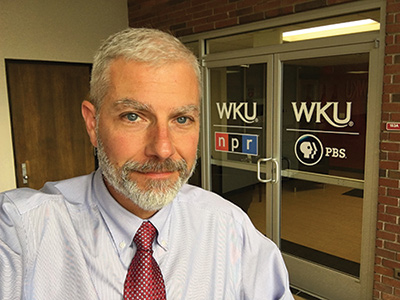 BOWLING GREEN, Ky. (July 27, 2018) — Western Kentucky University has established an innovative training program to serve the growing number of individuals with autism spectrum disorder (ASD).
In partnership with the Suzanne Vitale Clinical Education Complex (CEC), WKU Public Broadcasting has created a student employment fellowship program to support the training and advancement of WKU students with ASD. As the rate of diagnosed individuals with ASD increases each year – currently one in 68 – there is a growing need to develop employment opportunities for these individuals as they transition permanently to the workforce.
"This fellowship allows us to address a critical need for college students on the autism spectrum," said David Brinkley, director of WKU Public Broadcasting. "We have an opportunity to improve their transition from college to employment by providing practical work experience and professional training. It is central to our public service mission to educate and adds value to the communities we serve. The establishment of this fellowship is just another example of how we do that."
Students participating in the CEC's Kelly Autism Program Circle of Support – a unit designed to assist university students on the autism spectrum – have the opportunity to apply for two fellowship positions each year. As each fellow completes his or her first year, they will transition to part-time student employment supported by WKU Public Broadcasting. At the end of every four-year cycle, a cohort of eight ASD students will be employed in the training program.   
The fellowship has been named the David Brinkley Student Employment Fellowship Program in recognition of the program's director.
Brinkley was diagnosed with head and neck cancer late last year. The diagnosis is terminal and he has, by one estimate, around 16 months to live. He has chosen to continue to work in an industry that means a great deal to him personally and professionally. Brinkley says he hopes to use this opportunity to raise awareness for the additional mission impact areas of public broadcasting.
"It was a humbling surprise to be recognized in such a meaningful way," said Brinkley. "I have dedicated most of my professional career to helping develop students' professional skills, and I have a deep passion for public broadcasting. This fellowship program combines these two in an impactful way, and it's an honor to have it bear my name. As long as I am able to work, I want to continue to promote our mission and help others live up to their potential."
WKU Public Broadcasting intends to take its experiences with training ASD students and create a replicable model for other businesses, organizations and public broadcasting entities to implement.
"It's not enough to simply provide this training opportunity for ASD students," said Brinkley. "We want to serve as educators and advocates to increase understanding and acceptance of autism spectrum disorder within our communities. By doing that, we create a platform for learning and workforce development success."