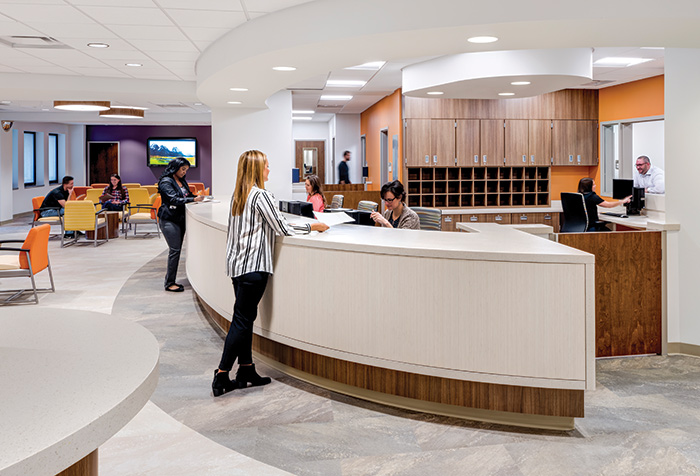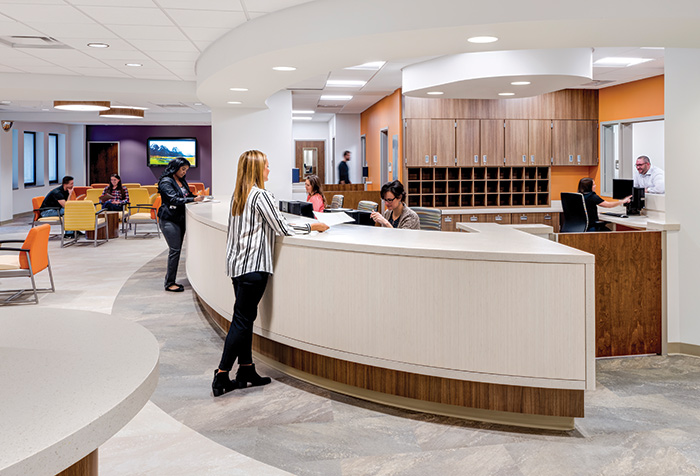 Editor's note: This is the second in a three-part series examining behavioral health issues impacting business in Kentucky.
Across the nation and the commonwealth, health-care providers are investing in behavioral care facilities as the marketplace increasingly recognizes the value of mental health services. Kentucky's newest hospital is the 197-bed SUN Behavioral Health facility in Erlanger, a $40 million project initiated by St. Elizabeth Healthcare.
The nation's newest behavioral health hospital near I-75 in Northern Kentucky reflects the fact that more and more Kentucky residents – including both employers and employees – are prioritizing better mental health. Expanding capacity and access to meet rising demand for behavioral health services has become a national trend.
"In terms of specialty construction, hospitals and health systems continue to fund behavioral health-care projects, which have become a top priority in a short span of time," Health Facilities Management magazine reported in its 2018 Hospital Construction Survey. "In 2018, 53 percent of respondents with specialty construction projects said they had built or are planning behavioral health-care projects, up from 50 percent the year before. Yet just five years ago – the first year that behavioral health care appeared in the HFM survey – only 17 percent had built or were planning behavioral health-care projects."
Five years ago, the commonwealth opened a then state-of-the-art, 239-bed Eastern State Hospital in Lexington, replacing a nearby mental health-care campus that included antebellum facilities.
---
IT'S FREE | Sign up for The Lane Report email business newsletter. Receive breaking Kentucky business news and updates daily. Click here to sign up
---
New Jersey-based SUN Behavioral opened its first hospital in Houston in 2016, recently opened SUN Behavioral Columbus in Ohio, and will open another this fall in Sussex County, Delaware. SUN Behavioral Health Kentucky is its largest; St. Elizabeth transferred 140 of its psych beds in multiple locations to the new hospital, and NorthKey Community Care transferred 57 beds.
With the commonwealth among the worst hit areas in a national opioid-based substance-abuse crisis and Northern Kentucky perhaps the state's most problematic area, SUN Behavioral Kentucky opened with all available beds full.
Adequate size is the key to making a low-margin behavioral health facility work financially, said Chris Lockey, CEO of SUN Behavioral Health Kentucky.
"The margins aren't huge," Lockey said. "If done right, they're there. It takes quite a bit of work to get there."
Financial viability requires a mix of enough patients with private insurance and Medicaid/Medicare so revenues also allow treatment of the uninsured, which is part of the mission SUN – it stands for Serving Unmet Needs – committed to in response to the Request For Proposals that St. Elizabeth issued.
Just as SUN Behavioral was coming into existence a few years ago, St. Elizabeth had unmet needs. It regularly sent vans of patients to Eastern State Hospital in Lexington because it lacked capacity, then behavioral care topped the needs list in St. Elizabeth's community health survey, an exercise the Affordable Care Act requires every three years.
"There is no building like this in the country designed and built from the ground up," Lockey said. "When you have a facility of this size, when you can make the case for need, the financial piece works out."
Construction came in on time and on budget, and while there has been a learning curve, he said, operations are ramping up on schedule for reaching full capacity by mid- to late 2019.
In 2016, the KentuckyOne Health system – with hospitals in Louisville, Lexington, Bardstown, Berea and London – expanWded access to its services at Our Lady Of Peace psychiatric hospital in Louisville to help meet the rising demand. OLOP, which offers free assessments, has opened a second assessment and referral center location in Lexington. It now also offers telehealth assessment services at seven KOH hospitals: Sts. Mary & Elizabeth and Jewish in Louisville, Flaget Memorial in Bardstown, St. Joseph Main and St. Joseph East in Lexington, St. Joseph Berea and St. Joseph London.
Gaining understanding, lessening stigma
"KOH emergency departments continue to see a high volume of patients experiencing abuse of opiates and methamphetamines," said Lannette R. VanderToll, director of marketing and communications for KOH's Louisville/Western Market. "In many cases, patients are presenting with symptoms of psychosis, and treatment staff are having difficulty determining if it's a substance-induced psychotic disorder or psychosis related to a mental health disorder. Many patients are admitted due to medical complications as a result of their substance use."
Mental health in the United States is one of the most pressing, yet often most overlooked, issues of not just our current generation but also prior generations. Due to the relative imperceptibility of deteriorating mental health, it is frequently disregarded socially as a genuine medical issue. There is no simple, obvious detection process akin to taking someone's temperature to reveal illness.
For the depressed, social advice tends toward 'just be happy,' yet depression often manifests in forms having less to do with happiness and more to do with the lack of ambition, interest, self-actualization, etc. Those who have anxiety conditions, meanwhile, are termed "fidgety," "a worry wart" or even just "quirky" rather than recognized as someone dealing with a medical chemical imbalance that manifests both physically (e.g., shaking, inability to focus, loss of appetite, etc.) as well as psychologically (fear, paranoia, negative cognition tendencies, etc.).
Historically, a strong stigma is attached to behavioral health issues, deterring those suffering poor mental health from acknowledging symptoms and seeking care. But left untreated, these issues can exacerbate into more acute maladies such as anxiety disorders, self harm, suicidal thinking, migraines, heart problems, high blood pressure, substance abuse and more. The isolation inherent in the stigmatization of mental health in and of itself can exacerbate these issues as a person attempts to contend with a problem alone.
The National Alliance on Mental Illness (NAMI), the nation's largest grassroots mental health organization, reports that, "Mood disorders, including major depression, dysthymic disorder and bipolar disorder, are the third most common cause of hospitalization in the U.S. for both youth and adults aged 18-44, and individuals living with serious mental illness face an increased risk of having chronic medical conditions. … Adults in the U.S. living with serious mental illness die on average 25 years earlier than others, largely due to treatable medical conditions."
Rates of suicide, the 10th leading cause of death in the U.S., are on the rise.
"Your brain is an organ…"
Today, as awareness increases, businesses, managers and workers are realizing that behavioral health issues are medical conditions that affect productivity as significantly as the flu or chronic physical problems, if not more so. Much more than an unhealthy vs. healthy mindset, mental health is often tied to chemical imbalances in the brain.
"Your brain is an organ in your body and is not separate from it," said Dr. Courtney Keim, an industrial organizational psychologist and volunteer with the Kentucky Psychological Foundation. And as with other medical issues, the cost of not treating an organ that is sick can fall on business, or on government and taxpayers, in a big way. According to NAMI:
• Approximately one in five U.S. adults – 43.8 million – experience mental illness in a given year.
• Approximately one in 25 U.S. adults – 9.8 million – experience serious mental illness in a given year that substantially interferes with or limits one or more major life activities.
• 6.9 percent of U.S. adults – 16 million – had at least one major depressive episode in the past year.
• 18.1 percent of U.S. adults experience an anxiety disorder such as post-traumatic stress disorder, obsessive-compulsive disorder and specific phobias.
The burden of poor mental health in the workforce costs companies and their employees. Serious mental illness costs America $193.2 billion in lost earnings (for workers) per year, according to NAMI. Kentucky ranks 22nd nationally for good mental health overall, but only 32nd for good mental health in adults, meaning mental illness prevalence increases as Kentuckians age and access to care lags.
Depression ranks among the top three workplace problems, according to Mental Health America (MHA), trailing only family crises and stress. Clinical depression has become one of America's most costly illnesses, MHA reports, and nearly one in six of those suffering severe depression will die by suicide.
Absenteeism, presenteeism are costly
In addition to the lower morale that results from untreated mental illness, businesses without mental health services for employees can see lower productivity due to absenteeism and its often-more-problematic sister, presenteeism – an employee at work but unable to perform sufficiently. Businesses can lose an important employee altogether if untreated behavioral health issues worsen into major conditions and illnesses.
"Left untreated, depression is as costly as heart disease or AIDS to the U.S. economy, costing over $51 billion in absenteeism from work and lost productivity and $26 billion in direct treatment costs," MHA reports.
Behavioral health care in Kentucky often is accessed through employee assistance programs. EAPs offer free and confidential assessments, short-term counseling, referrals and follow-up services by professional providers to employees who have personal and/or work-related problems, including burnout, substance abuse disorders, divorce, marital problems, child-behavior issues, parenting problems, elder care issues, blended families, grief and loss, and much more.
Louisville-based Humana, one of the largest for-profit health insurance companies in the country, as of 2014 had over 13 million U.S. clients. It has a number of programs in house for Humana's nearly 46,000 employees as well as for employers to help address the mental health needs of their employees. This is in addition to assisting employers in helping employees find mental health-care providers for their employees.
"We view well-being holistically," said Kate Marx, a Humana communication consultant, "and that means not shying away from addressing mental health or behavioral health challenges."
In 2015, Humana announced its Bold Goal initiative, a commitment to make the communities (Humana) serves 20 percent healthier by 2020 by making it easier for people to achieve their best health. Bold Goal addresses some of the country's most significant barriers to health, including depression, loneliness and social isolation (and) utilizes a population health tool known as Healthy Days, developed by the U.S. Centers for Disease Control and Prevention, which helps benchmark community health.
EAPs connect those seeking care with Kentucky's dozens of care providers, such as Bluegrass.org, OLOP, Eastern State and SUN Behavioral.
Experience creates provider expertise
Kentucky was the first in the nation to pursue a statewide system of behavioral services centers after President John F. Kennedy signed the Community Mental Health Act in 1963. The Central Kentucky Mental Health Board, created in 1965, was the first entity in the state and today operates as Bluegrass.org, a nonprofit organization that provides outpatient services to nearly 30,000 adults, children and families in 17 Central Kentucky counties.
Bluegrass.org reports more than 87,000 calls annually on its 24-hour help line at (800) 928-8000. Its nearly 300 clinicians in 48 program locations work with clients, including employers and employees, to figure out the best method for intensive, direct care for those with behavioral health issues.
The good news is that behavioral health has corollaries to medical health wellness practices such as monitoring blood pressure and blood sugar levels to head off costly and debilitating chronic medical illnesses such as migraines, heart disease, chronic fatigue and substance abuse, Keim said.
"Our basic philosophy is that folks recover from mental illness," said Donald Rogers, chief clinical officer at Bluegrass.org. "There is a great deal of literature to support the notion that the vast majority of people recover most or all functioning, regardless of the diagnosis or what the condition is, so that's how we design our services. For some people it might take many months or even years of services to slowly regain their functioning."
Bluegrass.org's services range from inpatient to outpatient treatment, including one-on-one as well as group therapy sessions and everything in between.
"For some, we have to change our treatment approach as they move along," Rogers said. "We use a routine outcome monitoring process where at every session we are monitoring their response to the treatment and using that as feedback with the client and in our supervision sessions so that we can identify when people aren't making progress and change up our treatment to something that will help get the desired outcome. … Although you probably would label some of the things we do as 'maintenance,' we try to avoid that because that is basically acceptance that there is no hope of full recovery and we don't accept that."
Within its own corporate structure, Humana has "created a distinct culture that helps employees improve their well-being, including with emotional health. We want to normalize conversations about emotions and behavioral health during day-to-day interactions in the work environment," Marx said.
Among the employee well-being initiatives Humana has implemented are:
• Resilience exercises that "help employees find greater comfort in openly expressing feelings. Employees can share experiences with colleagues to practice –  in a safe setting – the 'courage of voice' in discussing life challenges."
• Take 10 for yourself, "a holistic well-being offering that provides customizable activities such as meditation to make it easy to incorporate a 10-minute break into the work day."
Kenton County's unique approach
In Northern Kentucky, the community health survey that steered St. Elizabeth into its partnership with SUN Behavioral Health especially highlighted a problem with substance-use disorders, with many respondents mentioning heroin addiction.
In response, Transitions, a 30-year-old organization in Northern Kentucky that focuses on residential drug and alcohol rehab, also has new facilities with expanded treatment capacity under construction via another innovative partnership it calls Project 180.
Transitions President Jim Beiting said Project 180 will provide 180 treatment beds to turn lives around 180 degrees and give the organization the capacity to get local residents into care within 180 minutes.
Transitions is now converting a 38,000-s.f. former fitness center in Erlanger into a residential and outpatient treatment center with key financial assistance from Kenton County Fiscal Court, which paid $1 million for the empty structure and is leasing it to Transitions for $1 a year. The space encompasses an indoor soccer field, kitchen and an indoor basketball court with 22-foot ceilings that is being converted into two floors of residential beds.
The new site will replace two older locations in Newport and Covington that together offer 95 beds, Beiting said. Transitions expects to have around $5 million invested in the new location and its 180 beds, compared to three times that much if it were doing new construction, he said. And compared to the significantly older structures at its present locations, which are difficult to heat and cool, operational costs for the new location will be lower.
Most importantly, the new location will create almost instant access to treatment for those who have decided to seek it.
"That quick access to care is one of the keys to success. The quicker you can get them into treatment, the better your rate of success," Beiting said, adding that "it shows respect and dignity for the client when you tell them to come in immediately. Telling them call back tomorrow or next week or later doesn't work. If I say we will have a bed for you Monday, they might not live to Monday."
Kentucky Behavioral Health Facilities
PSYCHIATRIC HOSPITALS
• ARH Psychiatric Center, Hazard
arh.org/locations/hazard.aspx
(606) 439-1331
• Central State Hospital, Louisville
(502) 253-7060
• Eastern State Hospital, Lexington
ukhealthcare.uky.edu/eastern-state-hospital/ (859) 246-8000
• Western State Hospital, Hopkinsville westernstatehospital.ky.gov (270) 889-6025
• Our Lady Of Peace, Louisville kentuckyonehealth.org/our-lady-of-peace
(502) 451-3330
• SUN Behavioral Health Kentucky, Erlanger
sunkentucky.com  (859) 429-5188
• The Ridge Behavioral Health System, Lexington
ridgebhs.com (859) 268-6400
• The Brook KMI, The Brook Dupont, Louisville
thebrookhospitals.com (502) 426-6380
PSYCHIATRIC RESIDENTIAL TREATMENT FACILITIES
• Alternative Behavioral Services – FHC Hopkinsville – Sivley House, Hopkinsville (270) 886-1919
• Buckhorn Children and Family Services, Buckhorn
buckhorn.org (606) 398-7000
• First Place, Owensboro
rvbh.com (270) 685-2203
• Second Place, Owensboro
rvbh.com (270) 691-0786
• Spectrum Care Academy spectrumcareacademy.com
Cave City (270) 678-4706
Columbia (270) 384-6750
Elizabethtown (270) 234-0591
London (606) 862-6664
• Sunrise Children's Services – PRTF:
East, West and Lowe, Danville
sunrise.org/psychiatric-treatment/
(859) 936-3486
• Uspiritus, Louisville
uspiritus.org (502) 451-5177
HOSPITALS OFFERING PSYCHIATRIC SERVICES
• ARH Regional Medical Center Psych Unit, Hazard
(606) 439-1331
• Baptist Health Madisonville Behavioral Health Service, Madisonville
(270) 825-5857
• Baptist Hospital East Psych Unit, Louisville
(502) 893-4951
• Bourbon Community Hospital (Lifepoint), Paris
(859) 987-3600
• Ephraim McDowell Regional Medical Center, Danville, (859)239-1000
• Frankfort Regional Medical Center
(502) 875-5240
• Hardin Memorial Hospital Psych Unit, Elizabethtown
(270)237-1212
• Harlan ARH Hospital, Harlan
(606)573-8100
• Jackson Purchase Medical Center, Mayfield
(270)251-4100
• Lake Cumberland Regional Hospital, Somerset
(606)679-7441
• Our Lady of Bellefonte Hospital, Ashland
(606)833-3399
• St. Claire Regional Medical Center, Morehead
(606)783-6500
• St. Elizabeth Medical Center Geriatric Psych, Edgewood
(859)344-2000
• The Medical Center at Bowling Green
(270) 796-6498
• TJ Health Columbia
(270) 384-4753
• University Of Kentucky Hospital Psych Unit, Lexington
(859)323-5000
COMMUNITY MENTAL HEALTH CENTERS
• Adanta, Somerset
adanta.org (606) 679-4782
• Bluegrass, Lexington
bluegrass.org (859) 253-1686
• Centerstone Kentucky, Louisville
sevencounties.org (502) 589-8600
• Communicare Inc., Elizabethtown
communicare.org (270) 765-2605
• Comprehend Inc., Maysville
comprehendinc.org (606) 564-4016
• Cumberland River, Corbin
crccc.net (606) 528-7010
• Four Rivers Behavioral Health, Paducah
4rbh.org (270) 442-7121
• Kentucky River Community Care Inc., Jackson
krccnet.com, (606) 666-9006
• Lifeskills Inc., Bowling Green
lifeskills.com (270) 901-5000
• Mountain Comprehensive Care Center, Prestonsburg
mtcomp.org (606) 886-8572
• NorthKey, Covington
northkey.org (859) 578-3200
• Pathways Inc., Ashland
pathways-ky.org (606) 329-8588
• Pennyroyal Regional Center, Hopkinsville
pennyroyalcenter.org, (270) 886-2205
• River Valley Behavioral Health, Owensboro, rvbh.com (270) 689-6500
Source: Kentucky Cabinet for Health and Family Services Provider Directory at dbhdid.ky.gov/ProviderDirectory/ProviderDirectory.aspx
---
Clary Estes is a correspondent for The Lane Report. She can be reached at [email protected].