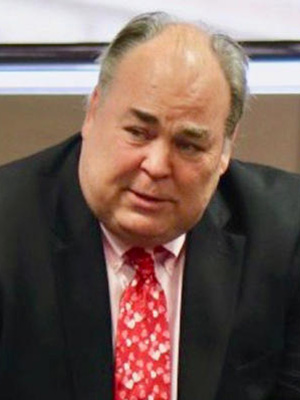 LEXINGTON, Ky. (Aug. 7, 2018) — University of Kentucky Patterson School of Diplomacy and International Commerce Professor Carey Cavanaugh has been appointed chairman of the board of trustees of International Alert, a major London-based independent international peacebuilding charity. He succeeds British author, journalist and former government minister Chris Mullin.
Announcing the news, International Alert's CEO Harriet Lamb said, "We are delighted to have Ambassador Carey Cavanaugh take on the chairmanship of Alert at this pivotal time. His leadership roles, bridging the worlds of government, academia and the nonprofit sector, made him an ideal candidate.
"Carey has years of experience in conflict resolution and knows firsthand the important contributions civil society can make toward protecting human rights, reducing violence and helping build support to sustain and advance peace processes. He brings to our board a solid grasp of international affairs and a passionate commitment to peacebuilding."
Before coming to UK, Cavanaugh was a career foreign service officer at the State Department and worked as an ambassador and peace mediator under former presidents Bill Clinton and George W. Bush. He has been a member of the faculty since 2006, serving as Patterson School director for a decade. His research focuses on diplomatic mediation of conflicts in the South Caucasus and his teaching includes courses on negotiation and cross-cultural understanding, as well as seminars on mediation and conflict resolution.
Commenting on his appointment, Cavanaugh said: "We are witnessing today a calamity, with almost 70 million people having been forcibly displaced from their homes — a number greater than the population of the United Kingdom. Conflict in Syria, Afghanistan, Colombia, Congo, Myanmar, Ukraine and many other states has fostered this wave of human misery. These are the very places where International Alert is engaging local partners to advance peace. I am honored and excited to support and help direct the work of hundreds of Alert employees in this vital effort."
"This appointment will directly benefit UK students," said Richard Spencer, a Patterson School master's student. "Not only does Professor Cavanaugh enrich his teaching by constantly drawing upon such experiences in the classroom, but his prominent engagement in peace efforts raises the profile of the university on the international stage. This also encourages Patterson School students to look more closely at careers in public service and the nonprofit sector and may even improve their employment prospects."