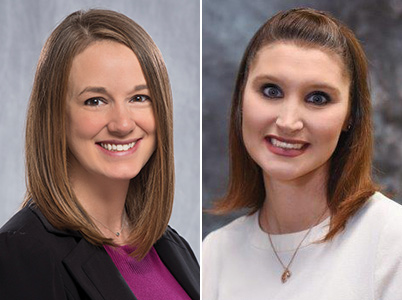 Every organization with a marketing department has behind-the-scenes people who create and coordinate every element that goes into social media, public relations and advertising.
At First Security Bank in Owensboro, Jamie Roby Johnson is a marketing specialist who coordinates marketing efforts for the bank in Owensboro, Bowling Green, Franklin and Lexington, as well as Evansville and Newburgh, Ind. A First Security customer herself for five years, Johnson joined the bank in March after having worked for Marshall Ventures, a micro-venture fund in Owensboro.
"The first thing I did was start posting regularly on our social media and creating Instagram and Twitter accounts," she said. "I am also just being creative and thinking outside of the normal banking box, which everyone here really appreciates. This is a bank that loves trying new things."
---
IT'S FREE | Sign up for The Lane Report business newsletter. Receive breaking Kentucky business news and updates daily. Click here to sign up
---
Johnson posts daily on social media, works on the website, designs some of the advertisements, updates product marketing, attends events and talks to employees at each location to see what they are doing in their communities.
"First Security just rebranded and the content I have to work with is fresh and exciting," Johnson said. "The people are amazing, and I'm so thankful that I'm in a role where I enjoy coming to work every day."
Marketing Specialist II Lindsay Orange joined Commonwealth Credit Union in Frankfort in November 2016. Previously, she served as communications director for one of the leadership offices in the state legislature.
"Every day, I get to come to a job I truly enjoy," she said. Orange has a passion for writing and graphic design and gets to utilize those skills in some of the organization's marketing materials and emails. With a staff of six in the marketing department, Orange works closely with the manager and chief marketing officer to drive campaigns and promotions. She also plays a key role in scheduling media placement with CCU's agency.
"One thing I love about our office is that everyone comes from a different background with different experiences," she said. "From when we were born to where we were raised, these differences have helped shaped our unique opinions and viewpoints. Our opportunities to collaborate allow all our ideas to be heard, growing from a thought into a successful campaign."
Compliance plays an integral role in every department at the credit union, marketing included, so transparent messaging is part of Orange's job description. She's proud of her role in fulfilling the company's mission as a community partner and neighbor.
"Everything I do here translates into something larger," she said. "To be part of making our members' lives better is an unbelievable feeling."