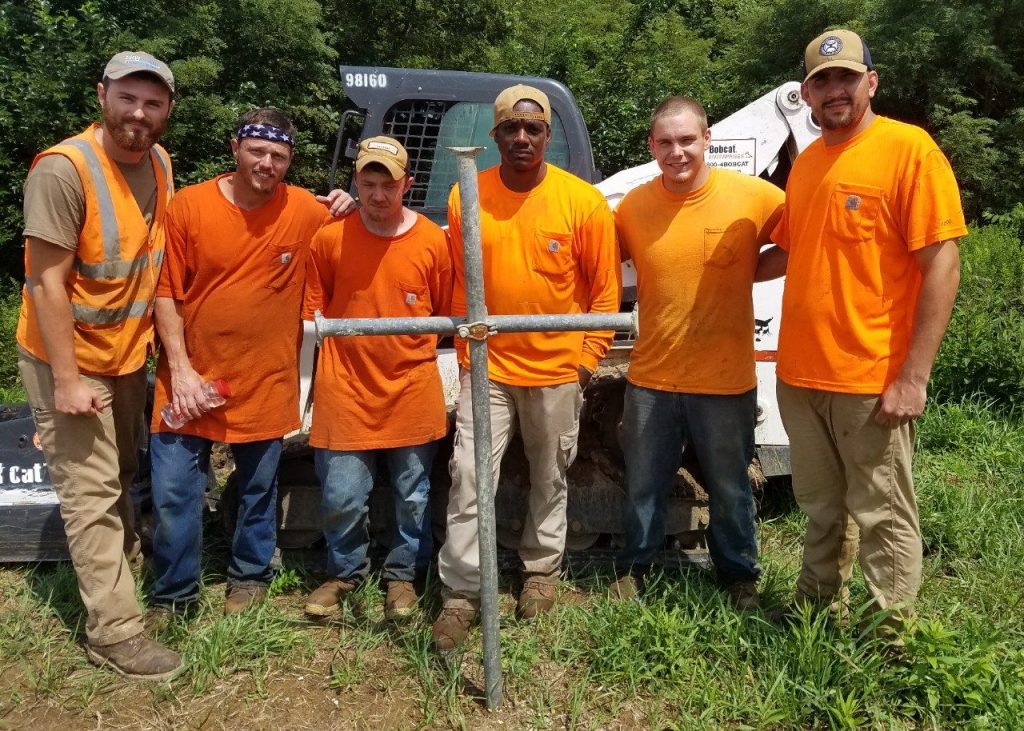 HIGHLAND HEIGHTS, Ky. (August 8, 2018) – Northern Kentucky University's Center for Environmental Restoration (CER) is leveraging its latest stream restoration project to help people recovering from addiction and to revitalize a community in central Kentucky.
As part of its work with the Northern Kentucky Stream Restoration Program, the CER is undertaking a stream and forest rehabilitation project at the 1,000-acre Kingsolver Wildlife Management Area in Carlisle, Ky. Under Director Scott Fennell, the CER has completed a number of similar restoration projects since 1999, engaging NKU student interns to assess, construct and monitor projects.  However, the location of the Kingsolver land presented a specific challenge.
"Carlisle is two hours from Highland Heights. It's too far for our students to drive back and forth, so I knew we would need to find workers. I had watched a YouTube video about a man who created a company to help ex-convicts transitioning to life out of prison. He provided them with job training, employment and social support to get them set up in life, and it stuck with me," said Fennell. "With NKU's commitment to addressing community health issues, I began talking to others about how to use this project to help people recovering from drug addiction. The ball just started rolling from there."
Fennell connected with Rev. Thomas Hargis from the Jubilee Project, a non-profit in Cincinnati that teaches people construction skills while rehabbing houses. Jubilee's proposal earned them the Kingsolver project, but the organization didn't have stream restoration experience. Fennell recommended one of his students, who was graduating in May, to train and lead the field crew for the project.
"Scott asked if I had any interest in applying for the Construction Manager position," said Hawkins Warner, NKU recent graduate and Kingsolver Construction Manager. "As I looked into it, I realized this job would allow me to share my passion for stream restoration with people looking to make a fresh start. It was a good fit for what I wanted to do."
NKU and Jubilee found a partner in Addiction Recovery Care, LLC (ARC), a network of state-licensed residential and outpatient drug and alcohol abuse treatment centers in Kentucky. ARC will provide the support needed to transition graduates from rehab into recovery. The project is also creating redevelopment in Carlisle and Nicolas County. Vacant buildings on Main Street are being rehabbed for offices, and an old hospital near the Kingsolver land will serve as housing for crew members in recovery and as a treatment center serving the region.

"This project underscores NKU's commitment to forging partnerships to address population health initiatives," said NKU Provost Sue Ott Rowlands. "Our faculty and students work to create solutions to meet the challenges that our communities face, and the Kingsolver Project is a great example of a university initiative supporting the greater goal."
Warner and an intern from the NKU stream restoration program are currently training three ARC graduates at a Mason County project site. Work will move to Nicolas County in the fall. Restoring the waterway on the Kingsolver land could take up to seven years to complete, so the project will have time to take root.
"The impacts of this go way beyond just stream restoration. It's giving the community a boost and helping people build new lives. The Kingsolver project is doing a lot of good, and I'm pleased the county could play a part," said Nicolas County Judge Executive Mike Pryor.
The individuals in recovery will learn valuable job skills such as construction equipment operation, chainsaw operation, herbicide application, tree planting, erosion control and basic surveying.
"There's the old saying, 'Give a man a fish, he eats for a day. Teach a man to fish, and he's set for life.' That's what we are trying to do with this project—teach them skills that they can take into a new life while doing work that has a lasting effect," said Warner.
For updates on the Kingsolver project, visit the CER website.