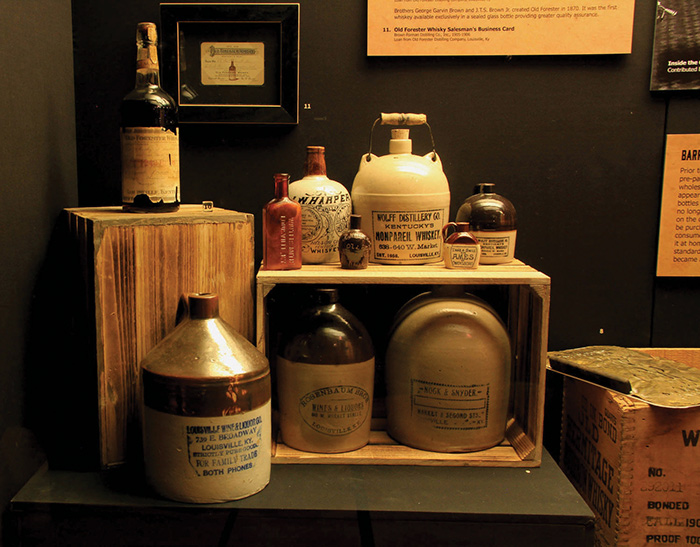 The Frazier History Museum in Louisville has partnered with the Oscar Getz Museum of Whiskey History in Bardstown to take its "Spirits of the Bluegrass: Prohibition and Kentucky" exhibit to the Bourbon Capital of the World.
The exhibit – one of the most popular exhibitions in Frazier's 14-year history – marks the first time a Frazier original exhibit has hit the road as a traveling exhibit.
Featuring two full bars and a lighted stage, the exhibit – which ran from fall 2016 to early 2018 in Louisville – explores the unintended consequences of Prohibition by tracing the rise of the temperance movement, bootleggers, speakeasies and flappers during the 1920s and '30s. The Bardstown version has been slightly scaled down to fit the Getz space.
A lineup of artifacts organized chronologically tells the story of the temperance movement, followed by Prohibition in 1920 and its repeal in 1933. A new point of focus will be Prohibition's impact on the city of Bardstown, where a black market for moonshine replaced the shuttered liquor distilleries.
"'Spirits of the Bluegrass: Prohibition and Kentucky' was so popular with the public, we knew this exhibit had to live on beyond its time here at the Frazier," said Frazier History Museum President Penny Peavler. "With Bardstown's rich bourbon past and growing Kentucky Bourbon Trail tour experiences, the Oscar Getz Museum is the perfect partner with whom to share this important chapter in Kentucky history."
The Oscar Getz Museum opened in 1984 when the Getz family, having sold the Tom Moore Distillery in Bardstown, saved its vast collection of artifacts, documents and whiskey industry memorabilia to put on public display. Among the 5,000 items in the permanent collection are vintage ads, moonshine stills, antique jugs, liquor decanters, medicinal prescriptions and more.
 The museum is located in Spalding Hall, an antebellum brick building that served as a hospital during the Civil War. Staff has had to clear space around the entrance and renovate the hallways and foyer in preparation for the new exhibit, and a new effort to catalogue, label and digitize the permanent collection is currently underway.
At the insistence of the Getz family, admission to the museum remains free of charge.
The "Spirits of the Bluegrass" exhibit will remain at the Getz Museum for two to three years.