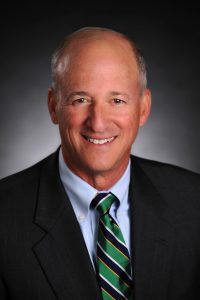 FRANKFORT, Ky. – The White House has announced that President Donald J. Trump will nominate Council on Postsecondary Education President Robert L. King as assistant secretary for postsecondary education at the Department of Education. The appointment requires U.S. Senate confirmation.
King has served more than nine years as president of the Council. He has advanced statewide efforts to work collaboratively with his counterparts in K-12 education, focused campus attention on student success, and more recently, led efforts for a rational and equitable funding model for the public colleges and universities. King also has served on the Executive Committee of the State Higher Education Executive Officers (SHEEO), and served as its chair and vice chair.
"No one is more deserving, capable and ready to serve at this level than Bob King," said Council Chair Sherrill Zimmerman. "Bob has been a tremendous asset to Kentucky, and he will continue his strong leadership in this new role."
Earlier, King announced plans to retire in June, but the Council asked him to stay while a national search is being conducted for his replacement. The Council hopes to name its fourth president by November. The timeline for King's departure has not been set.
Before coming to the Council, King served as the chancellor of the State University of New York and as president and CEO of the Arizona Community Foundation. Earlier, he served three terms in the New York State Legislature and later as a judge-executive. He also served in the New York Governor's Office as budget director and director of the Office of Regulatory Reform.
King earned a bachelor's degree from Trinity College and a Juris Doctor from Vanderbilt University School of Law.