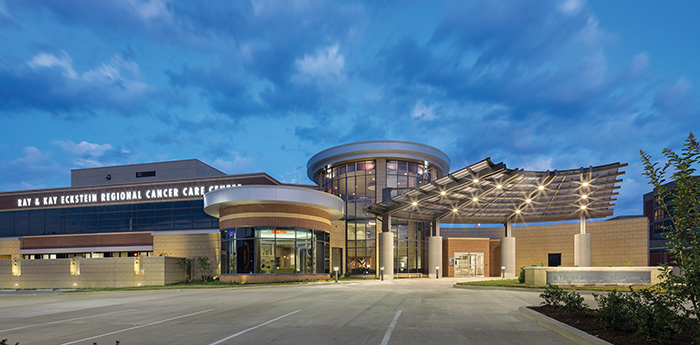 Editor's note: This is the first in a two-part look at efforts to change Kentucky's worst-in-the-nation cancer mortality rate.
Kentucky cancer statistics are bleak – literally the worst – but there is growing excitement that new treatment advances and a coordinated effort among the state's leading care providers is about to change this dramatically. A burst of cancer clinic construction is underway.
Providers across the state are putting more than $500 million into new stand-alone facilities that pull all the elements of care and its coordination under one roof. Confidence is rising that within a decade, close collaboration among teams using better tools is about to turn many cancers into diseases that are controlled and managed – perhaps not cured but far less likely to result in death.
Kentucky leads the nation in overall cancer incidence and mortality, according to a 2014 study published by the Journal of the American Medical Association. Rates are high statewide but worst in the Appalachian region, with mortality rates for lung cancer and other respiratory-system tumors especially high in Eastern Kentucky.
---
IT'S FREE | Sign up for The Lane Report email business newsletter. Receive breaking Kentucky business news and updates daily. Click here to sign up
---
Moreover, the commonwealth has held this dismal worst-in-the-nation position more than 30 years, said Dr. Eric Durbin, director of the Kentucky Cancer Registry (KCR) and of Cancer Informatics at the University of Kentucky. Despite continuing advances in research, treatment and technology as well as imaging systems with greater sensitivity and reliability for tumor screens, the commonwealth still has the lead in a category where it would prefer to be last.
For now.
"We have made remarkable gains in screening, but it's still challenging. Cancer incidence and mortality correlates with poverty, smoking habits, challenged access to health care, radon levels and other environmental factors," Durbin said. "We are also building data on the genetic factors that contribute to higher rates of incidence and mortality. The whole gamut is working against our population."
The cancer statistics are bleak, but there is more good news than bad, Durbin said. Kentucky's hospitals and health-care systems are working cooperatively with each other and with KCR researchers, volunteers and public health officials to attack the commonwealth's cancer issues.
On the treatment front, there is great progress and further promise in immunology therapy as well as the use of genetic sequencing of individual cancer tumors to identify how to kill them. In October, The Lane Report will present an in-depth look at how Kentucky's health-care providers are making use of these treatments.
Dr. Mark Evers, director of the UK Markey Cancer Center since 2009, describes the past 10 years as nothing short of a revolution in the field of oncology. Three-plus decades of advanced genetics research has revealed that cancer tumors are as unique and individual as a patient's fingerprint.
"We have gone beyond the days when Mr. X who has colon cancer gets the same therapy as Mrs. Y," said Evers, a nationally recognized oncology researcher who brought a team with him when recruited from Texas. "Now we're looking at a patient's specific mutational profile because everybody is different, and tumors are different as well. We can no longer treat every cancer the same when we know they are all of a unique genetic makeup."
Consolidating cancer care services
This critical insight has given rise to new cancer treatment methods and it is leading providers to reorganize how they perform their care. Kentucky health systems are investing hundreds of millions of dollars into new construction and renovation projects for dedicated cancer centers. Beyond the better clinical treatment rooms and advanced technology, this re-organization is a shift to a quality-driven, multidisciplinary approach focused on the needs of the individual patient rather than treating types of cancers as if they were all the same.
While Kentucky continues to face challenges, this patient-centered approach demonstrates a concerted effort on the part of state health systems to aim for the forefront of cancer care nationally.
On Aug. 9, St. Elizabeth Healthcare broke ground on a $130 million advanced cancer treatment center on its medical campus in Edgewood. When complete, the facility will be the largest of its kind serving Greater Cincinnati's more than 2 million residents.
Dr. Douglas Flora, executive medical director of St. Elizabeth's Cancer Program, oversees the project and describes the new facility as an ongoing effort "challenging the traditional paradigms of cancer care." It will incorporate the full range of oncology and patient care services under one roof. It also will be a support hub for the health system's network of Northern Kentucky hospitals, all of which provide the basics in cancer screening, radiation and infusion therapies.
The St. Elizabeth project "is much more than just bricks and mortar. Our CEO (Garren Colvin) and board of trustees charged us to build a place where we would want to send our own families for treatment," Flora said.
That meant more than meeting the standard for oncological care. St. Elizabeth needed to offer critical support services for cancer patients and their families – services that typically don't contribute to the bottom line "but have proven themselves therapeutically valuable."
The first floor of the Cancer Center will be dedicated largely to what Flora describes as the "softer side of cancer care." Among its community resources will be: teaching kitchens to demonstrate healthy cooking of foods known for their cancer prevention qualities; art therapy and yoga studios; education and symposia rooms to disseminate information on cancer care; family support networks; and financial consultants to help ease those burdens.
"The whole floor is designed to engage with the community about screening and cancer prevention, coping with the disease, and helping patients continue to lead full and rewarding lives during and after treatment," Flora said.
New facilities across the state
In November, Louisville-based Norton Healthcare will open its newest facility: Norton Cancer Institute–Brownsboro. It joins several dedicated Cancer Institute sites the five-hospital health system has opened in its Jefferson County service area, but with a significant difference. It will be the first to offer a complete range of oncology and related services under one roof, said Dr. Joseph Flynn, executive director and physician-in-chief of the Norton Cancer Institute.
In addition, Flynn said, its support services will be extended to all patients. He is particularly proud of a music therapy program popular among children and teen cancer patients.
"Cancer Beats is a music therapy program funded in part by a grant from Teen Cancer America, a foundation founded by The Who's Pete Townshend and Roger Daltrey. It is very important to address the psycho-social needs of our patients, particularly our young people who are diagnosed with cancer," Flynn said.
In Lexington, UK Markey Cancer Center is undergoing its own metamorphosis, opening its Precision Medicine Clinic for individualized treatment in February. Markey relocated its inpatient beds to the 11th floor of UK Chandler Hospital Pavilion A so that it could begin a major expansion and renovation of its Ben Roach Cancer Care facility.
"In 2009 when I came to UK, we saw about 60,000 patients in our various Markey clinics," Evers said. "Since earning our NCI (National Cancer Institute) designation in 2013 (NCI's Cancer Centers Program is an anchor of the nation's cancer research effort), demand has almost doubled. We need to expand our clinic space to meet the growing demand."
The renovation includes space for a new linear accelerator (LINEAC) for radiation treatment. The second floor is being converted into the lung, head and neck cancer clinic. The third floor will be a hospice unit run by Bluegrass Care Navigators.
Last year, the Baptist Health system, also based in Louisville, opened the Ray and Kay Eckstein Regional Cancer Care Center at its hospital in Paducah. In 2014, Baptist completed the Charles and Mimi Osborn Comprehensive Cancer Center in Louisville.
Each of Baptist's affiliated hospitals has invested in dedicated local and regional cancer centers, said Amanda Henson, vice president of oncology care at Baptist Health Lexington. Advanced services are located strategically at regional facilities in Paducah, Louisville, Lexington and Corbin. Most basic services, including the radiation and chemotherapy-infusion therapies once only found in metropolitan hospitals, are now common among all locations, she said.
"We don't replicate everything. Our Cyberknife technology in Lexington, for example, is a highly specialized outpatient treatment," Henson said. "But patients should not have to travel far from home to get a high-quality standard of cancer care. Patients have access to infusion therapy, cancer screening, counseling and other support services at every Baptist location."
KentuckyOne Health Breast Care at Saint Joseph East in Lexington completed a $1 million expansion and renovation project in October 2014, growing its service area to 5,900 s.f. and becoming the first Kentucky hospital to offer Affirm 3D-guided stereotactic breast biopsy technology. Last year, KentuckyOne invested $3 million at St. Joseph Hospital for radiation oncology technology to shorten treatment time, improve patient comfort, and reduce side effects.
The consolidation of cancer services is occurring at larger individual hospitals also.
Since 2014, the University of Louisville James Graham Brown Cancer Center has seen a number of upgrades to its equipment and technology, totaling nearly $9 million. This includes the purchase of a linear accelerator used in radiation treatment, and the replacement of its mammography van. Minor updates to patient waiting areas and a renovation to the bone marrow transplant clinic allows the UofL Brown Cancer Center to accommodate more comprehensive cancer care patients. Major upgrades to medical-records software have been part of the capital budget as well.
Owensboro Health has an inpatient unit in its still-new medical center and has also expanded and converted its former hospital on Parrish Avenue into the Mitchell Memorial Cancer Center. A member of the Markey Cancer Center Affiliate network, the facility provides outpatient screening, chemotherapy, radiation and other treatments in addition to management consultations and education. OH also has partnerships with UofL's James Graham Brown Cancer Center, the Kentucky Clinical Trials Network and the Vanderbilt-Ingram Cancer Center Affiliation Network.
Better patient experience matters
To appreciate why the process of reorganizing cancer services into a quality-driven, patient-centered model is so important, St. Elizabeth's Dr. Flora said it is instructive to recall what health care used to ask patients to do.
As recently as the 1990s, if a patient's biopsy was positive, that person could be referred to medical and surgical oncologists at hospitals an hour or more from their home. They'd visit four different buildings, have different tests done on different days and be asked to schedule new imaging scans each time.
"The process could take weeks before the first treatment was ordered," Flora said. "The travel was especially hard on patients suffering from late-stage tumors and extreme metastasis."
Combining it all into one location with an electronic medical record and internet-based communication has made a huge difference, he said. It is possible now for teams of oncologists to confer in real time and streamline care to best serve patients' needs.
"One of the things we have really embraced is a uniformity across all campuses in implementing a multidisciplinary approach," said Norton's Dr. Flynn. "I'm a big believer in 'no wait' medical care."
When a patient has a cancer center appointment, they can pre-register by email or via a smartphone app. This allows them to go straight to treatment or testing when they arrive; then in the early afternoon, the patient can confer with their doctor and the multidisciplinary team: medical oncologist, surgeon, radiation oncologist, behavioral oncologist, pharmacist and the other adjunct specialists.
"We respect our patient's time," Flynn said.
Every hospital has its own specialized cancer tumor board of physicians – or access to one – who meet regularly on difficult cases and suggest best treatment options for individual patients. A central location enables those teams to confer with each other and discuss individual cases as the need presents itself.
"I spend some mornings every week with a team of about 15 physicians talking in real time about individual cases," Flora said. "Whether in the meeting room or communicating through tele-health, all of us are reviewing the case data and discussing the pros and cons of treatment modalities for specific patients. A process that used to take weeks now happens in just a few hours."
Most times, the recommendation is to continue traditional treatments. Other times, patients qualify for clinical research trials. Most of Kentucky's hospital systems now participate in clinical trials of new chemotherapeutic agents.
"We (Baptist Health) formed a research network of cancer services so that we can give our patients access to new cancer drugs. That way, people who want to participate in a trial don't have to travel to Lexington or Louisville to get it," said Henson.
UK's Evers echoed those sentiments. Similar to the way in which health systems provide support for their member hospitals, Markey Cancer Center acts as a hub for information and provides collaboration between Markey's staff oncologists and cancer treatment departments at the 20 hospitals in its affiliate network.
"We really want to make it possible for patients to receive the best possible cancer treatment closer to home," Evers said.
It's of vital importance that patients in Kentucky, with its high incidence of cancer, have an NCI-designated facility available to them, he said.
"That designation means a lot for our research and treatment initiatives, but it also gives our sickest patients – those who meet specific criteria – access to investigational drugs and therapies not generally available at most hospitals," Evers said.
Screening still vital
NCI noted in its annual Report to the Nation that from 1999 to 2015, overall cancer death rates in the United States declined for men, women and children. And those national-level gains are reflected in Kentucky in many ways, Durbin said. However, perhaps the most important takeaway from the data is that routine cancer screening is still the most effective defense against mortality. No advance in cancer care has replaced that single fact, he said.
As an illustration of how much of a difference cancer screening makes, consider the success the commonwealth has had in colorectal cancer.
In 2002, Kentucky was 49th in the United States for colorectal cancer screening. There was no good reason for it, Evers said. People simply were not getting properly screened. Recognizing this, the Kentucky Cancer Registry, under the direction of Dr. Tom Tucker, partnered with all of Kentucky's hospitals and health-care systems to improve the rate of cancer screening.
As a result, Kentucky went from being among the worst for colorectal cancer screening to being among the top 20. It's one of the most successful efforts to improve cancer care in Kentucky.
"Statistics show that colorectal cancer is being detected earlier, treatments are more successful, and the rate of survivorship for this form of cancer is increasing in Kentucky. Working with the cooperation of Kentucky's health-care systems – particularly the physicians, oncology specialists and staff at the various cancer-treatment facilities across Kentucky – we have shown that circumstances in Kentucky can improve," Durbin said.
"For some patients, our treatments may be enough to reduce their disease from a terminal to a chronic condition. Considering where the science was 50 years ago, that's a major step forward," Evers said.
Kentucky's health systems, working cooperatively, have made significant progress toward relieving the population of its cancer burden. When physicians and patients are involved in the process, when system administrators make patient outcomes the driving force behind their decisions, good things happen, said Flora.
No one wins when health-care systems operate in silos. Cooperation between organizations, with the patient at the center of our efforts, is a victory for us all.
---
Josh Shepherd is a correspondent for The Lane Report. He can be reached at [email protected]