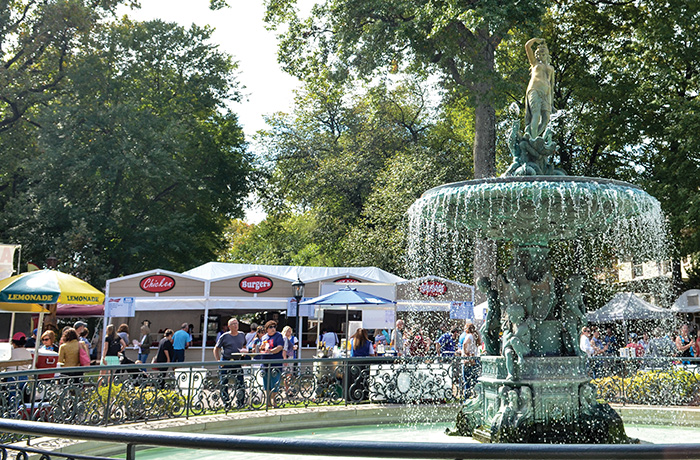 The arts can encompass an amazing assortment of diverse creative endeavors and around the commonwealth, autumn ushers in everything from traditional art and craft to on-stage performances or audience participation events. Whatever your artful heart desires this season, you'll find it in a corner of Kentucky.
Let's begin with an event that's been a mainstay in Derby City for 61 years. The 62nd annual St. James Court Art Show, scheduled for Oct. 5-7, peppers this historic Louisville neighborhood – rain or shine – with booths chock full of blind-juried, handmade art and crafts by some 700-plus artisans from across the country. Set as a fascinating background are houses dating back to the 1800s. The combination of very old and very contemporary is one reason that crowds number around 160,000 annually.
---
IT'S FREE | Sign up for The Lane Report email business newsletter. Receive breaking Kentucky business news and updates daily. Click here to sign up
---
"The setting in a landmark district definitely separates it from other art shows in fields and parking lots," says Howard Rosenberg, the event's executive director. "Our show also offers a wide variety of different types of high-quality art by some of the finest artists in the U.S., and the selected artists are engaging with people."
In 2017, it ranked No. 10 on Sunset Artist magazine's Top 100 Fine Art Shows in the U.S.
In addition, the St. James Court show awards $52,000 in college scholarships to metro Louisville high school seniors every year.
Another can't-miss is a Mel Brooks classic movie that morphed into a lively Broadway show that will be presented Sept. 28-30 at the Spotlight Theater in Berea by The Bluegrass Players. "Young Frankenstein the Musical" is a production "guaranteed to keep you laughing," says director Matt Manning.
Grandson of the infamous Victor Frankenstein, Frederick Frankenstein (pronounced "Fronk-en-steen"…you may remember Gene Wilder in the movie role) inherits his family's estate in Transylvania. With the help of a hunchbacked sidekick, Igor (pronounced "eye-gor") and a leggy lab assistant, Inga, Frederick finds himself in the mad scientist shoes of his ancestors. "It's alive!" he exclaims, as he brings to life a creature to rival his grandfather's. Eventually, of course, the monster escapes, and hilarity abounds!
There's more chaotic fun to be found at the Kentucky Railway Museum on the weekends of Sept. 15-16 and Oct. 27-28. As you board the train for a two-hour chug through the Rolling Fork Valley, you'll be warned to be on the lookout for a gang of train robbers – Clayton's Wild Bunch – rumored to be in the New Haven area. Fortunately, the strong arm of the law will protect the passengers, who can choose to surrender their loot to the Crusade for Children.
Be sure to bring your camera.    
You'll definitely want to take photos at Pine Mountain State Resort Park, where The Book of Job returns to its roots in Pineville for the weekend of Sept 28-30. Bell County natives Olin and Irene Corey have led the Everyman Players in stage performances of this long-running outdoor drama for more than 30 years. The talented couple have served as playwrights, directors and costume designers – including exquisite stained-glass-look attire – for the production that has become famous and brought notoriety to the park. This fall, the Middlesboro Little Theatre stars in the production.
Consider hanging out at Kentucky's first state park for the weekend. A variety of accommodations are available, including the 30-room Herndon J. Evans Lodge, 11 two-room cottages or nine log cabins with stone fireplaces and private decks. All rooms have mountain and/or forest views.
If you have a large group, the park's C.V. Whitney Convention Center can accommodate 10 to 300 people. There is also the Wasioto Winds Golf Course, miniature golf and 15 miles of hiking trails.
In Corbin, Cumberland Falls State Report Park requires audience participation in two plays during its Halloween Murder Mystery Weekend, Oct. 27-28. Your choice of a Friday or Saturday package includes one night's lodging, dinner, a mystery show and breakfast.
Friday's feature is "The Ghost of Windsor Manor." The plot involves an eccentric spinster aunt who has brought together her family to break the news that her young nephew was discovered that morning hanging from the balcony railing, dead. A note pinned to his body warned that everyone should leave the manor at once. It's up to you, the audience, to follow clues to discover whodunit.
On Saturday evening a murderous ghost haunts an inn in the play "InnSpectre." Eight people are invited to confirm the presence of a spectre, with, of course, a murderous outcome.
While there, visit the world-famous falls, gaze at water tumbling 60 feet into a gorge with mist rising in the sunlight. If the moon's full, you just might witness a moonbow. The park's historic 51-room lodge overlooks the Cumberland River and its 125-foot-wide falls, nicknamed "the Niagara of the South." One- and two-bedroom cottages offer cozy accommodations, while activities include team building, hiking trails, seasonal rafting and horseback riding.
The last, but not remotely least in autumn's artsy offerings, is a stage presentation of perennial favorite "Arsenic and Old Lace" at The Star Theatre in Russell Springs. The historic 1950 venue has served at various times as a movie theater, furniture store, restaurant and a disco before finally re-opening in 1994 as a performing arts stage. Scheduled for Oct. 19-21 and 26-28, the show is sure to keep its audiences in stitches as theater-goers meet two charming and innocent little-old-lady sisters who stash the remains of socially and religiously acceptable roomers in their basement, with the help of one brother who believes he's Teddy Roosevelt, and to the horror of another brother. Rolling in the aisles is guaranteed!
Whatever you do, hit the road and enjoy Kentucky's amazing array of artsy offerings this season.
Get Your Artsy Fix
Arsenic and Old Lace, Russell Springs (270) 866-7827
startheater.org
Book of Job, Pineville
(606) 337-3066
parks.ky.gov/parks/resortparks/
pine-mountain/events.aspx
Halloween Murder Mystery, Corbin
(606)-528-4121
parks.ky.gov/parks/resortparks/cumberland-falls/
St. James Court Arts Show, Louisville (502) 635-1842
stjamescourtsrtshow.com
Train Robbery, New Haven
(800) 272-0152
kyrail.org
Young Frankenstein the Musical, Berea (859) 756-0011
spotlightplayhouse.com
---
Katherine Tandy Brown is a correspondent for The Lane Report. She can be reached at [email protected]