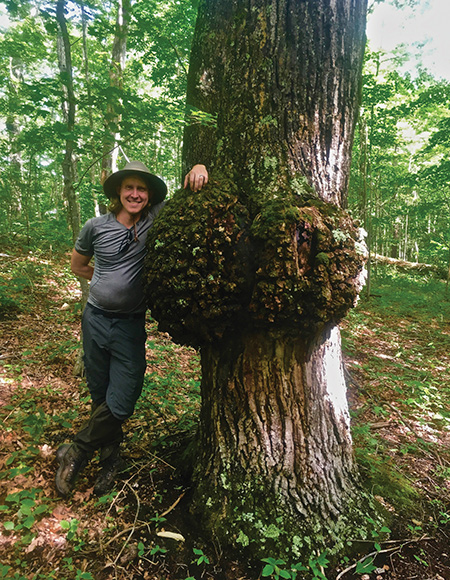 Preston Lacy is the first in nine generations of his family not born in Eastern Kentucky. He's from Scott County, but appreciation of nature and the culture of "the mountains" are in his blood.
"It's an area I feel strongly about," he said. Lacy is the stewardship director of Kentucky Natural Lands Trust. Established in 1995, KNLT is a nonprofit organization funded primarily through private donations. It preserves the rich biodiversity in Kentucky's natural places.
The Pine Mountain wildlands corridor, for example, is the largest landscape-level project undertaken in the state. Another KNLT project is a corridor south of Louisville connecting Bernheim and the Fort Knox military base.
"The main thing I'm doing as stewardship director is maintaining relationships with neighbors," Lacy said. KNLT has bought over 13,000 acres of land, some of which has been transferred to state agencies with an interest in protecting natural areas. When KNLT purchases land, Lacy watches over the properties.
---
IT'S FREE | Sign up for The Lane Report email business newsletter. Receive breaking Kentucky business news and updates daily. Click here to sign up
---
"I'm in charge of making sure that the land is stewarded forever, for the protection for wildlife and diversifying the regional economy for trail systems," he said.
There are plants, fungi and mammals on these lands that just aren't seen in other places. Clear-cutting of forest trees is a threat on Pine Mountain, as is gravel mining. KNLT protects the watersheds on land it owns, from the pristine water quality at the top of the mountain to the streams that support rare fish species and provide a groundwater supply for residents with wells, all the way down to the water going into the Cumberland River.
"Through partnerships with government agencies, nonprofits, corporations and private individuals we have protected thousands of acres of wildlands," Lacy said.
His undergrad major at UK was natural resource conservation and management, and he earned a master's from UofL in urban planning with a focus on environmental planning. After grad school he worked for five years at land trust organizations in Illinois and Missouri before joining Kentucky Natural Lands Trust in 2013.
"It's a very specific job," he said. "I never believed I would find something so specific."
He is one of six full-time employees of KNLT. The office is in Berea, but Lacy most often works from his home office in Paris or out in the field (literally) in Eastern Kentucky. In his spare time, Lacy enjoys hiking, backpacking, kayaking, snowboarding and recreational biking.
"I'm not extremely competitive so I enjoy these activities at my own pace," he said, "and truly experiencing the journey is the biggest part of the accomplishment for me."
He shares his love of the outdoors through KNLT's quarterly meetings of the Wildlands Social Club at places like West Sixth Brewing in Lexington and 21c Museum Hotel in Louisville and Cincinnati. Kentucky Natural Lands Trust also partners with Explore Kentucky Initiative for weekend hikes and is working toward establishing bike trails, hiking trails and outdoor experiences.
Pine Mountain is going to be part of the Great Eastern Trail, an 1,800-mile hiking path in the works from Alabama to New York. Lacy is quick to recommend outdoor adventures for everyone, from novice hikers to experienced backpackers. There are cabins for overnight stays and hiking trails at Pine Mountain State Park in Bell County. A 40-minute drive up the road in Harlan County, there are more hiking trails at KNLT's first protected property, Blanton Forest, the largest old-growth forest in Kentucky.
Worried about ticks? "Bug spray is never a bad idea," Lacy said, but "ticks are not nearly as prevalent (in mountain woodlands) as they are in Central Kentucky." That's thanks to a healthy and naturally functioning ecosystem, because bats and other animals eat insects.
"It's really quite pleasant and always cool around the mountain, with the forest cover," Lacy said. "Being out in nature is a rejuvenating experience."