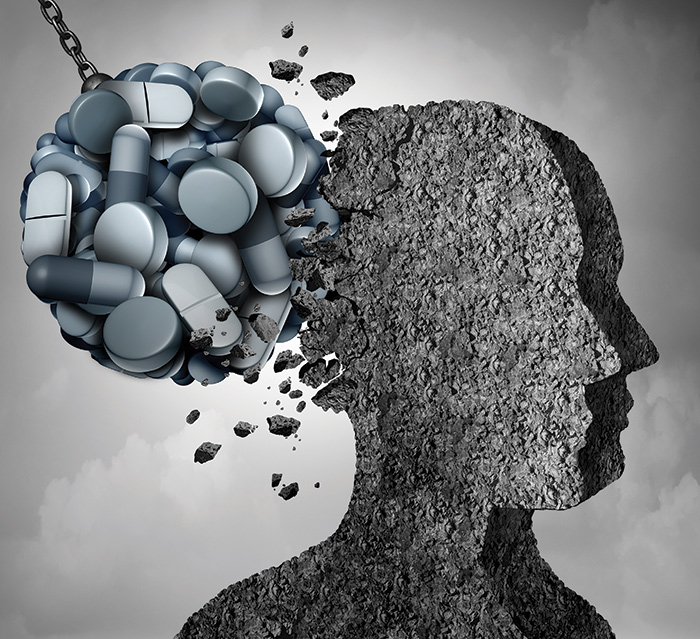 Editor's note: This is the third in a three-part series examining behavioral health issues impacting business in Kentucky.
Beyond the tragedy for thousands of Kentucky families, opioid abuse and overdose deaths are a problem for state businesses working to find and keep good personnel in a tight labor market.
The commonwealth ranks 10th in opioid-related deaths in the United States, with Kentuckians of prime working age at the highest risk. Economic impact figures specific to Kentucky are not available but the estimated cost to the U.S. economy in 2016 was $504 billion, according to the U.S. Department of Health and Human Services.
In 2016, 42,249 Americans died overdosing on opioids. The 1,404 Kentuckians among them represented "a rate of 23.6 deaths per 100,000 persons and nearly double the national rate," according to the National Institute on Drug Abuse.
That was a 7.4 percent increase from Kentucky's 2015 level, and opioid deaths increased another 11.5 percent to 1,565 in 2017, according to the latest Overdose Fatality Report, which the state's 2012 opioid law now requires annually.
---
IT'S FREE | Sign up for The Lane Report email business newsletter. Receive breaking Kentucky business news and updates daily. Click here to sign up
---
On a more positive note, however, the CDC's monthly Vital Signs report showed Kentucky's overdose-related emergency room visits dropped 15 percent from June 2016 to September 2017 – the most significant decrease in the nation. Other states were getting worse in that same period: Wisconsin increased 109 percent in overdose-related ER visits, Delaware saw a 105 percent, and Pennsylvania and Illinois ODs were up 81 percent and 66 percent, respectively.
"It's sneaky," Andres Illes, a Kentucky commercial real estate investor, said of the opioid impact. "I had problems with my last contractor. When he first started working for me, he didn't show signs of heavy abuse. He later had a problem with his knee, and I could tell he was abusing pain medication.
"This guy was not what anyone would picture as a stereotypical user. He was in his mid-50s, comes from a good family, lives in a nice area, had references and started out working hard and doing a great job. And then it just went south; it went south within three months. I didn't find out until after I had fired him that he was using on the job, that he was transacting in my building – on the job with his friends and coworkers."
Kentucky businesses face myriad problems with employee retention and workforce development in the wake of the opioid epidemic. Businesses are losing workers to addiction, Kentuckians are unable to apply for and maintain a job due to active addiction, and recovered addicts cannot find gainful employment due to their addiction history.
The stigma and criminalization of addiction serves to further perpetuate drug abuse for addicts, as well as inhibit effective recovery and movement back into the workplace.
But the factors of opioid addiction, as many Kentuckians are figuring out, are complex and affect different parts of the state very differently.
On one end of the spectrum there is pain medication abuse, with 11.5 million people reported to have misused prescription opioids and 17,087 overdose deaths attributed to commonly prescribed drugs in 2016.
To the business community's consternation, many prescription pain pill addictions start as treatment for workplace injury. While opioids can effectively alleviate the pain of recovery for many patients and workers, their increasingly liberal distribution and inadequate oversight of usage helped create the epidemic the U.S. is reeling from today.
In January 2018, Kentucky Attorney General Andy Beshear filed a lawsuit against the McKesson Corp., charging that the drug wholesaler inundated Kentucky counties with millions of prescription painkillers – as many as 477 pain pills per person, children included, in Floyd County between January 2010 and the end of 2016.
On the other end of the spectrum are intravenous drug users. Many of them are shifting their addiction from prescription pain medication to heroin due to its lower cost and easier access. In 2016 the U.S. had:
• 948,000 people using heroin
• 170,000 people trying heroin for the first time
• 15,469 deaths attributed to overdosing on heroin
Since the introduction into the market of the painkiller fentanyl, which is 30 to 50 times more powerful than heroin and far more deadly, drug-associated deaths in Kentucky have hit an all-time high.
The Northern Kentucky, Louisville and Lexington metro areas are being hit the hardest by intravenous drug use. According to data from the Kentucky Medical Examiner and coroner reports, the top five counties for heroin-related overdose deaths in 2017 were:
1) Jefferson County – 122 deaths
2) Fayette County – 48 deaths
3) Kenton County – 20 deaths
4) Campbell County – 17 deaths
5) Boone County – 12 deaths
The secondary consequences of intravenous drug use are equally chilling. More than 2,200 HIV cases diagnosed in 2016 in the United States were attributed to injection drug use, according to the U.S. Centers for Disease Control. In 2015, Kentucky reported four cases of chronic Hepatitis C and 121 cases of acute Hepatitis C (2.7 cases per 100,000 persons as reported by the CDC), one of the highest rates in the U.S.
The Lexington-Fayette Public Health Department began one of the state's first needle-exchange programs after the General Assembly passed Senate Bill 192 in March 2015. From September 2015 to July 16, 2018, in Fayette County there were:
• 14,957 total visits to the exchange
• 2,757 unique clients
• 490,690 needles brought in
• 588,055 needles given out
• 1,552 Naloxone kits given out
• 132 new referrals to the program
There now are 42 needle-exchange programs statewide with two more approved to start in Northern Kentucky. Louisville has five needle exchanges. Most are located in Central and Eastern Kentucky. In some cases, providers are present at these exchanges to offer information to those suffering from addiction and provide entry points for treatment. Bluegrass.org, which provides behavioral health services at 48 Central Kentucky locations, is frequently present at the Lexington-Fayette Health Department's needle-exchange program.
Addressing the epidemic
So, how can Kentucky businesses cope with and even help solve the problem? When it comes to combating substance-use disorder in Kentucky, education is everything.
"The people we see look like everyone else. They are fathers, mothers, sisters, brothers and friends. The perception of the junkie under the bridge is not reflective of the people who come in here for help," said Jill Keys, a nurse at the Lexington-Fayette County Health Department. "Many of the people who come to our needle exchange are coming in during their (work) lunch breaks every Friday."
With the majority of Kentuckians involved in this epidemic being of working age and often early in their career years, businesses are being advised to be proactive with workplace education. A variety of statewide and national resources provide guidance on the dangers and risks of addiction.
The Substance Abuse and Mental Health Services Administration (SAMHSA) has a wealth of resources for businesses and communities and presents National Prevention Week, an annual health observance to increase public awareness and action around mental health and/or substance-use disorders. Its goals are to:
• Involve communities in raising awareness about behavioral health issues and implementing prevention strategies.
• Foster partnerships and collaboration with federal agencies and national organizations dedicated to behavioral and public health.
• Promote and disseminate quality behavioral health resources and publications.
SAMHSA provides a tool kit with ideas and resources that businesses and organizations can use to raise awareness about substance-use disorder and to educate workers on the dangers of opioid addiction as well as the importance of positive mental health in the business community.
The Kentucky Psychological Association also offers workshops on opioid addiction and best practices for those interested.
One of the biggest hurdles in addressing the epidemic is tackling the stigma at the root of society's perception of addiction and substance-use disorders. The American Society of Addiction Medicine defines addiction as:
"… a primary, chronic disease of brain reward, motivation, memory and related circuitry. Dysfunction in these circuits leads to characteristic biological, psychological, social and spiritual manifestations. This is reflected in an individual pathologically pursuing reward and/or relief by substance use and other behaviors.
Addiction is characterized by the inability to consistently abstain, impairment in behavioral control, cravings, diminished recognition of significant problems with one's behaviors and interpersonal relationships, and a dysfunctional emotional response. Like other chronic diseases, addiction often involves cycles of relapse and remission. Without treatment or engagement in recovery activities, addiction is progressive and can result in disability or premature death."
Many new programs dealing with the opioid epidemic focus on harm reduction or minimization. Newer public health policies are designed to lessen the negative social and/or physical consequences associated with certain human behaviors, both legal and illegal.
Public health departments across the state offer free workshops on naloxone, commonly known by the brand name Narcan, a medication that blocks the body's opioid receptors and prevents or reverses the respiratory failure effect of an overdose and saves hundreds of Kentucky lives a year. Many classes provide free kits to participants.
Only the addict can choose sobriety
The point of harm-reduction strategies like needle exchanges and naloxone treatment is to be able to meet addicts where they are and provide resources to keep communities safe and save lives. Those who work in addiction recovery say they learn that the addict must be the one to choose sobriety, and even then the path to sobriety is sometimes long and problematic. Until sobriety happens, a best practice for communities is to keep those suffering substance-use disorders safe and have resources ready for recovery when an addict decides to seek treatment.
Communities and businesses often need resources to understand addiction and its hold on users, according to the treatment community.
Addiction, especially opioid addiction, is a neurological disorder that, if left untreated, can become impossible to reverse and leaves addicts without a semblance of free will, driven to avoid impending 'dope sickness.'
Sam Quinones explains it well in his best-selling 2015 book, "Dreamland: the True Tale of America's Opiate Epidemic":
"What gave the morphine molecule its immense power … was that it evolved somehow to fit, key in lock, into the receptors that all mammals, especially humans, have in their brains and spines. The so-called mu-opioid receptors – designed to create pleasure sensations when they receive endorphins the body naturally produces – were especially welcoming to the morphine molecule…
Most drugs are easily reduced to water-soluble glucose in the human body, which then expels them. Alone in nature, the morphine molecule rebelled. It resisted being turned into glucose and it stayed in the body.
'We still can't explain why this happens. It just doesn't follow the rules…' (Andy) Coop (a chemist studying the addictive properties of morphine) says. 'It really is like someone designed it that way – diabolically so.' "
As the epidemic has grown, a number of health-care facilities and government agencies are working to help businesses and communities cope and addicts recover.
No one should be turned away
Treatment often is covered under both Medicaid and employer-offered insurance plans and includes not just detox and recovery services but follow-up to ensure recovering addicts move on from addiction and thus stay sober. And if someone suffering opioid addiction is not covered, providers work with them to find and maintain coverage within the patient's means. The consensus among providers is that no one who wants treatment should be turned away; everyone gets help.
Yet, coverage remains an issue for many Kentuckians. While workers covered under an employer health plan usually can get addiction treatment, others are unable. The latest Kentucky Health Issues Poll conducted for the Foundation for a Healthy Kentucky reported that the percentage of Northern Kentucky adults ages 18-64 without health insurance more than doubled from 11 percent to 26 percent from 2016 to 2017, an increase of 236 percent. The opioid epidemic hit Northern Kentucky first and hardest in the commonwealth.
Meanwhile, the well-known negative effects of substance-use disorder limit employment and professional-development options for recovering addicts. It's often up to a business owner to take a leap of faith when hiring a recovering addict, many of whom have spotty work histories and criminal records. But government and community-action groups are working one-on-one with Kentucky businesses and recovering addicts to expand the state's workforce and get individuals in recovery back into the workplace.
The Kentucky Office of Vocational Rehabilitation (OVR), a state and federally funded agency operating in every county, is known for its work helping state residents with disabilities find employment; the office often works with people with criminal backgrounds as well.
"We work with a lot of people who have criminal backgrounds," said Megan Collins, an OVR vocational rehabilitation officer. "That sometimes goes hand-in-hand with things like substance abuse or mental health issues where people just can't adjust or have poor impulse control."
Re-entering the job market
OVR helps people trying to re-enter the job market and provides short- and long-term incentives to businesses. Federal contracts require businesses to have an employee population that includes at least 8 percent with a disability, which includes behavioral disability and addiction disorders. OVR helps businesses find qualifying employees, provides appropriate job training, pays $7.25 per hour of the employee's salary for three months, and enables a business to qualify for a tax break of up to $8,000 a year.
"That gives companies a break," Collins said. "They don't have to worry about additional costs, and it provides them with a safety net."
Businesses interested in working with the OVR can contact their local OVR job-placement specialist.
One Lexington company has built its brand on hiring second-chance workers and become a popular restaurant in the process. DV8 Kitchen was developed specifically to operate as a second-chance employment opportunity for people who are trying to redirect their lives, according to its mission statement. Owner Rob Perez and his wife, Diane, said they knew they had to do something after having lost 13 workers to overdose fatalities at their three Saul Good restaurants.
"We need to change the way we think about hiring people; everybody deserves a second chance," Rob Perez said. "We can't keep on punitively making people pay for their past. It's just too much."
Businesses experienced at helping those who have substance-use disorder move back into the workplace say a key to recovery is that community is everything. Those most successful at it don't just provide employment; they ensure their workers have an active, strong support system both in and out of the workplace, through support groups, access to health care and incorporating cognitive behavioral communication techniques in their daily operations.
"One of the other things we have to do is not lower our standards just because we are working with someone in recovery," Rob Perez said. "We hold our people to a high standard. The folks can do it. They want to feel good about what they do and they perform."
Where to Go for Help
SUN Behavioral Health's new $40 million, 197-bed Erlanger facility was built in direct response to the opioid epidemic. St. Elizabeth Healthcare's 2015 Community Health Needs Assessment found that community members and St. Elizabeth physicians alike prioritized drug-addiction treatment as the highest need for development and expansion.
The key components of SUN's treatment, as outlined on its website, focus on engaging those suffering from addiction both socially and therapeutically. This includes: one-on-one work with psychiatrists; around-the-clock nursing care; detoxification facilities; cognitive behavioral therapy; 'motivational interviewing;' mindfulness; use of support groups, including 12-step groups; relapse prevention; problem solving; stress management and life-skills development; leisure skills training; collaboration with outpatient providers; and aftercare planning for continued recovery.
"For us, it is important our patients stay engaged in the SUN community," said Chris Lockey, CEO of SUN Behavioral Health Kentucky. "We know that when people stay engaged socially they do better in their recovery. People who are isolated and unengaged have a tendency to drop out and not succeed in their recovery, so we keep our program very busy. People are in groups doing something from the time they get up to the time they go to bed. We don't want people isolating. We don't want people in their rooms. We want them being involved in things like recreational therapy, art therapy and with each other. We have our patients working with a trained therapist as well as participating in multiple support group sessions a day."
Transitions is another Northern Kentucky-based addiction recovery organization whose base is in Covington. It offers: seven- to 10-day non-medical detoxification; 90-day residential chemical dependency treatment program for women in Covington and for men in Dayton; men's residential recovery program in Erlanger; six-month intensive outpatient program in Covington; and child care for parents who are seeking treatment.
Pikeville Medical Center in Eastern Kentucky offers detoxification and buprenorphine (an opioid, sold under the brand name Subutex, used to treat opioid addiction) services to the public for outpatients and hospital inpatient care. It has groups and programs for adolescents, pregnant and postpartum women, and criminal justice groups.
A range of behavioral health centers across the state provide addiction recovery services, including;
• Our Lady of Peace, which is part of KentuckyOne Health, operating primarily in Louisville
• The Stoner Creek Behavioral Health Center in Paris at Bourbon Community Hospital.
• The Medical Center at Bowling Green
• Owensboro Health
• Lifepoint Health, which operates in 10 Kentucky locations across Central and Western Kentucky
• Baptist Health, at its hospitals in Corbin, Louisville, Madisonville and Richmond.
• UK Healthcare
---
Clary Estes is a correspondent for The Lane Report. She can be reached at [email protected]