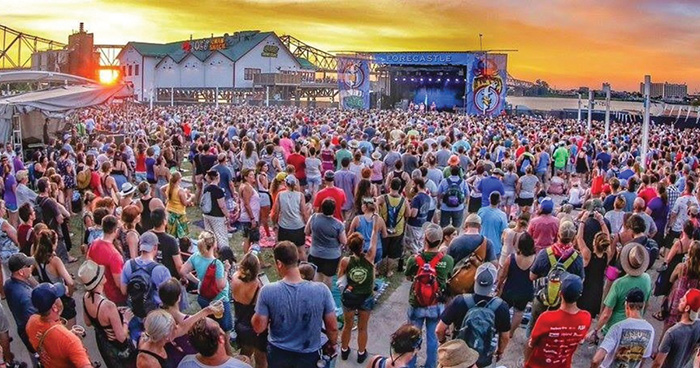 While popular new artists such as Chris Stapleton, Sturgill Simpson and Tyler Childers are attracting fans and interest, Kentucky music has been a reliable tourism niche for years, supporting venues throughout the commonwealth. Music events and festivals draw not only Kentuckians but thousands of patrons from out-of-state and around the world, complementing the state's equine, bourbon and other tourism sectors.
According to Department of Tourism Commissioner Kristen Branscum, a common factor in the musical crescendo is Kentucky's authenticity. Tourists are constantly in search of honest, real and intimate experiences, and music fanatics are no exception.
Lexington-born Stapleton returned to Kentucky in July to perform at Louisville's Forecastle Festival, founded by Louisvillian JK McKnight in 2002. Since 2012 the festival has been run by event producer AC Entertainment, founder of Bonnaroo, America's largest camping festival. AC's influence has tightened up Forecastle's structure, focusing on bigger stage production and bigger name acts.
---
IT'S FREE | Sign up for The Lane Report email business newsletter. Receive breaking Kentucky business news and updates daily. Click here to sign up
---
"The way we approach a festival, there has to be a festival soul. There has to be an authenticity that drives it, and that was something we found with Forecastle," said Jeff Cuellar, AC's vice president of strategic partnerships. "There's something about the quirkiness of having a nautical-themed festival in a landlocked state." (A forecastle is a sailing ship's forward upper deck with sailors' living quarters.)
Over 70,000 attended the three-day Forecastle Festival 2018 in July, generating more than $20 million in economic impact for the city. Attendees came from all 50 states and 10 countries, with 54 percent being nonlocal tourists.
Local flavor has allure
AC's Forecastle promotion plays up the region's uniqueness with nonmusic elements that include an ever-expanding bourbon lodge; a Forecastle Derby in which festival-goers bounce-race on inflatable horses; and late-night parties on the Belle of Louisville.
Shuttles bringing patrons to and from the Waterfront Park festival site provide easy access to downtown attractions that AC also actively promotes: local restaurants, Kentucky Bourbon Trail venues, new distilleries and hotels, and Fourth Street Live.
"In the '80s and '90s, a lot of focus was on material objects, and now you're seeing –  primarily driven by millenials – that they don't want stuff anymore," said Cuellar. "People would much rather have an experience, which is what we've worked on: providing that over-the-top experience that people can't find anywhere else."
In addition to Forecastle, festivals such as Bourbon and Beyond, Louder than Life, the Kentucky State Fair's concert series and the Kentucky Derby Festival's Waterfront Jam Concert Series have made Louisville a music hotspot. The KFC Yum! Center also provided an economic boom to the tune of $581 million between 2010 and 2014, with annual numbers in the years since projected even higher.
In October, Stapleton will return to Lexington for an already sold-out show at Rupp Arena. The arena and connected Lexington Convention Center, which just broke ground on $241 million in renovations in late July, have an economic impact on the city of over $42 million annually, according to Sheila Kenny, Lexington Center's director of marketing and communications.
That number is expected to grow from a three-year agreement reached in February with Oak View Group Facilities to manage event programming (with the exception of University of Kentucky athletic events). The Los Angeles-based company's booking strategy is focusing on attracting more diverse national tours like Stapleton and Justin Timberlake, and creating unique fan opportunities.
Festival attendees bring business
Since 1974, bluegrass music fans have been flocking to Central Kentucky in early June for the Festival of the Bluegrass. Founded by Bob and Jean Cornett, the festival is now spearheaded by their grandson, Roy, and his wife, AnnaMarie.
Roy and AnnaMarie have added modern, progressive bands to the event's traditional bluegrass. That has brought a younger crowd, which remains steady at roughly 7,000 attendees annually. Attendees come from throughout the United States as well as international locations.
Another music festival with international appeal is Somerset's Master Musicians Festival, which celebrated its 25th anniversary in July with legendary songsmith John Prine, Saskatchewan's The Dead South, Amanda Shires and others on the campus of Somerset Community College. Festival President Tiffany Bourne says the event prides itself on eclectic band selection and discovering artists before their stock explodes. Past acts the festival has nailed down prior to them becoming sensations include The Avett Brothers and Old Crow Medicine Show.
Area hotels are typically at capacity during festival weekend and restaurants are often packed. With hotels full, many of the festival's 6,000 attendees from as far away as Texas, California and even Canada look to camping and other lodging at nearby Lake Cumberland.
Local business sponsorships make up 40 percent of the festival's budget, Bourne said, and include vendor opportunities, festival naming rights, and company logos on cups and festival wristbands. Overall, the Master Musicians provides an economic impact of $3 million to Somerset, according to the Kentucky Department of Tourism.
A couple hours east of Somerset is Prestonsburg, home of the Mountain Arts Center since 1966. The MAC hosts music events including Billy Jean Osborne's Kentucky Opry and has space for recording as well as being a venue for business conferences and private events.
Thus far in 2018, the MAC has sold over 25,000 tickets to paying events, with the center accumulating an annual economic impact of $1.1 million, which has been trending up in recent years.
Owensboro taps bluegrass roots
In Western Kentucky, a museum honoring the late Bill Monroe, one of the founders of bluegrass, opened in Rosine in late April. A reopening will be held in Owensboro Oct. 18-20 for the Bluegrass Music Hall of Fame and Museum, now wrapping up $15 million in renovations. The new 50,000-s.f. museum, concert venue and event space will feature a 447-seat indoor theater and 1,500-seat outdoor amphitheater along with exhibits presenting a comprehensive look at the history and roots of bluegrass music.
Aiding the museum's expansion in downtown Owensboro is the ROMP Festival, an annual fundraiser for the venue that celebrated its 15-year anniversary in June. Visit Owensboro reports the ROMP Festival generates an economic impact of $2.8 million for the Owensboro region, with numbers expected to rise after the re-opening.
With attendance numbers at Kentucky music festivals continuing to grow, there's little doubt that music will continue to play an instrumental role in the commonwealth's tourism industry.
---
Matt Wickstrom is a digital reporter for The Lane Report. He can be reached at [email protected]