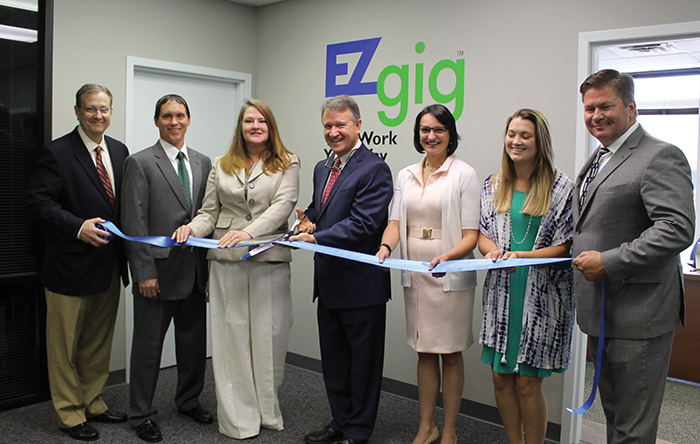 To better meet the recurring temporary employee needs of several longtime clients, a Lexington human resources consultant recently launched EZgig, a gig-economy staffing app that lets employers offer jobs and workers accept the work with their smartphones.
EZgig facilitates the process by vetting and activating employers and employees alike for specific jobs that require an understanding of and ability to perform specific tasks and skills. EZgig pays workers, who formally become its employees, and also handles taxes and workers' comp insurance, all while providing compliance with laws and regulations.
Some 1,300 candidate employees came into the EZgig portal in the first 12 weeks.
The initial users have been in food service and the related hospitality sector, but EZgig's principals see potential in the model – which they obtained from Shiftgig in Chicago – to expand across many sectors and become an economic growth enabler.
EZgig President Lyle Hanna and Managing Director Greg Lyles – who are also founder/president and senior partner, respectively, of Hanna Resource Group – say their aim is to become the largest employer in the state.
---
IT'S FREE | Sign up for The Lane Report email business newsletter. Receive breaking Kentucky business news and updates daily. Click here to sign up
---
Meeting such a lofty goal would be years in the making, but EZgig sees a path by which it could happen, especially if today's economic, technological and social trends continue to reshape the work experience.
Gig-economy temp work today is on the blue-collar end of the spectrum: Uber and Lyft's taxi driving is the best known, but hospitality, retail, warehouse/distribution and other sectors in large urban markets are using spot shift workers, too. Light manufacturing and even creative work such as graphic design are among the categories where staffing needs are seasonal or variable because it attaches to individual events or projects.
Staffing Industry Analysts counts more than a quarter of the U.S. workforce among all forms of temporary workers.
Lining up specialty staffing who know the work and can be paid only when there is a job to do is a best practice, but as traditionally implemented it can be a labor-intensive headache for a business.
"It's a lot of work," Hanna said.
Managers must grow lists of the people needed for its various contingent activities, call and email to confirm everyone, tell them what to wear, what time and where they need to be, handle last-minute cancellations and no-shows, and ensure that there is enough staff to fulfill your commitment to clients. For every job.
Hanna Resource Group in Lexington has worked for years with several clients who have to staff events or regular but very temporary jobs such as Bluegrass Caterers, Idle Hour Country Club and Keeneland Association for its sales and racing sessions.
A eureka moment emerged last year when HRG convened a meeting of these clients to discuss their employee and staffing needs.
"They all need quality people who can meet the public," Hanna said. "We had them all at the table, and they said why not share?"
It turns out that this was already happening elsewhere. There are several gig-economy staffing platforms up and running in the United States. HRG zeroed in on Shiftgig, which was expanding its staffing-app operations to other major U.S. cities such as Atlanta, Chicago, Dallas, Houston, Memphis, Miami, Milwaukee, Nashville, New Orleans, New York City, Philadelphia, Phoenix and Tampa.
"Shiftgig uses technology to connect businesses like yours with thousands of pre-qualified, ready-to-work professionals who we call Specialists," its website states. "Founded on the simple premise that many people want flexible work opportunities that fit into the rest of their lives, we build technology that is focused on one thing: connecting people who want on-demand work with businesses who need them, and handling all the messy bits in between."
However, when Hanna contacted Shiftgig officials last winter, he was told it could easily be a decade before its expansions might arrive in Lexington.
"I said, 'Why don't you let me do it here?'" Hanna said. "This can be a test model and a good way for them to grow their business."
Lexington "was pretty far down our list," said Shiftgig CEO Rick Bowman. The Chicago company had handled all of its expansions itself by setting up its own sales teams, offices, administrative operations, etc., but it liked what it heard from Hanna.
"He already understood what we were trying to do," Bowman said. "Lyle was anxious to use technology to create opportunity."
Shiftgig already had been considering whether it might want to allow others to use its technology, Bowman said. Hanna convinced them that his team and Central Kentucky was the right opportunity.
EZgig became Shiftgig's first "charter customer" to license and others are now piloting and demonstrating the technology to their clients, working toward the goal of also licensing the platform in their communities and regions.
Since getting its worker app launched in mid-2015, Shiftgig has onboarded more than 2,800 client businesses in the 13 locations it operates, Bowman said. More than 50,000 workers have successfully completed its process of virtual interviews, testing and other assessments to be "activated," and they have filled more than 650,000 shifts.
After activation, client business managers and workers alike use their smartphones to place an order for workers and to claim a shift that will occur in as little as one day but more typically a week or two from when it is posted.
The software, with a proprietary matching algorithm that Shiftgig continues to augment and improve, runs in the cloud, Bowman said. The platform compiles reviews and reassessments of clients and workers with every shift completed, and it can prompt further training when that is deemed appropriate.
"We call it 'upskilling,' " Bowman said.
Shiftgig evolved from what essentially was a jobs board for Chicago-area restaurants, which began giving feedback that the deeper value of the process comes from being able to fill shifts quickly from vetted workers they can rely on.
Data from the feedback process is incorporated to improve the matching process of the algorithm.
The concept caught the attention of Lexington-Fayette Urban County Government as well as Commerce Lexington Inc., the community's chamber of commerce and economic development promoter.
"It was an impressive new program that can help a lot of our businesses in Lexington," said Kevin Adkins, chief development officer for LFUCG. "I refer to it as 'the Uber of jobs.' We were impressed with where the technology is going."
It led to a $30,000 grant from the Lexington Economic Development Investment Board to EZgig to help develop the local operation. With the Fayette County unemployment rate at around 3 percent, existing employers and new businesses alike sometimes have difficulty finding the workers they need.
Adkins said city government considers the staffing app platform a good support tool for the tech start-up sector that all communities are working to recruit and build. Additionally, the expectation is that more areas of the economy will adopt the flexible shift-work model.
Commerce Lexington also views the EZgig staffing-app platform as a desirable element for the regional economy, said President and CEO Bob Quick. It presents Lexington as having a strong, inviting and tech-forward business climate, he said.
For now, the primary clients are hospitality entities such as Bluegrass Catering, which has five event venues on Manchester Street in the popular Distillery District just west of downtown Lexington and became a client almost immediately when EZgig pitched its product.
Greg Lyles "called at the right time," just as Shannon Guerrant, an event planner for Bluegrass Catering, was about to begin the process of placing an ad, handling responses, doing background checks and training a new group of employees.
An event planner, she can spend up to a year working with a customer, handling initial intake to identify their goals and working out how to achieve them, then making it all happen, including getting all the right people in place when it is time to execute.
"He came in and showed us how to use it and we were sold," said Guerrant. "I just kind of put in an order (for employees) and they take care of it from there."
After 12 weeks of operation, EZ gig has 12 client employers, Hanna said. There are 130 activated employees and more going through the one- to two-week screening process.
"We don't want to make it too easy" to qualify, Hanna said. "We want to make sure they are serious and will stay with it."
---
Mark Green is executive editor of The Lane Report. He can be reached at [email protected]