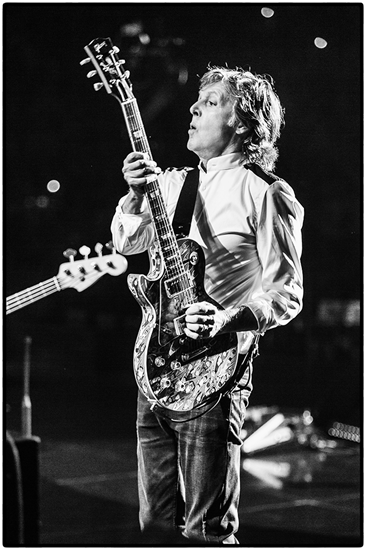 LEXINGTON, Ky. — Paul McCartney has confirmed his eagerly anticipated return to the U.S. with his new Freshen Up tour. Five confirmed dates have been announced, marking Paul's first series of stateside concerts since the One On One Tour that played to some two million fans around the world during 2016 and 2017.
Tickets will go on sale to the public at 10 a.m. Friday, Sept. 7.
The Freshen Up tour is Paul's first outing following the release of his new studio album, Egypt Station, out Sept. 7 on Capitol Records. Featuring the AAA Top 10 single "Come On To Me," Egypt Station is already generating rave reviews, with Q magazine writing in a 4-star review that Paul is "enjoying his music too much to stop now. And so, for that matter, are we," and Rolling Stone raving "Macca keeps adding new gems to his songbook, with nothing to prove except he's the only genius who can do this… And, oh yeah — in his spare time, he happens to still be the greatest live performer on Earth."
Paul will also be appearing on The Howard Stern Show Sept. 5 and The Tonight Show Starring Jimmy Fallon Sept. 6.
The U.S. leg of Freshen Up will begin with Paul rocking the Carolinas, on May 27 at the PNC Arena with Paul's first show in Raleigh, N.C. since 2002's Driving World Tour and on May 30 with Paul's debut appearance in Greenville, S.C. at the BSW Arena. On June 1 Paul will return to Rupp Arena in Lexington, Ky. for the first time since 1990, while June 6 will see Paul play his first ever show in Madison, Wis. at the Kohl Center. And on June 11, Paul will rock the Quad Cities, visiting Moline, Ill. for the first time to play the TaxSlayer Center.
The Paul McCartney live experience is everything any music lover could ever want from a rock show: Nearly three hours nightly of the greatest moments from the last 50 years of music, dozens of songs from Paul's solo, Wings and of course Beatles catalogues that have formed the soundtracks of our lives.
Paul and his band have played an unparalleled range of venues and locations throughout the Americas, the UK, Europe, Japan, Australia, New Zealand and all points between: outside the Coliseum in Rome, Moscow's Red Square, Buckingham Palace, The White House, a free show in Mexico for over 400,000 people, the last ever show at San Francisco's Candlestick Park where The Beatles played their final concert  in 1966, a 2016 week in the California desert that included two headline sets at the historic Desert Trip festival and a jam-packed club gig for a few hundred lucky fans at Pappy & Harriet's Pioneertown Palace, and even one performance broadcast live into Space!
Featuring Paul's band of the last 15-plus years – Paul "Wix" Wickens (keyboards), Brian Ray (bass/guitar), Rusty Anderson (guitar) and Abe Laboriel Jr (drums) –and constantly upgraded state of the art audio and video technology that ensures an unforgettable experience from every seat in the house, a Paul McCartney concert is never anything short of life-changing.
American Express card members can purchase tickets before the general public beginning Tuesday, Sept. 4 at 10 a.m. local time through Thursday, Sept. 6 at 10 p.m. local time. 
For further information, go to http://paulmccartney.com/
The Freshen Up U.S. Tour 2019:
Monday, May 27 – Raleigh, N.C. – PNC Arena
Thursday, May 30 – Greenville, S.C. – Bon Secours Wellness Arena
Saturday, June 1 – Lexington, Ky. – Rupp Arena
Thursday, June 6 – Madison, Wis. – Kohl Center
Tuesday, June 11 – Moline, Ill. – TaxSlayer Center