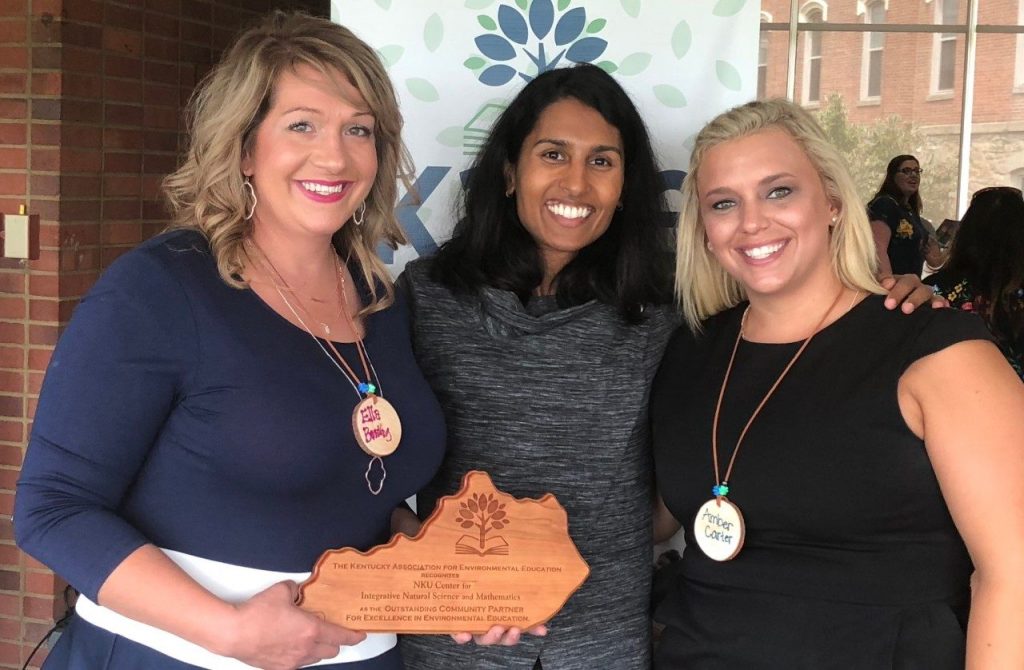 HIGHLAND HEIGHTS, Ky. — Northern Kentucky University's Center for Integrative Natural Science and Mathematics (CINSAM) received the Community Partner Award from the Kentucky Association for Environmental Education (KAEE).
KAEE is a professional, membership-based nonprofit whose primary role is to connect environmental educators throughout Kentucky. Members include teachers, administrators, business and industry representatives, government personnel and private citizens. KAEE works to ensure that education about the environment is taught in every classroom in Kentucky.
"Northern Kentucky University's Center for Integrative Natural Science and Mathematics (CINSAM) has been a major player in helping instill environmental education into the classrooms with which they partner in their Next Generation STEM Science Classroom," said KAEE. "Under Ella Bowling's current leadership as the STEM outreach director, they have taken this approach and really meshed it with the entire project, serving all 28 districts under their umbrella."
CINSAM's NextGen STEM Classroom is a unique professional development for P-12 teachers. The program involves teaching a STEM lesson to a class of students with teachers from multiple grade levels observing around the room. After the class, the teachers meet with CINSAM staff to breakdown the lesson and how to apply it to their own teaching.
The letter to KAEE nominating CINSAM stated, "In the Kenton County Schools, NKU CINSAM hosted an environmental education specific version of their NextGen STEM Classroom really focusing on helping teachers find ways to get their kids into the outdoors in whatever space they had available, be that an elaborate outdoor classroom or just the school yard."
"It's an honor for CINSAM to earn KAEE's Community Partner Award. CINSAM's Outreach Team—Ella Bowling and Amber Carter, as well as Reeda Hart in prior years—has done an outstanding job of putting high-quality STEM teaching and learning in the context of the environment, which helps teachers engage students and make learning more relevant to their lives," said Dr. Madhura Kulkarni, director of CINSAM at NKU.
CINSAM received the award at the KAEE Annual Conference on September 8. For more information on CINSAM, click here.