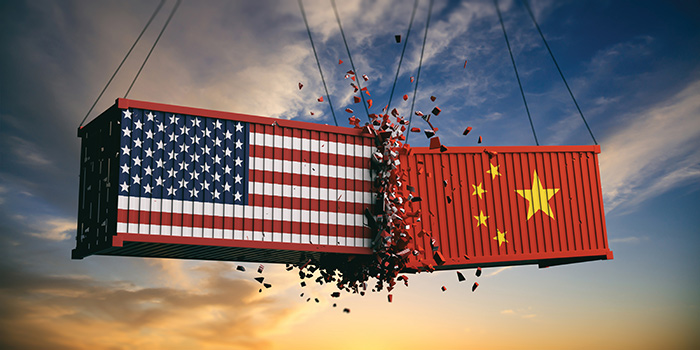 Companies that want to build an office, warehouse, retail space or manufacturing plant have learned a lesson that whacks them squarely on the bottom line: The project should have been completed a couple of years ago.
Bidding construction projects and managing costs is getting more complicated today.
Trump administration tariffs imposed earlier this year on steel, aluminum and lumber have driven up the cost of domestic as well as foreign building materials and created a quandary for businesses that want to have a new roof overhead.
On one hand are businesses that may have been priced out of a new building by rising costs even though the economy appears to be booming. On the other are far more businesses that see an urgent need to build immediately before increasing prices snowball further.
Because no one seems capable of predicting where costs might be in a year, the only certainty in commercial construction seems to be uncertainty, especially when estimating a project cost and, in some cases, submitting a bid that locks in a price for a month or longer.
"It is extremely hard to design for a budget with these wacky tariffs," said Darenda Watkins, a principal in CMW, an architecture, engineering and design firm in Lexington. "You've also got project owners and contractors who want their subs (subcontractors) to hold their bid prices for 90 days, and then they bid more to cover the cost of what might happen in the future."
In the past bid prices on materials typically expired after 30 days.
"It's not fun right now," Watkins said. "From week to week, costs are increasing."
Most construction industry insiders throughout the state echoed Watkins in her assessment about rising prices and how contractors and their suppliers have to roll the dice when they're estimating costs and sometimes submitting binding bids on projects with multimillion-dollar price tags.
---
IT'S FREE | Sign up for The Lane Report email business newsletter. Receive breaking Kentucky business news and updates daily. Click here to sign up
---
Cost increases and invoice uncertainty don't reflect precisely when the Trump tariffs took effect. The tariff on imported steel (25 percent) and aluminum (10 percent) went into effect in the latter part of March for many countries and was broadened to include products from the European Union, Canada and Mexico on June 1. Duties on lumber from Canada, the subject of a long-running dispute between the two countries, hit 20 percent late last year.
President Trump pledged throughout his campaign to rip up agreements he blames for massive trade imbalances that he considers a major impediment to his effort to "Make America Great Again."
Comments from Kentucky contractors seemed to mirror, for the most part, what has been happening at the national level, where the Association of General Contractors of America, a trade group that says it represents 26,000 firms, seems to track every eight-penny nail that's been used by a builder.
Price hikes will continue
"Although price changes for construction materials in July were mixed, contractors are likely to be hit with additional cost increases as new tariffs take hold and stocks of items purchased before the tariffs are used up," the association's chief economist, Ken Simonson, said in August from the association's office outside of Washington, D.C.
"Despite the pause in cost increases in July, prices for goods and services used in construction rose over the past year at more than double the rate that contractors have raised their bid prices to put up new buildings," Simonson said.
AGC notes the producer price index for construction "inputs" – a weighted average of all goods and services used in building – is up 8.1 percent since July 2017. "In contrast, an index that measures what contractors say they would charge to erect five types of nonresidential buildings rose just 3.3 percent over the year, indicating contractors were absorbing more of the costs than they were passing on to owners.
Most Kentucky contractors The Lane Report spoke with said prices began to increase well in advance of the tariffs being levied as manufacturers and other suppliers anticipated rising costs for imports.
Additionally, tariffs or the threat of them cleared the way for some domestic suppliers to bump up their prices, many contractors said.
"What I've been hearing in reports from some of the trade organizations is that materials such as aluminum, copper and especially steel, and then wood, have been jumping anywhere from 10 to 20 to 25 percent in material costs, and that'll have an impact on bidding," said Bill Pickering, an architect with CMW.
Overall project costs – following broad, general guidelines – typically breaks down to 60 percent for labor and 40 percent for materials, he said.
"Supply-and-demand will be what people use to justify why they raised the price, but if the foreign product was coming in at a lower price than domestic (products and) now it's jumped up higher, then the domestic supplier can now raise their price. Now that the foreign price is higher, they can creep up and get just underneath the foreign price. The bottom line is: the entire market sees an increase," Pickering said.
Like every contractor interviewed for this report, Mark Hill, vice president and Lexington region leader for Messer Construction, said there's no question that material prices are rising. With just one exception, contractors and building professionals agreed that estimating costs and bidding on a job are trickier now.
"Here in Lexington, overall in terms of bid prices across the whole project, we've seen about a 3.5 percent increase … and that's probably in the last 12 months. As far as steel itself, it's probably increased about 15 percent across the last two years and about 9.5 percent of that is in the last year, so it's definitely affecting things," said Hill, whose Cincinnati-based firm operates in five states and had revenues of more than $1.1 billion last year.
Making bids is a challenge
"Right now we're projecting that overall construction prices – the escalation we're telling people to use – is about 5 to 6 percent over the next 12 months. A lot of that is due to the steel prices," Hill said.
He provided a concrete example on the increase in steel prices.
Reinforcing steel used inside concrete walls, columns and foundations was $780 per ton last fall, providers advised, when Messer submitted the winning bid to build Eastern Kentucky University's $40 million Student Recreation and Wellness Center in Richmond.
"This summer we just recently bid a real similar project and that price was $980 a ton," Hill said. "It jumped up $200 (a ton) in about nine months."
Hill said there's no question that pricing a project, especially a government project that requires a firm bid, is far more of a gamble today.
"A lot of times owners (of the project) will put in the bid (document) that our bid has to be good for 60 days … so we're sitting there in a tough situation because you've got subcontractors telling you that their bid is only good for 20 days. It does make it tough (and some) subs may want to bill for stored materials. It's a challenge, so what we're trying to do is get the contracts awarded real quick," Hill said.
Thomas Gumm acknowledged some people in the market for a new building might be skeptical about a contractor's advice to build now rather than a year in the future.
"I know it might sound like a sales pitch, but it's the real world we're in right now," said Gumm, the founder and CEO of Alliance Corp., a $75 million-a-year construction firm headquartered in Glasgow.
Gumm believes steel prices are up at least 10 percent and his company is anticipating further increases. But because steel is just one component of a building, he said, the "net effect is a 2 to 3 percent increase" on the total cost of a project.
Customers know hikes coming
"What I'm hearing overall is that things are so good that people are not getting too upset about the 2 to 3 percent increase," said Gumm, whose projects include the Augenstein Alumni Center in Bowling Green, Glasgow High School and the Hardin County Government Center.
G. Michael Murphy, CEO of Scott, Murphy & Daniel in Bowling Green, said customers, for the most part, know prices are heading higher. He said the price tag for one of his buildings has increased 3 to 5 percent this year.
"People who have considered building in the past will go ahead now and pull the trigger to avoid further increases. They will go ahead even earlier than they had expected," said Murphy, whose company has a thick portfolio of completed projects in the industrial, medical and institutional categories.
"In 2018, we have experienced an approximate increase of 20 percent in steel prices on our projects, which would include structural steel, metal wall panels, metal roofing, metal frames, reinforcing steel for concrete, etc.," Murphy said. Tariffs have "raised the 'playing field' of (all) steel prices and allowed the market values (prices) to increase."
Like other contractors who specialize in commercial construction, Murphy's company doesn't use much lumber, which has also increased in price.
"My project managers and warehouse managers tell me that lumber products have increased 12 to 20 percent this year and that is because a great deal of the wood construction products come from Canada, and with their prices increasing due to the tariffs that market has also seen increases," he said.
"Instability and uncertainty is never good"
While most contractors seemed convinced tariffs on imports paved the way for domestic producers to raise prices, J. Todd Ball, president of Bristol Group in Lexington, a design, engineering and construction firm, raised a more fundamental question.
"They (the Trump administration) say that they're doing this because of national security, but I don't know what the national security threat is. It seems like they're doing it for no good reason," Ball said. "Creating instability and uncertainty in the market is never good."
While contractors are dealing with relatively modest increases in the cost of buildings, Ball said auto manufacturers and auto parts manufacturers have seen dramatic increases in the cost of doing business. Steel prices and tariffs on imported parts could add hundreds of dollars to the price of a car, said Ball, who was told by auto manufacturers that the average monthly payment for new cars might be bumped up by $60 to $100.   
Paul Hemmer Jr., president of the Paul Hemmer Co. in Fort Mitchell, said his project prices have edged up 2 to 3 percent, and volatile prices make estimating a job more complicated.
"When we put a price together there are a lot of components in a project and it takes time to put the bid together. Then the customer needs time to evaluate it, and that's difficult to do when you have a steel price that's good for 10 to 30 days," said Hemmer, whose company has annual revenues of about $90 million.
If there's a risk that material prices might change, Hemmer said, it's not uncommon for his company to "qualify" a bid with an expiration date. But he also pointed out that submitting a "qualified" bid isn't always possible for public projects.
Even though his company has been busy erecting steel in Lexington for the City Center project and in Frankfort for the Capital Plaza redevelopment project, whose centerpiece is a 390,000-s.f. office building for the state, Doug Wilburn, one of two founders of D.W. Wilburn, thinks the construction market is "soft" in Kentucky right now, not nearly as bustling as his colleagues/competitors said.
He does agree that prices – especially for steel – are climbing.
"Absolutely, steel prices are jumping. If you've got a new project planned you better get a vendor and lock your steel prices immediately. I can't quote how much (of an increase) since those tariffs were announced, but it's substantial," said Wilburn, adding that he has heard about "a 30 percent increase (for steel) coming out of the mills" in the last few months. "They've (prices) been moving ever since they (tariffs) were announced," said Wilburn, whose Lexington-based company has been in operation since 1986.
He said submitting bids on projects isn't all that perilous as long as prices are guaranteed by his suppliers.
Wilburn said his company locked in steel prices on the Capital Plaza project in March and probably would have had to pay an additional 10 to 15 percent more for that same steel today.
"I don't care if it's the structural steel for a building or the chain link fence that goes around the building, you've just got to lock that stuff in so you don't get on the wrong side of the price fluctuation," he said.
---
Greg Paeth is a correspondent for The Lane Report. He can be reached at [email protected].