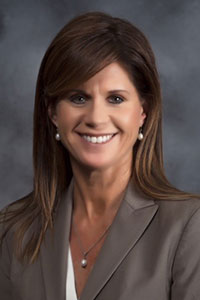 FRANKFORT, Ky. — Robbin Morrison Taylor, VP of public affairs at Western Kentucky University, will join McCarthy Strategic Solutions beginning Dec. 1, according to John McCarthy, founder and managing partner of McCarthy Strategic Solutions.
"All of us at McCarthy Strategic Solutions are honored to have someone of Robbin's character and professionalism join our team," said McCarthy. "Her experience and relationships in south central and western Kentucky will add significant value to our clients."
Taylor has 28 years of professional experience in community relations, public policy and advocacy, including more than 18 years in higher education. Since 2008, Taylor has overseen state and federal government relations, university marketing and communications, media relations and special events; and since 2014, she has had responsibility for oversight of WKU PBS and WKYU NPR.
From 2001-08 she served as director and assistant to the president for government relations at WKU, with primary responsibility for setting the legislative agenda for WKU and advocating for WKU's interests in Frankfort and in Washington, D.C.
Taylor also worked as associate director for corporate relations at WKU from 2000-01. From 1991-2000 she was the South Central Kentucky field representative for U.S. Sen. Mitch McConnell, where she was responsible for building relationships with local government officials, business and industry representatives, community leaders and federal agency officials.
"The team at McCarthy Strategic Solutions is an outstanding group of professionals, and I'm grateful for the opportunity to join them," Taylor said. "I'm looking forward to expanding my focus in legislative advocacy at both the state and federal level."
Taylor has served on the Bowling Green Area Chamber of Commerce Board of Directors since 2010. She has been a member of the Executive Committee since 2012 and served as Chair of the Board in 2017. She is currently chair of the Bowling Green Economic Development Authority Board of Directors. She is a 1997 graduate of Leadership Bowling Green and a 2007 graduate of Leadership Kentucky. She received the Athena Award in 2015 from the Bowling Green Area Chamber of Commerce in recognition of outstanding contributions to the business community and her efforts to support women in leadership roles.
Taylor holds a bachelor's degree from Western Kentucky in public relations and government, and she earned a master's of public administration from WKU in 1997.
She is married to Joe W. Taylor II, senior executive officer at Monticello Bank in Bowling Green, and they have one son, Will, who is a student at the University of Kentucky.