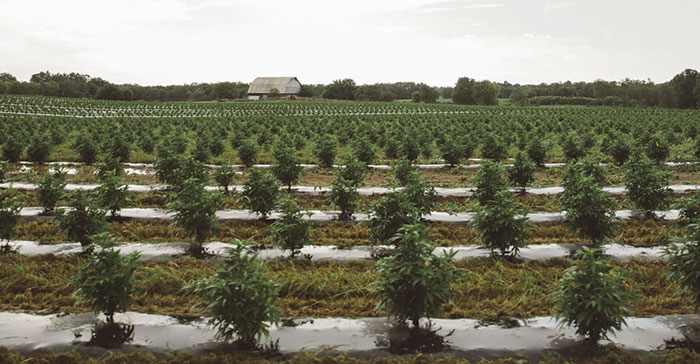 "We were an overnight success after 26 years!" laughs Joe Hickey, director of corporate relations at Atalo Holdings Inc., one of the many burgeoning hemp producers in Kentucky, where production has grown from five farmers raising 33 acres in 2014 to 60 farmers and 2,700 permitted acres in 2018. And indeed, the Kentucky hemp industry and producers like Atalo have found their overnight success after years of grit and advocacy.
With hemp newly relegalized as of December 2018, its planted state acreage is rapidly climbing, with producer and processor numbers nearing 100. Meanwhile, business investment is coming in at tens of millions of dollars at a time.
Hickey, along with former Gov. Louie Nunn and actor Woody Harrelson were among the first to advocate for hemp production in Kentucky in the early 1990s, paving the way for today's growing body of hemp activists in Kentucky and elsewhere. They are seeing a paradigm shift towards hemp production in the United States come to fruition. Kentucky is positioning itself to be at the vanguard of that hemp production and hopes to reinstate its little-known former title as the hemp capital of the world.
Hemp production, research and advocacy began to take root in 2014 after inclusion in the federal Farm Bill of 2013 of Section 7606, "Legitimacy of Industrial Hemp Research," which defined industrial hemp as distinct from Schedule 1 drug marijuana and authorized institutions of higher education or state departments of agriculture in states that have legalized hemp cultivation to conduct research and pilot programs. The fledgling agribusiness sector is gathering more steam with December's passage of the 2018 Farm Bill, which legalized commodity hemp crop production.
Producers and activists statewide are hoping the new hemp industry will become a reliable new revenue generator for Kentucky farmers as innovation focuses on medical uses, construction and vehicle manufacturing materials, cosmetics and more. Based on recent Kentucky farmer feedback since production was first permitted in 2014, financial returns for hemp are comparable to or better than that of tobacco.
Kentucky has become a leader in recent U.S. hemp production, having begun in 2014 with 33 planted acres, 20 approved growers, seven university projects and nine processors in 14 counties. By 2018 those figures had grown to 6,700 planted acres (with approval for 16,100 acres), 14 university projects, 72 processors and 210 approved growers in 73 Kentucky counties. The only states at or above Kentucky in hemp production have been Colorado, which cultivated 9,700 acres in 2017, and Oregon, which grew 3,467 acres. Colorado is currently the top hemp producer per capita, but Kentucky is comparable and definitely competitive with Colorado.
Quality product and real dollars
"Our farm partners are incredibly excited," said Steve Bevan of GenCanna Global USA, a vertically integrated hemp-derived cannabidiol (CBD) manufacturer based in Winchester. "Our 12 farming families had $5 million in revenue last year."
Founded in 2014, GenCanna announced in December 2018 it will invest $40 million in a new multipurpose processing facility in Hickman, creating 80-plus jobs. That project was prompted by increased market demand for hemp products and buoyed by the 2018 Farm Bill.
GenCanna expects its Hickman facility to be the world's biggest. "No one is buying larger equipment," Bevan said.
The facility will receive hemp grown on Western Kentucky's rich croplands in addition to hemp harvested in Illinois, Missouri and Tennessee.
"Farmers tell me that they are glad to be growing something that heals rather than hurts," Hickey said, referring to operators who formerly and sometimes still grow tobacco.
Hemp production's legalization has attracted bipartisan political support in part because all portions of the plant can be used for revenue-generating products, and it can be cultivated for a range of climates according to the final product being emphasized. That makes it both a potential fix for Kentucky's falling farm incomes and an eco-friendly solution to climate-change worries the state is starting to face. The hemp industry is working to figure out which hemp production methods are best suited for Kentucky's growing season.
In 2014, the Kentucky Department of Agriculture reported 47 percent of hemp grown was for grain or seed, 32 percent for fiber and 21 percent for CBD production. However, by 2018 those numbers shifted to 18 percent grown for grain/seed, 4 percent for fiber and 61.5 percent for CBD production. Plus, under hemp's additional dual-purpose options, 14 percent of producers grew it for grain and CBD, and 2.5 percent for grain and fiber.
While arguably every part of the hemp plant already can be commoditized, there is, indeed, work toward developing true dual- or multipurpose varieties. Dual-output hemp is not yet effective, but development of multipurpose crops is thought to be a source of further innovation in Kentucky as the industry evolves.
"I think CBD is the early driver," Hickey said. "That's where the money is going to be made early on the first year or two."
CBD is a phytocannabinoid, one of a class of diverse chemical compounds that acts on cannabinoid receptors in cells that alter neurotransmitter release in the brain. Proponents of CBD claim it can help with everything from seizures in children to treating Parkinson's disease to helping treat eczema and more.
GenCanna's Bevan also describes CBD as the highest-margin component of hemp and said Kentucky is establishing itself as the place to grow hemp with the highest-quality cannibinoids. GenCanna provides supply chains that sell in all 50 states, 12 European countries, South Africa, South America, Singapore and Japan.
"The first best place for hemp in the U.S. is clearly Kentucky," Bevan said. "Our high-CBD hemp can be a renaissance for a lot of Kentucky farmers."
CBD oil is a current focus
Adriane Polyniak, one of the owners of CBD product producer and seller Bluegrass Hemp Oil in Lexington, said she and her husband first became interested in CBD to help treat her son Colten's idiopathic generalized epilepsy (IGE).
"At the age of 3, Colten was diagnosed with IGE, and he went from zero seizures per day to having hundreds of seizures per day," Polyniak said. "His quality of life completely diminished, and it was very dangerous. We ended up going through a kind of pharmaceutical Russian roulette. One of the neurologists actually said, 'We don't know what pharmaceuticals are going to work; we just have to kind of play with it.' He was having all kinds of side effects to those pharmaceuticals: weight gain, hair loss, inability to regulate body temperature, severe rage, appetite changes – the worst of the side effects being near organ failure."
Eventually Adriane and her husband, after researching the health benefits of CBD, began to wean Colten off pharmaceuticals and towards a full-time CBD regimen. Now, as stated on the Bluegrass Hemp Oil website, he is both seizure and pharmaceutical free.
Hickey is also optimistic about CBD's therapeutic potential for Parkinson's patients.
"I have given CBD to friends of mine for their parents, who have Parkinson's," he said. "I have had people come back to me in tears because it is the first time they have seen their parent not shaking in years."
Legalization opens up real research
Though many suggested benefits of CBD are still largely anecdotal within the industry, there is real research and early evidence regarding the benefits of cannabidiols. CBD research can appear spotty and confusing due to the 80-year aversion to funding and publishing research on the topic; research and grant writing on the topic has been an onerous process. Proponents of CBD are careful about their claims and continue to ensure that CBD tinctures and salves are being sold not as pharmaceuticals but supplements. The 2018 Farm Bill is expected to open cannabidiol research across the country, but the industry has significant catching up to do.
Once the 2018 Farm Bill passed, the U.S. Food and Drug Administration was quick to remind producers and consumers that "among other things, this new law changes certain federal authorities relating to the production and marketing of hemp, defined as cannabis (Cannabis sativa L.), and derivatives of cannabis with extremely low (less than 0.3 percent on a dry weight basis) concentrations of the psychoactive compound delta-9-tetrahydrocannabinol (THC). These changes include removing hemp from the Controlled Substances Act, which means that it will no longer be an illegal substance under federal law. Just as important for the FDA and our commitment to protect and promote the public health is what the law didn't change: Congress explicitly preserved the agency's current authority to regulate products containing cannabis or cannabis-derived compounds under the Federal Food, Drug, and Cosmetic Act (FD&C Act) and section 351 of the Public Health Service Act. In doing so, Congress recognized the agency's important public health role with respect to all the products it regulates."
To producers like Bluegrass Hemp Oil, that 0.3 percent THC level is important as the industry develops, and they hope to increase the admissible THC levels to 1 percent to protect farmers from having their crops destroyed and ensure higher returns among CBD-oriented growers.
"In 2016, we had a farmer that cultivated for us whose crop had been burned (destroyed) due to the THC levels getting too high," Polyniak said. "It was over $20,000 worth of her time, blood, sweat and tears."
Comparatively, THC levels in the marijuana plant, hemp's illicit sibling, have ranged from 3.7 percent for marijuana and 7.5 percent for higher potency sinsemilla in the early 1990s, to 9.6 percent for marijuana and 16 percent for sinsemilla in 2013, according to the National Institute on Drug Abuse. Research on the effects of THC has yielded negative health benefits while CBD has been positive, and the interactive dynamic between the various cannabidiol molecules and levels of each in the hemp plant, known as the "entourage effect," are still little known among the general public.
"As CBD production picks up, regulation and labeling are going to become more thorough as well," said David Williams, an agronomist with the University of Kentucky who has studied hemp cultivation in Kentucky since 2014. "As of right now, there is no regulatory oversight at all, so consumers have no way to know if the product label is accurate. I think many people agree that some regulatory oversight to understand what exactly is in these products is appropriate."
Long-term play might be fiber
Williams himself is excited about the prospect of fiber hemp production as an end goal for Kentucky . Given Kentucky's latitude and wetter climate, this may end up being a preferred option for growers once the high-margin CBD market inevitably saturates with the new influx of growers looking to hop on the hemp wagon. Kentucky experienced one of its wettest years in 2018, which is not desirable for CBD production because it can lead to molding of the flower bud where CBD is harvested. Fiber hemp crops can weather wetter conditions much more effectively and provide a reliable return for farmers as they navigate the market, he said.
"As the CBD market saturates with new growers, we will need to diversify our crop type, and hemp fiber is a great alternative," Williams said, adding that growing and maintaining fiber crops may prove more agriculturally viable in comparison to CBD plants that require more attention.
Hemp fiber has a wide range of possibilities that merely begin with paper and textiles. Producers hope industries might soon use hemp fiber as an alternative for plastic, an ingredient in concrete and as a material in car-part production.
Hemp seed, meanwhile, already is marketed not only as a "superfood" added to many whole-grain and sprouted breads and grain mixes but as a livestock feed grain option. This is motivating some producers to seek to cultivate dual-purpose crops that yield grain and CBD or grain and fiber.
Serious investment – and science
While hemp product output has considerable potential to impact economic development in Kentucky, the technological, seed genetic and mechanical innovation around hemp have the potential to create growth in Kentucky also. Visitors to the Ananda Hemp farm in Cynthiana are likely to see the potential for growth in mechanical, engineering and chemical hemp processes. Large Florence flasks of CBD oil rotate alongside shiny machinery distilling the cannabidiol down while young technicians and researchers maintain Ananda's equipment and test product. Ananda is an example of how the hemp industry in bringing outside investment into Kentucky.
Brian Furnish is an eighth-generation Kentucky farmer who worked on Senate Bill 50 to get hemp into Kentucky and director of global productions at Ananda Hemp. Ananda's parent company is Ecofibre Ltd., an 18-year-old Australian genetic development company.
"Since I got started with this," Furnish said, "we have had $30 million of investment come in from Australia, going worldwide with our company, and that is a pretty good investment." Further international money is expected to continue investing in Kentucky for the long term. Ecofibre's website states, "We invest heavily in research and innovation because we believe the hemp industry is only in its infancy, and Ecofibre is focused on a long-term sustainable business model."
One of Ananda Hemp's strengths is access to the vast array of seeds Ecofibre has collected, developed and organized. Atalo is similarly positioning itself to be a leader in Kentucky hemp genetic diversification.
"At the Hemp Research Campus," the Atalo website states, "we're taking a hard look at the hemp plant from top to bottom. … Because industrial hemp has been a neglected crop for so long in North America, there are only negligible genetic resources available on this continent, and we're moving quickly to rebuild the germplasm for which Kentucky has been famous."
Kentucky claimed to be the hemp capital of the world until production became illegal in the 1930s. As the revived industry expands, the commonwealth seems ripe to become a center for innovation in genetic seed modification, development and marketing.
Current Kentucky Agricultural Department policy and a political will to make Kentucky a  center for industrial hemp are positioning Kentucky to potentially dominate in this fledgling market. Politicians from U.S. Rep. James Comer, Kentucky Agriculture Commissioner Ryan Quarles and U.S. Sen. Mitch McConnell all have actively backed hemp and developed legislation to relegalize hemp in the U.S.
In trying to pinpoint the paradigm shift in opinion around hemp production in Kentucky, Hickey said, "It all started with former Gov. (Louie) Nunn and his work with us in the early '90s. After that, other politicians began to fall in line."
In presenting a measure to reauthorize hemp in the 2018 federal Farm Bill, McConnell said on the Senate floor, "Time and again (farmers) shared with me their enthusiasm for hemp's potential to reenergize agricultural communities and provide a new spark to the U.S. economy."
Will hemp become Kentucky's next big cash crop? It is too early to tell, but there is certainly a rising expectation backed by clear-eyed business investment amounting to tens of millions of dollars.
"If Kentucky is known for horses, bourbon and basketball," said GenCanna's Bevan, "we want hemp to be No. 4 on that list."
---
Clary Estes is a correspondent for The Lane Report. He can be reached at [email protected].