By Jacqueline Pitts, The Bottom Line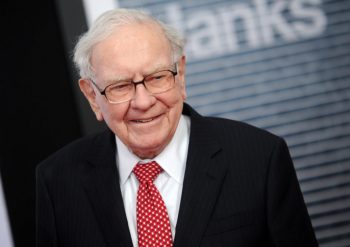 In an interview with CNBC on Monday, billionaire businessman Warren Buffet warned companies looking to relocate of the dangers of unfunded pension liabilities when choosing a state for their business.
When discussing retirement benefits, he called the state of public sector defined-benefit pension plans "a disaster" and pointed to some big companies including Amazon currently looking to relocate and warned of the problems states with huge unfunded pension plans bring.
"If I were relocating into some state that had a huge unfunded pension plan, I am walking into liabilities," Buffet said. "Because I mean, who knows whether they're gonna get it from the corporate income tax or my employees — you know, with personal income taxes or what. But that — that liability isn't gonna — you can't ship it offshore or anything like that. And those are big numbers, really big numbers.
"But the politicians are the ones that really haven't attacked it in a good many states. And when you see what they would have to do — I say to myself, 'Why do I wanna build a plant there that has to sit there for 30 or 40 years? 'Cause I'll be here for the life of the pension plan and they will come after corporations, they'll come after individuals. They — just — they're gonna have to raise a lotta money." Read the full transcript of Buffett's interview here.
Kentucky's ranks among the worst in the nation when it comes to pensions with more than $36 billion in unfunded liability.
The Kentucky General Assembly has made some reforms to the Kentucky Retirement System (KRS), which is one of the worst funded in the nation with only 14 percent funding.
Legislation reforming the Kentucky Teachers' Retirement System (KTRS) passed through the General Assembly during the 2018 session but was then overturned by the Kentucky Supreme Court for procedural reasons. The governor called legislators back for a special session in December 2018 to pass reforms but they adjourned without an agreement.
The state's pension crisis is still a huge topic of discussion as local governments are facing huge budget cuts and layoffs due to growing pension costs crowding their budgets and other persistent issues dealing with the pension debt.
However, lawmakers have stated they do not believe they will be able to pass any pension reforms during the 2019 regular session of the General Assembly and have implied there may be another special session to deal with the issue.
Some pension proposals have been filed in the 2019 session including a bill making changes to KTRS but keeping them in a defined-benefit pension plan, legislation to let the state's regional universities get out of the woefully underfunded pension plan and begin a 401k-style plan for their employees, a bill to adopt more realistic payroll growth assumptions and have the state implement level-dollar funding, and a proposal to change the structure of the KTRS Board.
The fate of these bills is unclear as there are 11 days remaining in the 30-day session and only one of the pension bills has been heard in committee.
---