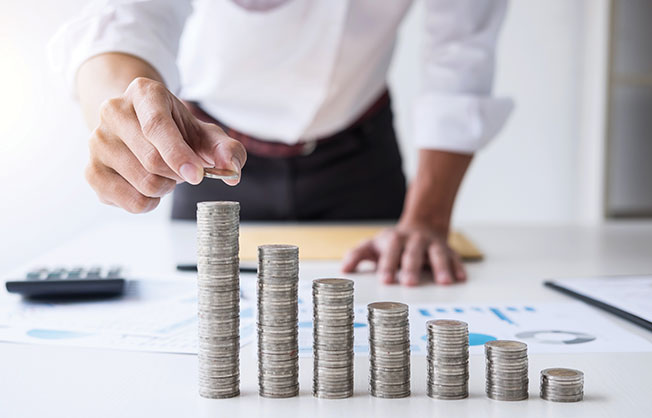 For most people in the wealth management field, "product" isn't a word used in polite company today.
And Kentucky wealth-management professionals contacted said it's been a long time since a day at the office included hurried phone calls to clients about a sure-fire investment opportunity – a "product" – that comes along, let's say, once every Ice Age.
"It's not about, 'We just upgraded this stock and you ought to own it, or this bond looks awfully good,' " said James Allen, chairman and CEO of Hilliard Lyons, a regional investment and wealth management firm that traces its roots to 1854 in Louisville, where it is headquartered.
"There's been a significant shift from product to process. It's not a focus on product sales, but more about understanding a client's needs and their financial goals and then helping them reach those goals," said Allen, whose iconic firm is being acquired by Baird, a similar company based in Milwaukee. "Who was first to market with an (investment) 'product' was more critical in the past."
People who know wealth management in Louisville, Lexington, Bowling Green, Cincinnati and Paducah all had similar things to say about how they believe their business has changed as they distance themselves from sales and emphasize building relationships, establishing trust and looking far beyond how well a portfolio performed in the past week.
---
IT'S FREE | Sign up for The Lane Report email business newsletter. Receive breaking Kentucky business news and updates daily. Click here to sign up
---
Several wealth managers stressed that their knowledge and experience can ensure an investor won't make a big mistake with their investments.
About 120 miles west of Louisville in the Hilliard Lyons office in Evansville, Ind., Senior Vice President and Chartered Wealth Advisor John L. Schutz was asked how many new products have been introduced recently for financial advisors who want to attract new clients.
Schutz's answer was emphatic: "Zero."
He stressed the importance today of keeping clients fully informed about all their options and objectives since now anyone with internet access can get overwhelming amounts of information on almost any topic in three seconds.
For 28 years, Schutz also has taught adult-education classes at the University of Southern Indiana to help people make smart decisions with their money. In addition to informing students about stocks, bonds and mutual funds – the time-tested "products" investment firms offer – Schutz presents detailed data about Social Security and the rising cost of health care and how these should factor into a financial plan.
One relatively new twist on advice he offers reflects how some employers look at aging employees.
"Companies are starting to realize that if they allow and encourage more time for their employees to be financially fit, then they are more prepared to retire when they want to," Schutz said by email. "If an employee is not financially prepared at a normal age but stays on working several years longer than they want to, the aging process takes over and costs the employee and the employer more in paying for rising health-care costs prior to an employee retiring and going on Medicare after age 65."
Clients have data, but want advice
Talking with other wealth-management professionals makes it clear that Allen, Schutz and Hilliard Lyons aren't alone in de-emphasizing "products" in favor of focusing on big-picture, long-range financial planning for customers.
"Our approach is client-driven, not product-focused. We are not in the products business," said Ann E. Georgehead, senior vice president and managing director of wealth management for PNC Bank in Louisville.
"There is so much information available to investors now. The key is having a team of experts who can help you sift through that information and tailor a plan to your specific situation," said Georgehead, whose Pittsburgh-based bank is the sixth largest in the country and has about 100 branches in Kentucky.
Lexington-based Dean Dorton Allen Ford, a relative newcomer in wealth management, made it clear that its approach isn't dramatically different from firms that have been in the business for generations.
"Though we obviously recommend investment solutions for our clients, our firm is not really built around particular products that we offer. Rather, we focus more on the service that we provide," said David Parks, who heads the company's wealth management division, which debuted last September for a firm that's best known as one of Kentucky's largest accounting firms.
Paris-based Kentucky Bank also describes its strategy in terms of clients rather than products.
"We at Kentucky Bank add value to our clients by implementing a customized investment strategy that is directly tied to each clients' goals," said Jim Elliott, director of wealth management for the Paris-based institution. "We listen, and we focus on creating a plan that will maximize our clients' likelihood of success. Whether it is paying for a child's education, planning for retirement, or planning for the future generations, we assist our clients throughout all phases of their lives." 
Financial advisors' roles are different today than what most people recall from previous bull-market times.
"I would tell you that there's not any best new product out there and it's not what we focus on," said Barry Smith, director of wealth management for the Paducah Bank and Trust Co. in far western Kentucky for about three years and a 19-year veteran of the banking business.
"It's very much an advisory mindset today where historically, at one time, it may have been about selling stocks. But there's been a transformation to a more advisory role where we say, 'Let's talk about goals and put a plan together,' " Smith said.
Barry Hickey, executive vice president of wealth management for Central Bank and Trust in Lexington, agreed with some of his competitors from elsewhere in the state.
"We don't sell products. Hopefully, we're providing solutions for what our clients needs are. It's not like a brokerage," said Hickey, who's been in the field for about 35 years, which includes the last 15 at Central Bank. "What we start with is an overall financial plan before they invest their first dollar."
"Selling stocks, bonds and mutual funds is the typical brokerage model," he said.
Financial wellness education
Although he stopped short of calling it a "new product," Michael Napier, vice president and wealth advisor for Horan in Cincinnati, said he has seen plenty of interest in a fairly new benefit that some companies are either offering or considering for the not-too-distant future.
"A big trend that you're going to see is financial wellness programs offered by employers," said Napier, who was interviewed just after talking about estate planning to 25 faculty members at a Northern Kentucky University luncheon in Highland Heights.
Napier said some companies are beginning to see real benefits when employees are both physically healthy and have a firm grasp on where they stand financially. The theory is that absenteeism declines, job performance improves and health-care costs decrease when employees are healthy and aren't stressed out because they're worrying about how they will make their next mortgage payment.
The concept of "financial wellness" may be top-of-mind for Napier because in addition to wealth management, Horan has a substantial presence in employee benefits consulting and works with both employers and individuals on health care and life insurance.
"From the health management side of the business, you want to get employees engaged in the program to stay healthy and control costs. We have a unique ability to bring them together," said Jodi Fritsch, vice president of marketing for the company, which has three offices in Ohio and a fourth in Fort Mitchell.
Like PNC's Georgehead, who referred to all of the information that's available today with a couple of keystrokes, Allen at Hilliard Lyons agreed technology has been a monumentally important factor in changing the industry because it can make mountains of data available for free.
Like Georgehead, he believes many people can benefit from advice from a "trained, experienced professional" who knows how to interpret what's important for an investor.
As young, tech-savvy people walk through the doors at Hilliard Lyons, Allen said the company and its expertise today must become part of an equation that the prospective client in theory might solve in three-tenths of a second on his or her smartphone.
"The question becomes, can we add enough value versus someone doing it themselves for a lower cost," Allen said.
'People wait too long to get started'
Most of the wealth advisors who commented for the story seemed to be in general agreement about the average age of the people who seek their help. Typical clients might be in their late 40s or 50s and beginning to think about retirement at a time when their children are adults and may be moving out of the house.
"Most individuals really get serious about wealth management in their 50s, Dean Dorton's Parks said. Their children tend to be grown, they are in the latter half of their careers, and retirement is on the horizon. They begin to wonder if they are saving enough; what the next half of life holds for them, and what, if any, legacy they want to leave to children or others.
"I would say that more people than not wait too long to get started," Parks said. 
"It (the average age) varies greatly, but often it is more driven by life events than a specific age. For example, someone looking to start or sell a business in their 30s may get very serious about wealth management. Someone else may wait until their 60s when they start thinking about retirement," said PNC's Georgehead. "It is never too late and it is never too early…"
"I think we're seeing more young professionals taking advantage of our services," said Barry Smith in Paducah. "They might not have a lot of money (to invest) right now, but they will in the future."
Impact of student-loan debt
It takes longer in life to acquire wealth for those starting their careers with large college loans.
"Absolutely we feel that student debt is among the biggest reasons why the younger generation is saving less," said Dan Cupkovic, director of investments for Louisville-based ARGI Investment Services, which also has offices in Lexington, Bowling Green, Cincinnati, Elizabethtown, Paducah, Grand Rapids, Mich., and Indianapolis. "We also believe this could be a reason why we have seen less inflation than what we had previously expected, given the Federal Reserve's easing over the last decade. Essentially all of the excess money for the younger generation is tied up in student loans and not buying 'things' and cycling back into the economy. That inherently lowers the money multiplier and the potential inflation we see in the economy."
Wealth managers said student-loan debt does not come up often when they talk with clients about their financial futures, perhaps because they've paid it off.
Both Smith in Paducah and Napier in Cincinnati said they have heard that student-loan repayment plans have been used, for example, to recruit physicians to an area, often in rural parts of the country. But neither had any details about those repayment plans.
There's a good reason why that kind of inducement would be appealing.
"In order to build wealth you have to get rid of debt," said Central Bank's Hickey, who reports seeing plenty of clients who are right around 50 years of age.
"Many of them are downsizing. Their expenses are going down, and they're beginning to think about themselves and the lifestyle that they have become accustomed to," Hickey said. "Half of the time people are getting ready to step out of the workforce and it's a scary moment for them because they have to come up with a plan that will last them for the rest of their lives."
"People take wealth management seriously when they have wealth," ARGI's Cupkovic said. "It feels to be a scale: The more money you have, the more seriously you take it. This is why we are believers that as the millennials age there will be more and more demand for human interaction over a robo-solution. The seriousness and stakes go up as your wealth increases."
---
Greg Paeth is a correspondent for The Lane Report. He can be reached at [email protected].