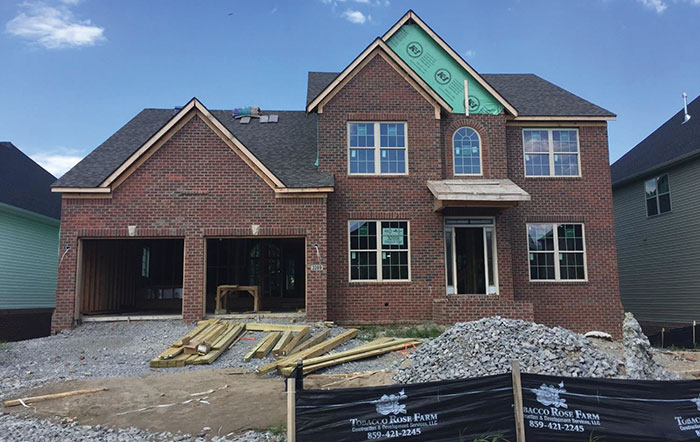 Gentrification.
A shrinking middle class.
Wage stagnation.
Lack of land to develop.
Fewer builders after the real estate bust.
The difficulty of building affordable housing that turns a profit.
Slow economic growth.
These are just some of the reasons for Kentucky's current shortage of affordable housing. And the shortage, according to recent studies, is serious and growing. For instance, a housing affordability study commissioned by the Lexington-Fayette Urban County Government in 2015 showed 6,600 households couldn't find housing within their means in Fayette County. With the effects of ongoing gentrification, the report predicts an additional 400 existing affordable housing units will be rehabbed, and priced out of reach for low-income residents every year.
The Housing Needs Assessment that Louisville Metro government commissioned last year showed that city's shortage is worse – with an estimated 31,412 new units of affordable housing needed. The study estimates the cost of subsidies needed for developing those units to fill the gap is approximately $3.5 billion.
Finding a solution will be essential to meeting the growth goals the commonwealth's urban centers have set for themselves. Economic development and civic leaders across the state – and in their peer communities outside the state – all are striving to attract and retain more young professionals and skilled workers. But new residents need residences in which to live. And low housing inventories are a problem across the United States.
"Kentucky's cities are by no means alone in their affordable-housing shortages," said Mary Ellen Wiederwohl, chief executive of Louisville Forward. "Nearly every community is dealing with the affordable-housing crunch. We as a city don't own much land that we can apply to these developments. We do have a land bank, but no large parcels.
"But even if you were able to abate the land, the construction costs are still too high," Wiederwohl said. "It makes it hard (for developers) to sell affordable units, and it makes it hard to rent them out. So people who are struggling end up spending far too much of their income on housing, to the detriment of other needs like health care or groceries or their other needs. The situation creates pockets of poverty in our cities. It's an American story, and one we should all be paying attention to."
---
IT'S FREE | Sign up for The Lane Report email business newsletter. Receive breaking Kentucky business news and updates daily. Click here to sign up
---
It's a story playing out across the state. In fact, Kentucky REALTORS, the professional association for Realtors in the state, reports that inventory for houses priced under $150,000 is at historically low levels. For instance, in 2013, coming right off the recession, a home in this price range in Louisville would take 16 months to sell. In February 2019? Just 4.7 months. Six months is considered "optimal."
And it's not just inventory that's the problem.
"First-time homebuyers have challenges saving up for a down payment and accessing affordable credit," said Kentucky REALTORS CEO Steve Stevens. "The short supply of low- to moderately priced homes certainly adds to that challenge. The reasons can differ from market to market.
"Government regulation, for instance – which can be at the local, state and federal levels – can account for as much as 12-15 percent of the cost of a home in Kentucky," Stevens said. "And where good developable land is scarce within urban boundaries, builders in the Lexington area are hard-pressed to build a new home and earn a modest profit for (homes selling for) less than $200,000. As a result, most single-family homes priced under that amount are existing homes – and there just aren't enough of those to go around to satisfy the demand for them.
"Since demand is also still high for higher-priced homes, when faced with a choice, builders will naturally choose to build homes in higher price ranges. After all, they are business people and building and selling higher priced homes simply allows them to make more of a profit."
The true face of housing need
With the costs of housing on the rise, a surprisingly large number of people are being priced out of home ownership and, increasingly, even rent. People in need of affordable housing are generally defined by the government as having overall household incomes of less than 80 percent of the area median income. In the Lexington area, for instance, the median income is $39,300 for a one-person household, $44,900 for a two-person household, and $56,100 for a family of four.
"There's this big misconception out there that people on housing assistance don't work. It's not true. In fact, here in Lexington, 85 percent of the people getting housing assistance are working," said Richard McQuady, manager of Affordable Housing for LFUCG.
"The general rule of thumb is, a person shouldn't spend more than 30 percent of their household income on their housing. But for people in these lower brackets, they have no choices," McQuady said. "So they either end up living in unsafe, substandard housing, or they end up paying too much for their housing, and not having enough for other basics like health care or transportation. It's bad for them, and its bad for the community, because they are not able to spend their money out in the community like they should."
According to the Louisville Housing Needs Assessment, wage stagnation is having a huge impact on people's ability to afford housing. In fact, the report states two-thirds of the workforce is employed in a sector with real median annual wages that have stagnated or declined since 2010. This impact is being felt in certain areas of the city more than others, the report notes, with the west core, northwest core and downtown showing poverty rates that exceed 40 percent of the population, and median household incomes that are around half of the citywide median.
Lexington's vow to fill the gap
Lexington has a goal to reverse its shortage of affordable housing by 2025. And the city is off to a good start. In 2014, the mayor and Urban County Council agreed to fund an affordable housing program using a general fund allocation of $3 million in 2015 and $2 million each succeeding year. To date, the fund has allocated nearly $13 million for home preservation and new construction.
The city's investment was used to leverage an additional $101 million from public, nonprofit and private sectors. And combining those funds, the city has created 1,431 units – 706 in the form of permanent supportive housing for special-needs populations such as survivors of domestic violence, the homeless, the disabled, veterans, those recovering from addiction, the elderly, and youth aging out of foster care.
While most of these units are rentals, the city has funded 22 units for homeownership by providing low-cost construction financing and requiring repayment on the purchase price. If construction costs exceed the purchase price, those dollars remain in the unit so the family can afford its new home.
Now that the program has reached its five-year mark, a study will be completed this year assessing the program's success, and making recommendations for the next few years' efforts.
According to David O'Neill, Fayette County property valuation administrator, a shortage of housing overall is exacerbating woes for all price points, but especially the lower end of the housing market. Keeping up with demand, he said, will be a major issue.
"Fayette County is projected to grow 1.2 percent a year in population every year for the next few years," O'Neill said. "Assuming 2.2 people a household, that means 1,700 new units of housing will be needed a year. In 2018, only 1,200 new units of housing were built. That's not enough. And that means the cost of housing goes up for everyone. In fact, since 2011, prices have gone up 27 percent."
O'Neill also noted that in the designated urban service area that Fayette County maintains, population capacity is expected to max out at 375,000 in 2030, and the county will simply run out of land. At present, only 89 of its 181,760 acres are available for business development, and while other spots are available for building, the lot sizes generally are small, infill-based opportunities.
"We're going to be looking at how to replace that missing middle housing in addition to the affordable housing segment," O'Neill said. "We've got to look at more duplexes, more townhomes and even more accessory dwelling units like basements and garage apartments. There are 50,000 properties that could accommodate an additional dwelling in Fayette County. We need to crowd source as many of these solutions as we can, and offer incentives whenever we can."
Louisville facing big housing needs
According to Louisville's Housing Needs Assessment, the city has a subsidized affordable housing inventory that includes 16,441 units in 338 developments. But nearly half of those units are concentrated in the same downtown, west and northwest corridors, which indicates the need for affordable developments all over Jefferson County.
Meanwhile, the city is losing ground on existing units, as around one-eighth of all currently subsidized units will see their affordability restrictions expire in the next five years. While many of those units may renew their restrictions, a considerable number are located in areas where urban renewal is occurring, increasing the pressure of being converted into market-rate dwellings.
City government is working to eliminate this problem bit by bit with the Louisville Affordable Housing Trust Fund. The mayor designated $2.5 million to the fund, which in 2017 served 338 families with its development and special project funds for building/improving housing, and another 400 households with the organization's Supportive Housing Grant awards.
In 2017-18, the budget was increased to $14.5 million overall for affordable housing, with $9.57 million to be used through the Affordable Housing Trust Fund. The newly upped annual budget will be used to create a revolving loan fund, an Adopt-A-Block project designed to address the vacant and abandoned property issue in the urban core, preservation/rehab funding and new unit construction. Funds also will be used to produce an updated needs assessment in collaboration with Louisville Metro.
According to the LAHTF's website, the forgivable Louisville CARES loans that the organization manages are designed to encourage developments within a half mile of a transit line and grocery stores, have higher design standards, are handicapped accessible, and are in developments where at least 25 percent of the units have three bedrooms.
"We're working on revitalizing our downtown neighborhoods, but truly we need to develop thousands of lower-cost housing options in other parts of the city, like Middletown and Okolona and other neighborhoods," said Jeff O'Brien, director of Develop Louisville, the branch of Louisville government that manages land development, planning and design, and vacant property initiatives. "We're setting up our tax credit initiatives to guarantee affordability for 15-30 years. We want to preserve those affordable housing units for years to come."
In addition to its brick-and-mortar efforts, the fund also makes a $25,000 grant pool available to organizations that provide assistive services to households in need. In 2017, the Coalition for the Homeless, The Healing Place, the Louisville Urban League, and the St. John Center combined the funds with their own to provide housing assistance counseling, while also helping 259 families with pre-purchase counseling, saving 109 homes from foreclosure, housing 98 homeless men, helping with 50 new home purchases, and helping 27 families find rental housing.
Thinking outside the brick-and-mortar box
Access Ventures, a social-justice-oriented venture capital firm in Louisville, has decided that answers to housing affordability may lie in some of the soft costs – the high costs of credit for the poor, utility and transportation costs, food access and more. To address these issues, the firm launched the Reconstruct Challenge, a $3 million national prize program to help fund innovations that develop services, products and support structures to help low-income families avoid homelessness.
The organization plans to grant $300,000 to six recipients. Winners of the contest will then have an 18-month proof-of-concept phase where they will put their ideas to work in the Louisville and Southern Indiana region. After this initial phase, these six recipients will have the opportunity to apply for follow-on capital, which will come from a $1 million fund. Those who wish to register for the contest must register on the Access Ventures website by May 2, and submit their applications by June 4. The initial round of 12 will be chosen at the end of August.
"It's expensive to be poor in America, and even more expensive to be poor in Louisville, where the eviction rate is twice the national average," said Mallory Sanborn, associate at Access Ventures. "While there's lots of energy around brick-and-mortar solutions to housing access, we want to address the ancillary costs of being poor – the kind of expenses that can knock a hardworking, lower-income family off track.
"We'd love to see applicants who are coming up with creative financing programs for lower-income prospective homeowners, or new ways of looking at property insurance, ways to address food waste and food access, or strategies for reducing the cost of utilities and home maintenance," Sanborn said. "We want to prove out new models. And we want to do it here – in Jefferson, Clark and Floyd counties. The problems are big, but we're committed to reconstructing the system to give us a more creative, diverse, inclusive economy."
---
Susan Gosselin is a correspondent for The Lane Report. She can be reached at [email protected].