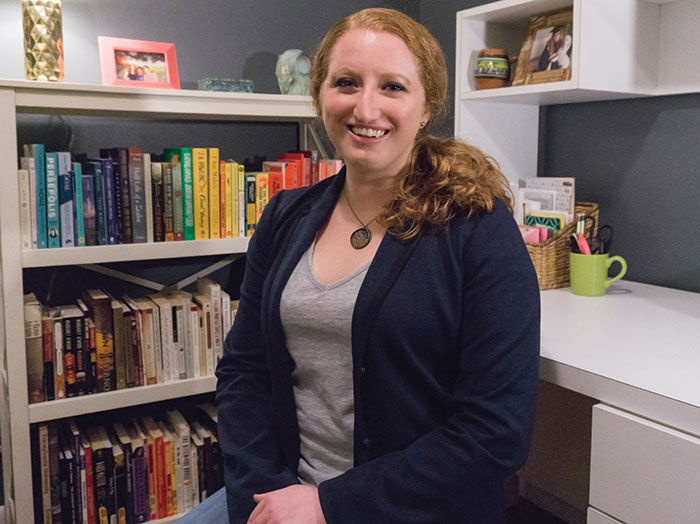 Sparking joy, anyone?
Central Kentucky professional organizer Emily Evans appreciates the mainstream attention being given to her industry with the popular KonMari method of purging and tidying, thanks to author and Netflix host Marie Kondo. Evans does quibble with the show's unrealistic expectation of being done with decluttering by getting started.
"I wish they had let people know there's nothing wrong with them," she adds.
Clients should expect an organizer to stay with them through the whole process, and hiring a professional organizer shouldn't be thought of as a frivolous expense but as a service that gives you back some time.
"When things aren't organized, time is wasted," Evans said. "Money is wasted buying something when you can't find it."
She helps overwhelmed clients organize a closet, for instance, by asking, "Do you really love this? When is the last time you wore it? Does it spark joy?" Then she hauls away excess items, taking pet supplies and towels to the Humane Society, clothing to the Hope Center or the Nest Center for Women, Children & Families.
"It helps them let go," Evans said, "knowing it is going to someone who could really use it."
Growing up outside of Nashville, Evans chose Transylvania University to study sociology and anthropology, then stuck around after graduating in 2012.
---
IT'S FREE | Sign up for The Lane Report email business newsletter. Receive breaking Kentucky business news and updates daily. Click here to sign up
---
"I love Lexington so much," she said. Soon she was working at Midway University as director of multicultural and international affairs, creating study-abroad programs. In November 2017, Evans took the plunge into self-employment with her business Eliminate: Professional Organizing.
"I was pleasantly surprised at how quickly it took off," she said. She utilized online resources from the Kentucky Small Business Development Center and the One-Stop Business Portal through the Kentucky Secretary of State's office.
As a young teenager, Evans and her mom would watch "Clean Sweep" on TLC.
"I've always been neat and tidy," she said. "The show introduced me to the term professional organizer."
She is a member of the National Association of Professional Organizers, a division of the Rotary Club called Rotoract Club of Lexington, Lexington Young Professionals Association, and the local chapter of the worldwide organization Rising Tide Society.
For her business networking, Evans reaches out to moving companies, cleaning services, therapists and real estate agents. A subscription service for four hours per month helps her keep repeat customers and is a win-win for them, as they have someone to help them maintain an organized space.
Her geographical service area is Central Kentucky, but she'll travel if expenses are paid for. She sometimes consults via Skype.
She works with corporate and nonprofit organizations, but the majority of her clients are residential, and they are pretty much split between wanting help with kitchens and closets.
"Those are the areas of our homes that have the most stuff, and most items," she said. "A pantry alone can take five hours to do if it's gotten out of whack."
Organizing and cleaning are two different things. Evans is fine with wiping off a shelf before putting items back on it, but organizers don't scrub countertops. That said, "Cleaning is so much easier when everything is in its place," according to Evans.
Some clients have good organizing habits and hire her for fresh eyes on a particular task. Others need a whole house organized.
"We work room by room," Evans said. "We finish one room at a time before moving on with another." Some clients have anxiety or ADHD, "so they will need extra assistance in getting them through the process of organizing." Before working with a hoarder, Evans requires that they be seeking professional help with a therapist.
"I will listen, but I'm not a therapist," she said.
And yes, she keeps her own home office organized. "I try to keep it as minimal as possible," she said. "I keep trinkets on my desk from travels abroad. They spark joy."
Emily Evans' tips for a tidy office
• Start small. When you transfer the info from a sticky note reminder to a digital action list, get rid of the paper.
• Empty messy drawers and get rid of things you don't need, then categorize the items you're keeping.
• After purging, take measurements and buy desk organizers and containers for pens, binder clips, paper clips, Post-its, etc.