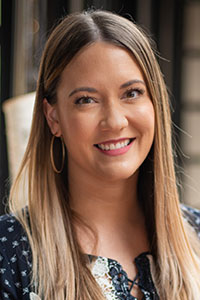 LEXINGTON, Ky. — Jeff Ruby's Steakhouse Lexington has named Meghan Reames sales manager for private events.
Reames, formerly with the Kentucky Chamber of Commerce, will oversee the restaurant's sales and marketing activities pertaining to attracting private and group events such as corporate events, banquets, and rehearsal dinners.
Reames, a University of Kentucky alumna, brings to Jeff Ruby's Steakhouse more than five years of professional sales experience, along with a wide range of professional relationships with area business and civic leaders.
Scheduled to open the evening of April 20, Jeff Ruby's Steakhouse will feature several private dining rooms that carry a variety of Bluegrass region themes that seat 10 to 60 guests: The Bourbon Room, with an 18-foot dining table and wood paneling, will display the restaurant's bourbon inventory; The Breeder's Room will convey the region's thoroughbred heritage; The Gatsby Room will echo the carpet and decor from the Leonardo DiCaprio movie, "The Great Gatsby"; The Wildcat Room will pay homage to the University of Kentucky.
"Meghan's knowledge of sales and events and her time within the Lexington community make her a great fit for this role," said Andi Sempier, corporate director of sales and marketing at Jeff Ruby Culinary Entertainment. "Meghan will lead the charge bringing group events to Jeff Ruby's Steakhouse Lexington, and we're excited for her to help us introduce The Jeff Ruby Experience to groups, businesses and private diners."
Jeff Ruby's Steakhouse Lexington is now accepting private and group events by phone (859) 554-7000 or email to [email protected].