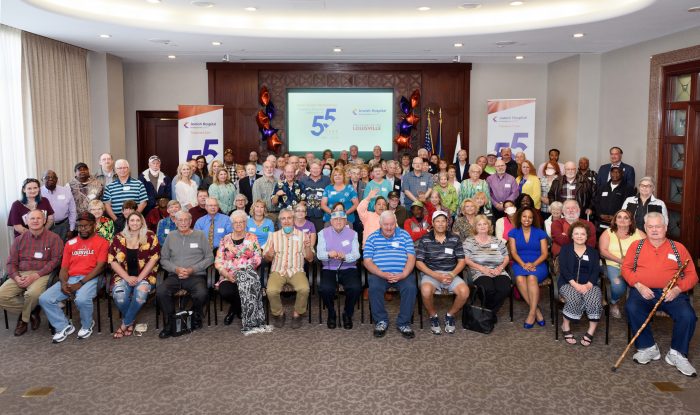 LOUISVILLE, Ky. — Jewish Hospital Transplant Care, in partnership with University of Louisville, celebrated Donate Life Month with more than 5,200 lives saved through organ transplantation. More than 100 of those transplant recipients gathered today to mark the program's 55th anniversary, along with the transplant team and donor families.
"It's through you, the organ recipients, that I see Davey and other donors continuing to fulfill their life purpose," said Jennifer Albright. Her son Davey, a Trinity High School student, died last year in a flooding accident, but his organs went to many on the transplant waiting list. "Your second chance at life brings me comfort and I am so thankful to the expertise of the Jewish Hospital transplant team for making that possible."
"I am forever grateful," said kidney recipient Melanie Hughes. On staff at Trinity, she knew Davey and his family, "I am grateful to Davey, the Albright family, and the team at Jewish Hospital. My heart broke at losing him, but Davey's gift changed my life."
Melanie's transplant was among the 106 kidney transplants performed at Jewish Hospital in 2018, setting a new annual record for kidneys while the team also completed its 500th heart and 300th lung transplants.
In 2017, Jewish Hospital Transplant Care set an all-organ record, with 187 organs transplanted. The growth comes as the program continues to improve access, seeing patients closer to home with three outreach clinics in the state: Crestview Hills, Bowling Green and Henderson (opened in January 2019).
"We are honored at Jewish Hospital with the expertise to deliver so many firsts and milestones in our transplant programs," said Dr. Ronald Waldridge II, president of Jewish Hospital. "It is a true testament to the skill and innovation of our physicians, our partnership with the University of Louisville, the medical teams, and all support staff. I commend the compassion and bravery of our donors and their families. We look forward to many more celebrations in the years to come."
"Hope is not possible without the sacrifice of our donor families," said Dr. Christopher Jones, Jewish Hospital Transplantation program director, and Transplant Surgery Division chief at University of Louisville Physicians – Transplantation Surgery and the UofL School of Medicine. "Being the transplant center of choice is not possible without trust. To the transplant team, past and present, I applaud your expertise and commitment to compassionate care."
The first transplant at Jewish Hospital—a kidney transplant—was performed Sept. 3, 1964. Since then, Jewish Hospital's transplant program has performed many firsts:
Kentucky's first adult heart transplant
Kentucky's first pancreas transplant
Kentucky's first adult liver transplant
Kentucky's first double-lung transplant
Kentucky's first dual heart/lung transplant
Today, Jewish Hospital is among a very small percentage of hospitals across the country approved to perform all five solid organ transplants: heart, lung, liver, kidney and pancreas.
Jewish Hospital is also home to the World's Most Successful Hand Transplant, celebrating its 20th anniversary last month. The Louisville Vascular Composite Allograft program began here in 1999. The program set out to prove that the transfer of a hand and/or arm could be a treatment alternative for patients who had lost a limb, in the same way a kidney or heart can be replaced in patients who need a new organ.
The nucleus of the solid organ program is the Trager Transplant Center, 18,000 s.f. with 20 state of the art exam and consultation rooms. It opened in 2016, with a $3.3 million gift from the Jewish Hospital & St. Mary's Foundation and the Trager family. The family has provided $2.2 million in philanthropic support as well.
None of this would be possible without the donors themselves, and the support of organ procurement agencies including Kentucky Organ Donor Affiliates (KODA). KODA, and Kentucky Circuit Court Clerks' Trust For Life program, work to raise awareness about the need for organ donation. An estimated 7,000 lives are lost each year while waiting on an organ transplant, and Kentuckians can take two steps to help reduce that number.
Registering as a donor
Donating $1 when you obtain Kentucky driver's license or state ID.
"That dollar educates and teaches the truth about this miraculous gift of life to ensure everyone registers. When more people are registered as potential donors, more lives are saved," said Shelley Snyder, executive director of the Kentucky Circuit Court Clerks' Trust for Life, and vice president of Strategic Partnerships, Kentucky Organ Donor Affiliates. "We are thrilled to celebrate this momentous day with Jewish Hospital and want to make sure Kentuckians on the transplant waiting list today, and in the future, have the best chance to receive a lifesaving organ."
Kentuckians can join the Kentucky Donor Registry online at www.donatelifeky.org. People who live outside of the state of Kentucky can visit www.donatelife.net for state specific donor registry information.