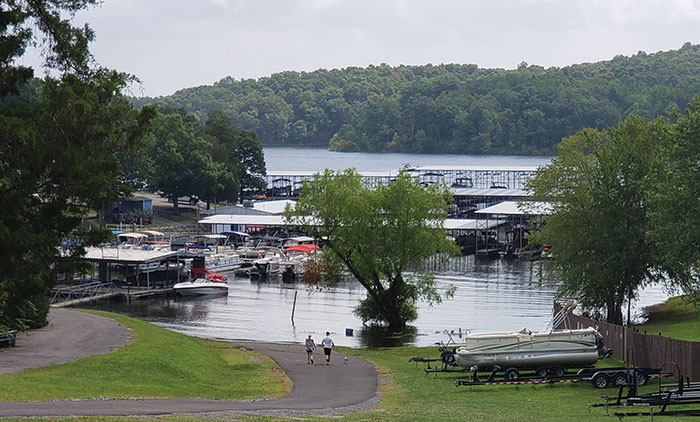 Though I didn't grow up in a boating family, my hometown of Hopkinsville was but a short drive to the largest manmade lake in the country, 187-mile-long Kentucky Lake, formed in 1944 when the Kentucky Dam was built as flood control on the Tennessee River. Fortunately, my best friend Ann's family had a ski boat, and I spent many carefree summer days water skiing, then chowing down on delicious fried catfish at Sue and Charlie's, a once-popular restaurant in Western Kentucky lake country that I believe is long gone. (If that's not the case, let me know, and I'll meet you there!)
Another local "institution" began only four years after the lake appeared, when Louisvillians William and Louella MacFarland were driving around the shoreline and came upon a particular location near Benton that seemed to be the perfect site for a fishing camp. Thus the MacFarlands founded Big Bear Camp – now Big Bear Resort. The camp's beginnings were primitive and the owners' stories about the early days, amazing.
Big cats screamed from the woods at night, and Louella told friends she was terrified one would jump her when she had to scuttle out in the dark to fill guests' kerosene cans. Initially, camping units were built on cement blocks. Air conditioning meant propping the shutters open with a stick. Heat meant closing them. One night Mr. Mac and a few buddies went coon hunting. The hounds chased that coon back to the Macs' camp residence. Mrs. Mack said you hadn't lived until you were awakened by the hissing of a terrified coon and a pack of baying hounds under your house.
Since the camp was way out of town, the local sheriff deputized Mr. Mac, so if he ever had any difficulty with a customer, he could take care of it himself.
---
IT'S FREE | Sign up for The Lane Report email business newsletter. Receive breaking Kentucky business news and updates daily. Click here to sign up
---
An old guide who'd lived in the area long before it was a lake would take visiting fishermen out to find the best angling holes. During bird migration in the spring and fall, he and Mr. Mac would go duck and goose hunting. In those days before fish and wildlife authorities existed, Mr. Mac said the old guide would shoot an ancient gun until its barrel got too hot to touch. The fellow would dunk it in the water to cool it off until steam stopped rising, then start shooting again.
Guests at this beloved camp/resort by Big Bear Bay on Kentucky Lake have been making their own memories since 1948, now shared by generations who spend time here every summer. Grandads entertain grandchildren with fond recollections about camping, swimming and renting Jon boats at the camp's marina and reminisce about the time they puttered out to catch the "big one."
Through the years, rustic fishing cottages have been added and a log cabin dating back to 1802 has been renovated and restored. Years ago, Paducah attorney Tom Threlkeld received the cabin as payment from a bootlegger he represented. The Macs allowed Tom and his wife, Rosabell, to put the structure on Big Bear property, where it remains, although the founders sold the resort in the 1950s.
Now under the guidance of the third generation of owners – Rick Meier and Janet Caldemeyer – Big Bear is a 52-acre, comfortable, old-fashioned family vacation spot upgraded with modern amenities. Overnight lodging choices include cottages, townhomes, condos and villas.
At Big Bear Marina, you can rent craft for fishing and boating, including Jon boats or paddle and pontoon boats of several sizes. Or you can BYO boat and pick up gas, groceries, ice and bait at the 122-slip marina. Rental options include paddleboards, adult or junior water skis, Big Bertha or Delta tubes, kneeboards, tow ropes and life vests. And you can hire a fishing guide as well to lead you to those sweet spots.
Turns out the Macs chose to create their resort at one of the best angling spots on a 160,000-acre lake known for its diverse variety of fish, including white, largemouth and smallmouth bass; crappie; sauger; catfish; bluegill; red-ear sunfish; and catfish. Many of the state's record catches have been spawned in these waters. To quote Big Bear's fulltime fishing guide, Rodney Hairgrove: "If you want to fish, you can come down here to Kentucky Lake and catch something (all year long)."
Even if you don't happen to be an angler, the area is loaded with activities to keep you and the family happily busy.
Explore the heart of Western Kentucky's Waterlands at the nearby 170,000-acre Land Between the Lakes National Recreation Area. At this natural treasure you can view such wildlife as American Bison, elk and deer, red wolves, golden eagles and bald eagles; rent canoes and bikes; observe a working 1850s farmstead; and gaze at a star show in Golden Pond Planetarium.    
Hit the links at one of a dozen state park, semi-private or open/private golf courses; brush up on your short game at a par-3 or putt-putt; and laugh till your cheeks ache in bumper cars. Ride the waves at River Venture Water Park, or nose through antiques shops in Aurora, Hazel, Murray, Mayfield, Benton and Paducah.
To treat yourself – and your family – to a relaxed vacation at Big Bear Resort on Kentucky Lake, check out bigbearkentuckylake.com or call (800) 922- 2327. If great fishing is your goal, line up a guide ahead of time with Rodney Hairgrove Professional Fisherman and Guide Service (270) 362-0147 or [email protected]. Your guided trip includes all tackle, fishing gear and travel on a fully-rigged bass boat, or BYO favorite gear and tackle. Those fish are just waiting for you!
For info on Land between the Lakes, go to landbetweenthelakes.us or call (800) 525-7077.
---
Katherine Tandy Brown is a correspondent for The Lane Report. She can be reached at [email protected].