By Kathie Stamps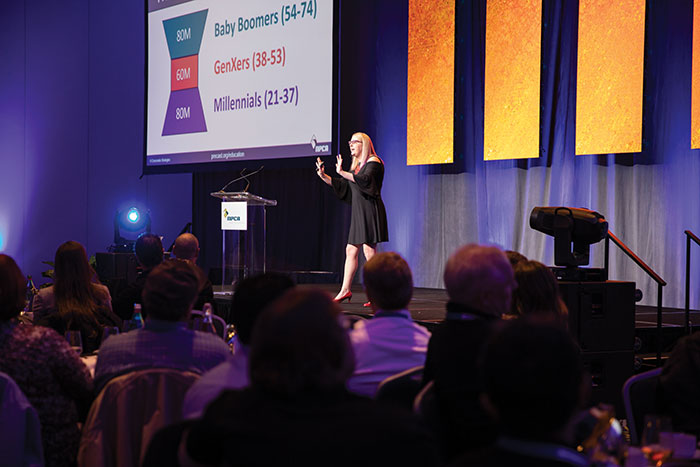 Business owners who need other businesses to support their operations find plenty of options in Louisville. While service businesses abound, it's the business services that help others out. Accounting, call centers and other back-office operations, consulting, design, human resources, information technology, other tech services and printing are among the business services that thrive in Greater Louisville.

The business services cluster employs more than 25,000 Greater Louisville residents, according to Louisville Forward, and is expected to continue growing due to the robust local workforce.
Working together is working better than ever. For example: in October 2018, MCM CPAs & Advisors joined with Kramer Consulting to form a new affiliate organization, MCM Kramer Technology Solutions. One of the largest CPA and advisory firms in the region, MCM CPAs & Advisors provides tax, assurance, accounting and consulting services to clients in Kentucky and across the country. Kramer Consulting, an IT consulting firm, is based in Crestwood. The new partnership provides clients with IT consulting and solutions along with tax and assurance offerings.
Keeping companies moving
Business services mean business success in the River City.
According to the Bureau of Labor Statistics, the unemployment rate for Louisville in March 2019 was 4%. A decade prior, it was 10.3%. While it's certainly a major economic factor in every city, individual companies have their own set of criteria to monitor the health of their business. Hiring and keeping good people, for one.
Founded in 1984, Louisville-based Oliver Group is a business consulting firm that helps companies acquire and develop talent.
"We believe it is the development of talent that ultimately leads to the success of an organization," said Steve Hopkins, director of client development.
That includes strategy, processes and even technology because, as vital as it is, technology relies on people as much as the other way around. Business success also relies on sharp and capable leaders, and training to achieve the right skills.
"We would argue that 70% of a leader's time should be engaged in leading," Hopkins said. "
---
IT'S FREE | Sign up for The Lane Report email business newsletter. Receive breaking Kentucky business news and updates daily. Click here to sign up
---
Oliver Group employs 22 people in Louisville, Chicago, Wisconsin, Ohio and Missouri. The company's four strongest market segments are finance, health care, manufacturing and the nonprofit sector. For anyone tempted to list leadership in the 'soft skills' category, Hopkins is quick to point out that learning to be an effective leader isn't soft.
"There's nothing more impactful than having your team operate at maximal potential," he said. "The No. 1 reason people leave a job is a 'bad boss,' someone who is ineffectual or antagonistic. Tackling that problem has such a huge ROI for companies once they get that lightbulb to go on."
Employee turnover is no fun for anyone. The Bureau of Labor Statistics even has a name for it: "quits rate," a measurement of the number of annual quits as a percent of average employment and a separate data point from unemployment.
Crescendo Strategies, a human resources company based in New Albany, Ind., works with organizations across the country to reduce unnecessary employee turnover, in particular by helping managers be more effective in leadership roles and by bridging the generational gaps within companies.
Crescendo founder Cara Silletto is a keynote speaker and author. She and Leah Brown, senior retention strategist for Crescendo Strategies, co-wrote the book "Staying Power: Why Your Employees Leave and How to Keep Them Longer."
Equipping the next generation
Bringing business and nonprofits together in training the next generation of business service providers is Ignite Louisville, presented by Norton Healthcare. The six-month program from Leadership Louisville Center began in 2005 to develop leadership skills in young professionals. The 20th class graduated in the fall of 2018 and contributed over 5,500 hours of service and over $240,000 in value to six nonprofit agencies as their team projects. In a challenge, the winning team partnered with Inside the Lines Training, an academic enrichment and athletic training program for student athletes.
The 21st Ignite Louisville class graduated in April 2019, contributing over 2,500 hours of service and providing $350,000 in value to six nonprofit agencies as their team projects. The challenge winner was Louisville Youth Group, an organization that provides programming for LGBTQIA+ youth.
Also, EnterpriseCorp and the Forcht Center for Entrepreneurship at the University of Louisville College of Business partnered for a third year in 2019 to host the annual RevIt – Accelerating Customer Growth event.
Revlt provides free, tailored marketing advice from marketing and branding experts for early-stage start-up companies in the Greater Louisville region. The Forcht Center and EnterpriseCorp selected five start-ups at the right stage in their growth process to receive tailored advice.
The program is one of a growing and thriving sector of organizations throughout Greater Louisville and Southern Indiana that are aimed at providing perhaps the most crucial business services of all: helping new businesses start and grow.
A national backbone of business
Greater Louisville's logistics, low cost of doing business and talented workforce create an environment just right for back-office suppliers and service centers.
For example, in May 2019 Chewy.com, an online pet supplies retailer, announced it is expanding in Louisville with a $7.2 million investment expected to create 300 jobs. The Florida-based company is settling into an 88,000-s.f. office space at its Pharmacy Customer Service Center. It will create high-tech jobs for pharmacists and pharmacy technicians, earning an average wage of $35 an hour. It contributes to the city's goal of attracting more high-wage jobs in order to boost the standard of living for area residents.
Another example is Coastal Cloud, a nationwide firm that provides cloud technology platform expertise and organizational solutions for service businesses. The Florida-based company has a Midwestern office in Louisville and is seeing astronomical growth.
And last year in Jeffersonville, Ind., United Collection Bureau Inc. announced it will lease space for a new $2.48 million business process outsourcing and collection call center in the rapidly growing River Ridge Commerce Center.
Whether the business services help create more effective business operations or streamline the experience for customers, Greater Louisville is the place to do it. 
Kentucky Employers' Mutual Insurance (KEMI)
250 West Main Street, Suite 900,
Lexington, KY 40507-1724
(859) 425-7800
Kentucky Employers' Mutual Insurance (KEMI) is the largest provider of workers' compensation insurance in Kentucky, providing coverage to more than 23,000 policyholders in all 120 counties of the state. We provide exceptional underwriting, safety education and claims services to our policyholders. This, combined with our competitive pricing, responsible financial management and a focus on innovation makes KEMI the provider of choice for Kentucky businesses. We are proud to have earned and maintained an "excellent" rating by A.M. Best.