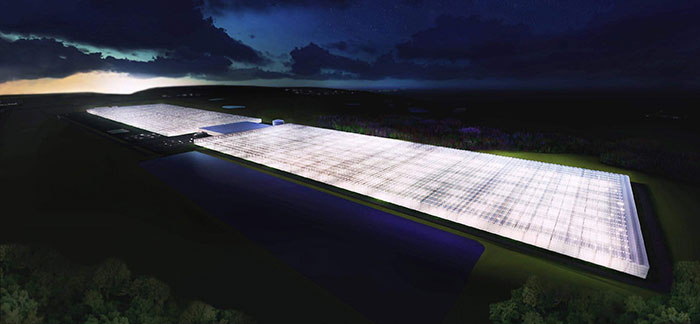 MOREHEAD, Ky.— AppHarvest announced Thursday its 60-acre greenhouse will be outfitted with a $15 million hybrid LED lighting system, making it the world's largest LED installation for a single building.
Through a partnership with Equilibrium, a leading greenhouse investment firm that is providing upwards of $100 million for the facility, the state-of-the-art greenhouse will utilize Philips GreenPower LEDs from Signify and will begin installation early next year.
AppHarvest's controlled environment agriculture facility in Morehead, Ky., will grow tomatoes and cucumbers. The structure is under construction and will open in the second half of 2020.
AppHarvest's engineers have devised a cutting-edge hybrid system to dramatically reduce energy usage in the greenhouse and increase yields. The Philips GreenPower LEDs, which are 40 percent more efficient than typical greenhouse lighting, will be paired with Agrolux high-pressure sodium (HPS) lamps. Given their efficiency, the LEDs produce less heat and will be used in warmer fall and spring months to grow more produce. During colder months, both the LEDs and HPS lamps will be used, and the heat from the latter will help warm the greenhouse and reduce natural gas usage.
AppHarvest produce will be distributed to the top 25 U.S. grocers through partner Mastronardi Produce.
The LEDs will be installed by Dalsem Complete Greenhouse Projects, which is overseeing construction of the 2,762,073-s.f. greenhouse. The LED installation raises the all-cash investment by Equilibrium's Controlled Environment Foods Fund from $82 million to upward of $100 million.