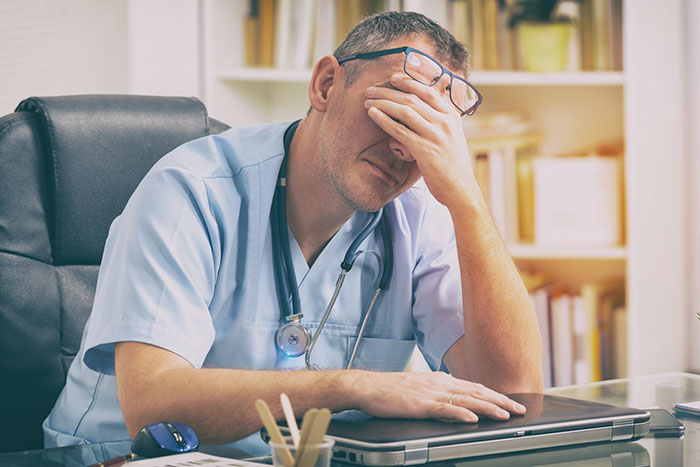 Consumer health care has been at the forefront of national issues for some time now, but the landscape is rapidly changing for physicians as well. Rising costs, changing mandates and the complexities of practice management are forcing doctors to make difficult decisions from a business standpoint. The days of the small family-doctor practices seem to be coming to an end as physicians opt to work as employees in hospitals and larger health-care systems rather than establishing a private practice and being self employed.
According to a 2018 survey conducted by national physician recruiter Merritt Hawkins, "only 31% of physicians identify as independent practice owners or partners, down from 33% in 2016 and down from 48.5% in 2012." And Kentucky is right in the middle of that trend.
In Kentucky, as of 2017 there were:
• 10,158 active physicians
• 3,467 primary care physicians
• 3,083 female physicians
• 1,737 MD or DO students
• 1,180 residents
Of those active physicians, 2,499 were over age 60 in Kentucky in 2017, making up about 25% of the physician population. Since many physicians in Kentucky and nationally consistently voice an interest in early retirement, incoming classes of doctors ultimately are going to dictate what care in Kentucky looks like in the years to come much faster than many may suppose.
A 2015 Merritt Hawkins national report states:
"If, in fact, 9.4% of physicians retire within three years, as indicated in The Physicians Foundation survey, it would result in a loss of approximately 76,000 physicians from the workforce. If 22% of physicians 60 and over retire in the next one to three years, it would result in the loss of over 49,000 physicians from the workforce.
"About 78,000 physicians will join the workforce in the next three years, barely offsetting the potential number who will leave. Because younger physicians tend to work fewer hours than older physicians and are more likely to take employed positions, one new physician entering practice is unlikely to equal one older physician leaving."
---
IT'S FREE | Sign up for The Lane Report email business newsletter. Receive breaking Kentucky business news and updates daily. Click here to sign up
---
These numbers correspond with the trend of the aging American population, meaning the loss of older physicians and their practices will coincide with an increase in the number of people requiring care as life expectancies increase.
The new health care systems need to be able to support that trend.
"As we move further into the 21st century, aging population demographics will become a key challenge facing the health care system," according to the Merritt Hawkins report. "A growing older population – with more frequent physician visits, surgical rates and diagnostic testing per capita – will require a larger physician workforce to make access possible. This challenge will correspond with the challenge created by an aging physician workforce, many of whose members are primed for retirement."
Whether the move toward larger systems ultimately helps patients and doctors is yet to be seen.
Practice costs high, earnings delayed
Meanwhile, a variety of factors are impacting physicians' decisions to go to work with a larger health care system or start a private practice. The move from small private practices to working for a larger entity can largely be broken down into four factors:
• the growing cost of medical school
• the effects of the Affordable Care Act on medical systems
• the digitalization of patient care and record keeping
• physicians' desire for a healthier work-life routine for themselves
In Kentucky and across the nation, the cost of medical school (and all university study) is rising. It is a familiar comparison that previous generations were able to pay for college with part-time jobs while current generations are being saddled with unmanageable student loan debt. For medical students, this trend is exacerbated by added years of study plus internship and residency requirements needed to successfully acquire their medical degrees. Doctors' incomes are higher than in most professions, but so is the cost of the medical school, especially for specialists. 
And their earnings start later.
"The average weekly earnings of a bachelor degree holding American is $1,102," according to bestmedicaldegrees.com. "Extended out over a year, this is $57,304 that would-be doctors are missing out on (on average) for at least their first four years of medical school. Multiply the average lost earnings by four, and you end up with $229,216."
Consequently, medical students take a big financial hit before their earnings even begin.
Tuition at the University of Louisville for four years of medical school is $272,870 for Kentucky residents and $357,758 for non-residents including living expenses. Tuition at the University of Kentucky College of Medicine hovers around $262,051 for in-state and $380,668 for non-residents, including living expenses. 
As a recruiting inducement, however, some large health care systems offer alleviation of these costs early in a physician's career.
"The burden of student loans can be heavy," said Dr. Joshua T. Honaker, chief medical administrative officer at Norton Medical Group. "Statistically the national average for a physician completing their residency is around $295,000. Many health care systems do offer partial or full payback programs."
Loan payoff a good recruiting tool
These college debt payback programs are among the most attractive options for early-career medical professionals and are not an option if a new physician opens up or takes over a private practice.
Additionally, large health care providers, whether they are attached to universities or run independently, are actively working to recruit new physicians.
"New physicians' decisions are influenced by the increasing student loan indebtedness incurred during their training programs," a Baptist Health representative said. "Baptist Health has developed recruitment incentives to help offset this burden for select newly trained physicians. Physician student loan debt has, however, not been a deterrent to our recent physician recruitment success."
These sentiments are echoed by the Norton Medical Group.
"Norton Healthcare has invested a lot of resources into physician and provider recruitment," Honaker said. "We have a recruitment department that aligns its efforts with the organization's strategic plan. They are focused on areas of need within all our service lines. In some cases the recruiting process begins while a provider is in training; our recruiting team starts networking and connecting with providers." 
In addition to the payback programs and recruitment strategies offered by large health care providers, becoming an employee also alleviates physicians of the administrative obligations and burdens that are inherent in operating a private practice. But that is not the only factor. 
With six-figure debts incurred by medical students at the inception of their careers, it is understandable how the preference for steady employment over business ownership is becoming an attractive option.
To compound the trend, the very cost of doing business as usual for physicians has increased as a result of two major factors: the Affordable Care Act and mandated incorporation of electronic medical records for patients, which requires consistent IT support. Both have made entering private practice cost prohibitive at a fundamental level. Most small private practices simply can't keep up with technology, insurance management and administrative costs that are required to run a private practice today. 
Dr. Joseph M. Flynn, Norton Medical Group chief administrative officer and physician-in-chief at the Norton Cancer Institute, explains it this way:
"The Affordable Care Act (and Centers for Medicare & Medicaid Services) has made it more advantageous to be an employed physician, whether it is for a hospital or a health care system. Basically it is a new expectation to be employed. Providing care is no longer about doing the work and sending a bill. There is so much more that comes along with running a medical practice independently." 
Practitioner burnout rates are high
Dr. Elizabeth Ann Griffith is currently a part-time pediatrician in a hospital-owned practice and has witnessed physicians' shift from self-employed private practices to hospital employee first hand.
"I started my own solo private practice in Winchester. I owned my own business. I was my boss. I was the last person getting paid," Griffith said. "For someone who wants to have control over what happens and control over pretty much most of your day-to-day operations, private practice is very appealing. It's just not very practical anymore because it costs so much to have an electronic medical record."
More than a decade ago, the Bush administration ordered that providers have electronic medical record (EMR) systems by 2014, a deadline that many private practices missed due to costs starting around $50,000 and the need to get thousands of existing case files digitized.
"When I was in private practice, electronic medical records were kind of a new thing, but all of our billing and insurance was all still pretty much done on paper," Griffith said. "And then electronic medical records became a little bit more sophisticated; you could directly electronically bill the insurance companies but you still had to go through reconciling every one. But (as the systems) became a lot better, the price tag of those went up. When I went into solo private practice, the only thing that we had on computer was scheduling our appointments and generating the bills."
Where private practices used to be able to rely on a small staffs of two or three, now there is a need also for IT specialists and committed tech professionals to maintain expensive systems. Many small practices can't keep up. 
In addition, small practices can become overwhelmed depending on what insurance they accept. Clinician information provider Medscape reported this year that 44% of physicians feel burned out, 11% said they are colloquially depressed (feeling down, blue or sad), and 4% are clinically depressed (prolonged depression not a result of normal grief-associated events). Burnout affects female physicians more, with 50% reporting burnout compared to 39% of men. 
Asked what factor contributed most to this burnout, 59% responded too much bureaucratic paperwork, 34% said spending too much time at work, and 32% reported increased computerization of their practice, factors that all are magnified at small private practices versus larger systems. 
'I just decided to stay home'
Griffith said that before she closed her practice, "I was working four days a week and I had two little children and then I had another. I was one of the only people in town who took Medicaid. I had a very busy practice, and I recruited another doctor to come in with me. Before that doctor came in I had just gotten so busy that I couldn't see straight. I felt like I wasn't getting to spend enough time with my family. I was still taking calls every third or fourth night. I got to the point where I said, something's got to give. I could never find someone to come in (and work) part-time with me. I ended up not practicing for a couple of years. I just decided to stay home."
As employers, large hospitals lessen some of the burnout factor by taking on IT and administrative needs and having staff who can focus on paperwork, documentation and reporting while physicians focus on their practice. Ultimately, moving to a hospital structure allowed Griffith to work part time, allowing her to spend time with her children as well as practice pediatrics without getting overwhelmed or burned out.
Honaker at Norton Medical Group echoes that experience.
"Some physicians may feel they have no autonomy if they join a health care system, meaning they will have a boss and someone else will set their work hours," he said. "But being part of a larger system allows physicians who choose so to alter their schedule or possibly job-share if that is something they choose."
And these are not the only reasons physicians join large hospitals. In Kentucky especially, the university-based hospital systems at UofL and UK allow physicians to both practice and teach at the same time.
"We have about 200 medical students per year at UK College of Medicine and about 30% to 40% of them stay at UK hospital for residency," said Dr. Charles "Chipper" Henry Griffith III, vice dean for education and professor of internal medicine and pediatrics at the University of Kentucky College of Medicine. "And then, if they stay here for residency, a lot of them want to stay and be faculty at UK. It's not necessarily that we say, 'Oh yes, we're going to groom them to be faculty and then doctors in our hospital.' It just naturally evolves. There are so many students who want to stay here for their training and they love it, and then during residency they decide they want to do a teaching practice. We get a lot of our faculty from our students and our residents."
Larger systems change the care equation
For patients in Kentucky, the primary concern is that a bigger health care system means less face time between physicians and patients. However, as the U.S. health care system is restructuring, large health care organizations and doctors are looking for ways for physicians to get both the necessary one-on-one time with patients while ensuring cooperation between physicians so patients get a better quality of care.
"Health care systems have the resources available to provide care across the entire spectrum, including subspecialized care," Flynn said. "For example – and I'll use cancer care because that is what I'm most familiar with – if someone is diagnosed with cancer they may see an oncologist, who also can refer them to a radiation oncologist, behavioral oncologist or surgeon, while also gaining input from experts in the onsite resource center for support. The care opportunities just continue and often are made easier to align."
And the larger health care model enhances the increased use of EMRs as more physicians have immediate access to patient records and can double and triple check the work of colleagues.
"A lot of the studies have shown that the outcomes of care for patients are actually better in teaching hospitals than in nonteaching hospitals," said UK's Griffith. "I think the reason is that you've got multiple people taking care of you. If you come to me in my clinic, I'll have a group of students helping me and asking questions, and they have ideas that I maybe I didn't think of, and they help me realize things perhaps I had forgotten. You've got multiple eyes, multiple ears and multiple brains thinking about your problem. The students make me a better doctor. They ask questions all the time. I learn something every day."
The shift from private practice to large health care organization employee is being fed so strongly by economic, technological and medical insurance factors that it appears inevitable the vast majority of doctors will ultimately end up employees at large health care organizations. The goal is to make sure that the new, larger system works and continues to work for patients and physicians through increased care and lower physician burnout and rates of depression.
"It depends on the individual and how they view it," Flynn said. "From my perspective, when you are in private practice you are responsible for everything from making sure the lights come on at the beginning of the day to making sure systems are operational for the next day – whether you are doing it yourself or relying on the people you hire. In some regards you never really have independence; you are relying on others to make sure your private practice is run the way you want it run."
---
Clary Estes is a correspondent for The Lane Report. She can be reached at [email protected].