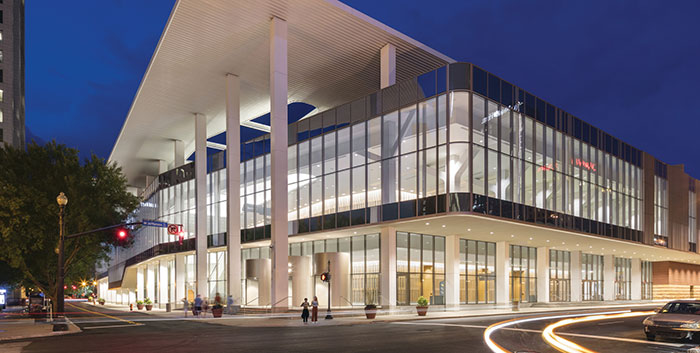 Cities across the country are investing dollars by the hundreds of millions for "extroverted" facilities exuding local flavor to attract growing convention business. Louisville now has a modern, approachable and airy facility, Lexington's largest-ever capital project is under construction and Northern Kentucky officials are planning for a convention center upgrade.
These big once-in-a-generation projects are impactful. They give a gleaming boost to city and regional pride. They invigorate central business districts. They push revenue and jobs into area construction, finance, architecture, engineering, skilled trades, equipment and material supply sectors during their years-long planning and construction phase. Then they feed hospitality and related support operations, even local retail, for the next two or three decades.
Shows, conventions and conferences are big business. Expanded attendance and spend figures are "a new normal" for the industry, said Issa Jouraneh, senior vice president of American Express Meetings & Events, in his company's "2019 Global Meetings and Events Forecast." Also new, Jouraneh said, is that "the focus on attendee experience is intensifying."
Message received.
In early August,  the Kentucky International Convention Center celebrated the first anniversary of its reopening after a $208 million renovation and expansion that encased its concourses in glass walls so visitors see and connect with central downtown Louisville. EOP Architects, a Lexington-based firm that redesigned KICC along with HOK's Chicago Practice and Don Griberg, FAIA, gave the building a main entrance and imbued it with symbolic inspiration taken from Louisville's river city origins as well as its leafy system of 14 parks designed by Frederick Law Olmstead, the father of U.S. landscape design.
---
IT'S FREE | Sign up for The Lane Report email business newsletter. Receive breaking Kentucky business news and updates daily. Click here to sign up
---
Prior to its remake, KICC was like many such facilities built a generation or more ago: essentially a closed box. Lacking "transparency," attendees inside couldn't see where they were and Louisvillians outside had little clue an event was happening.
"It needed a true front door," said Rick Ekhoff, EOP co-founder and design principal. None of the multiple former entrances were "celebrated," and a basic lack of exterior identity made the place hard to find. The renovated structure now physically peaks and projects at Market and 4th Street, flanked by trees along pedestrian-only 4th.
"This canopy represents the parks of the city but also the city's front porch, which is a common Kentucky feature," Ekhoff said.
Crucially, KICC now tops 200,000 s.f. in its main exhibit space, which checks off a vital event site-selection box and lets it compete with Cincinnati, Charlotte, Indianapolis, Nashville and others. That's up from 146,000 s.f. previously. Its main ballroom went from 30,000 to 40,000 s.f. and has a twinkling ceiling. There are 52 meeting rooms and a 175-seat tiered conference theater that is just adding state-of-the-art audio-visual gear, guided by feedback from users in its first year.
Dramatic change in Lexington
Seventy miles east of Louisville, construction is now underway to replace Lexington Convention Center's 66,000-s.f. main exhibition hall with an open, glass-faced facility of 100,000 s.f. The west wall eventually will overlook a 9-acre park being designed to bring the famed Bluegrass countryside into Central Kentucky's commercial capital.
Steel for the new convention spaces is rising just west of iconic Rupp Arena, a national sports cathedral that ironically is nearly invisible now to visitors and locals alike from a half block away at Main and Broadway. Rupp's neutral-toned corrugated metal outer box will disappear in favor of dramatic exterior angles full of glass in patterns designed to call to mind a basketball net.
The $300 million undertaking is the largest capital project in Lexington history, said Bill Owen, president/CEO of Lexington Center, whose operations include Rupp, the convention center, The Shops at Lexington Center, Triangle Park (bounded by Broadway, Main and Vine streets) and the Lexington Opera House a block north at Broadway and Short.
Hard construction costs for the project, whose active planning and negotiation phases began in 2013, are $241 million, Owen said. Rupp/LCC construction is scheduled to be complete in 2022.
Efforts begun in 2013 to renovate now-43-year-old Rupp Arena and upgrade the main convention facility to at least 100,000 s.f. were slowed by the complicated process of figuring out how to pay for it as well as convincing University of Kentucky Athletics to extend its lease for key Rupp tenant UK basketball.
In the meantime, excitement about the plans being drafted inspired Lexington-Fayette officials to launch two other major related projects, Town Branch Commons and Town Branch Park.
A linear park, Town Branch Commons will roughly follow the path of and "daylight" Lexington's original water source, which is now in culverts under Midland Avenue and Vine Street. Continuous bike and walking paths in the green Commons ribbon through downtown will connect city parks, improve water quality, and link existing Town Branch Trail and the Legacy Trail into a 22-mile system that connects downtown to the Kentucky Horse Park and the region's renowned Bluegrass landscape.
It's part of a dramatic change coming to downtown Lexington, whose present convention space "is a bunker … with uninviting, hard edges," said Richard Polk, principal at EOP Architects, which also designed the LCC/Rupp project. "It didn't contribute to the pedestrian experience." Along with EOP, Seattle-based architecture firm NBBJ is the project's top-billed design entity; as with KICC, Grinberg consults also on the convention center portion of the design.
There will be no doubt: There's Rupp!
From nearby vantage points, Rupp's huge 23,500-seat arena structure can virtually disappear since it was wedged into a hillside when built in the mid-1970s, Owen said. There is a 38-foot grade from High Street on its southwest side to the arena floor. Owen knows some visitors at Main and Broadway, "the 110% corner" of the city in front of Lexington Center, don't know they are right next to the region's best-known landmark because he has been asked, "Where is it?"
"You could be in Triangle Park and not know Rupp Arena was there," Ekhoff said. Thus, the early theme of the Rupp-LCC remake project was "Free Rupp." "Rupp will be very prominently displayed. There will be no doubt that 'there's Rupp Arena!' "
He describes it as "a transformational project" for downtown Lexington.
More open and airy concourses, restaurant/lounge space, and a catwalk over the plaza between the convention center and the arena will all give Lexington multi-functional civic spaces.
"It extends the energy of the arena and convention center into the downtown area…," Ekhoff states in a Q&A on the EOP website. "We also implemented transparency into the overall design to amplify that even further."
The exteriors of Rupp/LCC will be taller, wider, glassy and angular, with a main entry prow projecting brightly into Triangle Park's "110% corner" and the rest of downtown Lexington.
"The look of Rupp is going to change dramatically," Polk said. The finished structure incorporates natural materials "that represent the context of Kentucky" and will provide texture and warmth to the design.
"The new architecture gives a much more dominant and contemporary and iconic appearance," Owen said.
'Monumental win' for contractor
The job as project general contractor was "a monumental win" for Messer Construction, said Mary Beth Wright, business development executive with the company's 30-year-old Lexington office.
Messer has 50 to 60 of its own skilled crafts employees on the project, Wright said, and these workers along with the managers have permanent jobs since Messer is employee owned.
"We don't get work then hire people to do it," she said. "We will add people, and then they will stay with us." The multiyear Lexington project "allows our management and craft workers to grow their skill set and advance their careers right here in their own backyard."
Headquartered in Cincinnati, Messer has 10 locations in four states. The Lexington office works on projects within approximately a 60-mile radius.
The general contractor is responsible for coordinating all subcontractor activities and for ensuring that work does not interfere with Rupp/LCC's ongoing events.
"They have to stay open and operational," Wright said. "That is a big piece of what we do. There is daily and sometimes hourly communication."
She described the lean scheduling for the project as "a pull method versus a push method. We bring all the subs in on a weekly basis. We plan the work with all the contractors in the room" so subcontractors can find opportunities to perform tasks around each other.
The Rupp/LCC job will allow Messer to grow its people, its capacity and the company, Wright said.
"If Lexington and Louisville did not do this," Polk said, "conventions would go to other cities." And the impact of that would ripple across the city and region.
"It's incredible what KICC has done in bringing extra conventions to Louisville," Ekhoff said. "It's off the charts."
Ekhoff and Polk expect similar results in Lexington.
Warm, welcoming and financially rewarding
"What that project is going to do to downtown Lexington is going to be incredible," Ekhoff said. "What it is going to do as an economic generator is incredible."
A study first done in 2011 and updated in 2016 for VisitLex, which handles the marketing for the convention center, reported that the economic impact of Lexington's 66,000-s.f. main space facility was $42 million, Owen said. Expanding the main convention space to at least 100,000 s.f. would grow that impact to $58 million annually, but staying at 66,000 would mean a major decline to $28 million annually as competitors upgraded.
That $30 million difference in business for hotels, restaurants, catering, retail and various support services spurred city leaders to work out the details. And it was key ammunition in seeking and securing financing.
At the convention center's current size, Lexington could pursue about 60% of the business event market, said Mary Quinn Ramer, president of VisitLEX, but it will be eligible for 90% of business events when it crosses the 100,000-s.f. threshold.
"The pond we can fish from gets much bigger," she said.
Meeting planners book several years in advance, and VisitLEX is now marketing for events in 2022, '23, '24 and '25.
"We have some very promising leads that are in process," Ramer said. "We've made it past all the (selection) hurdles except the very last one. We have a very high level of confidence" in landing new events.
"In travel right now there is such a premium to anything that is hyperlocal," she said, adding that what VisitLEX officials are most excited about regarding the Rupp-LCC project is "the amount of effort that went into the overall design of the space. There was absolutely an intentionality to make Main Street have a warm and welcoming space."
The convention center will incorporate the region's natural beauty with plenty of the small details that event planners like, Ramer said.
EOP did similar work on KICC's design detail.
"One request Louisville had was, 'We want them (visitors) to know that they are in Louisville,' " Ekhoff said.
Northern Kentucky next in line
Northern Kentucky community and convention/visitor officials are working through similar issues and have been closely watching their counterparts in the other two corners of the state's Golden Triangle. The Northern Kentucky Convention Center is 21 years old and has a 46,200-s.f. main space.
This summer a Minneapolis-based company, Conventions, Sports & Leisure International, was chosen to do a feasibility study for the marketability, funding and design for a potential expansion. CSL is the same firm Lexington officials hired to study their project.
The Northern Kentucky Convention Center has a prime riverfront location just across the Ohio River from downtown Cincinnati, with its event-attracting professional baseball and football stadiums and Duke Energy Center, a facility whose main space can open to 195,000 s.f. and includes a 42,000-s.f. ballroom. The Duke Center is 20 years old and at an age where it, too, could opt to upgrade.
Consultants already have advised that Northern Kentucky's facility "needs to look more contemporary," said Eric Summe, president/CEO of meetNKY. "In the market we're in, adaptability is key."
He expects the final result to be a larger convention center with flexible space that can transition efficiently for multiple events and make better use of technology.
Meanwhile, nearly next door in Covington is a 23-acre property the Internal Revenue Service is about to vacate this month, then convey to the city. Covington is still weighing its options for how to redevelop the property, which happens to include a parking area that is conveniently just south of the convention center.
At least partially in anticipation of the need to contribute capital toward upgrading the state-owned convention center, the multicounty area increased its lodging tax by 1% in fall 2017. Revenues are accumulating in a development fund Northern Kentucky hopes to use as seed matching money to attract financial support from Frankfort.
CSL will advise as to "the correct sweet spot we need to be at for our business," Summe said. "I would hope by the end of 2019 that we should have a discernable path." 
---
Mark Green is executive editor of The Lane Report. He can be reached at [email protected].