By Kathie Stamps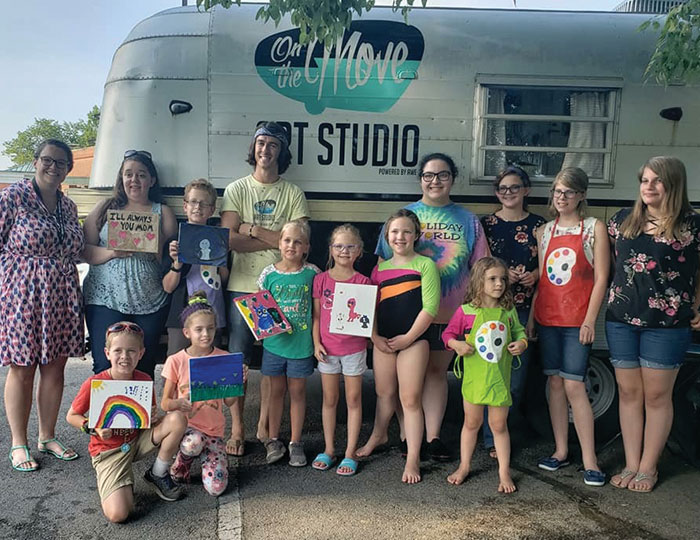 Art is more than a creative outlet; it has the power to provide a center of gravity and grounding in a chaotic world. For children in low-income neighborhoods throughout Central Kentucky, a mobile art studio meets them where they are, thanks to Josh Nadzam and his nonprofit organization Art, Work, Empowerment Inc., which does business as On The Move Art Studio.
Nadzam co-founded OTMAS with Central Kentucky artist Kathy Werking, who serves as lead art instructor for the organization. She also owns Kentucky Green Studio in Paris, where she sells her handcrafted candles.
One of the founding principles of the organization is, "We help children thrive through the power of creative arts classes and a consistent presence." OTMAS is a mobile art room that operates from a renovated 1969 Streamline trailer. Hitched to a truck, the trailer travels to neighborhoods, community centers, churches, parks and elementary and middle schools, where art classes are facilitated by local artists and other volunteers.
The organization is in the process of renovating a second trailer, a 1976 Airstream, and hopes to have a second truck donated so both can be out and about at the same time.
OTMAS offers weekly programming on a seasonal basis at certain venues, particularly schools, and has made special trips outside Central Kentucky to Henry, Laurel, McCreary, Nelson, Owen and Rockcastle counties. Location bookings are scheduled through the nonprofit's partnerships with more than 100 neighborhoods and organizations, from faith-based groups and locally owned businesses to public libraries and schools.
Since its ribbon cutting in September 2015, OTMAS has served over 27,000 children. In spring 2019 alone, an average of 400 kids per week experienced hands-on art activities.
"None of this would be possible without the community and culture here in Kentucky," Nadzam said. "In Lexington specifically, there is this unspoken mentality of 'a rising tide lifts all boats.' Everyone here wants to work together so we can make this a really special place for everyone."
He appreciates the fact that so many community-minded people dive right in with their own solutions instead of waiting around for someone else to address issues and fix problems.
The staff and volunteers have expanded offerings to include in-school arts programming at Title 1 schools that do not have an arts program, such as Paris Independent Elementary. Nadzam is also taking the mobile art studio to juvenile detention centers in Fayette and Campbell counties.
"It sounds cliché, but in the most literal sense this is a dream come true," he said. "This is exactly what I wanted to do with my life: start a nonprofit that helps children who grew up like me and be able to do what I love for a living."
Nadzam himself was an at-risk kid, growing up near Pittsburgh, Pa.
"My family struggled with many different issues like alcoholism, poverty, drug abuse and addiction," he said. "My childhood was pretty rough, to say the least."
He found a way out through sports. In 2007 Nadzam was a walk-on with the track and field team at the University of Kentucky and eventually earned a full scholarship to complete his bachelor's degree in 2011 and master's two years later, both in social work. Today, he teaches at UK in the College of Social Work and works full-time as the director of On The Move Art Studio.
"As we have hired more employees, my role has taken on a component of overseeing our employees and managing our various programs," he said.
Learn more about On The Move Art Studio at onthemoveartstudio.org.