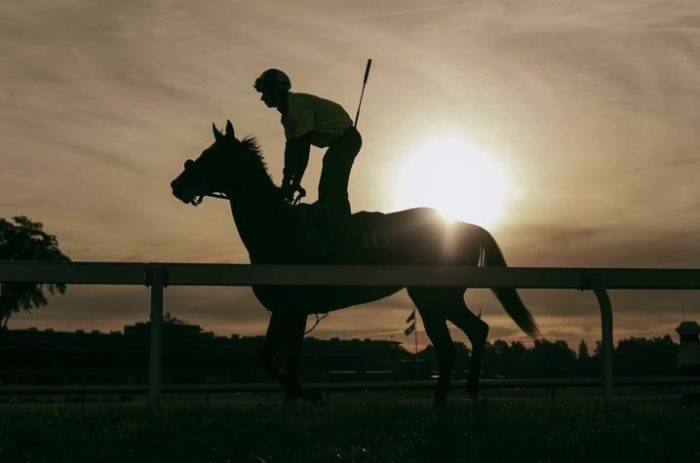 LEXINGTON, Ky. — Kentucky is home to many of the world's leading horsemen — individuals who have shaped the global Thoroughbred industry as we know it today. To capture their treasured stories and preserve and promote them for future generations, Keeneland Library, University of Kentucky Libraries' Louie B. Nunn Center for Oral History and Thoroughbred Daily News (TDN) have launched a new initiative titled Life's Work Oral History Project.
Life's Work features video and oral interviews from prominent figures in the equine industry whose passion and livelihood have been devoted to the Thoroughbred. Conducted by respected journalist Chris McGrath and filmed by Keeneland Broadcast Services, the interviews began appearing this August as monthly feature articles in TDN and TDN Look, as well as a feature video series. To date, installments have featured Claiborne Farm's Seth Hancock and Darby Dan's John Phillips.
The next interview with Keeneland Trustee Emeritus James E. "Ted" Bassett III is due later this month. An installment with Shadwell Farm Vice President and General Manager Rick Nichols is set to follow, among others.
In keeping with Keeneland Library's mission to preserve and promote the rich history of Thoroughbred racing, the library engaged UK Libraries' prestigious Nunn Center for Oral History to support the project. The Nunn Center's state-of-the-art archive will index and preserve each Life's Work video interview using its OHMS (Oral History Metadata Synchronizer) technology. Over the coming months, interviews will be released through the video catalog, which will be fully searchable and made available to the public for decades to come.
In addition to the full video interview, which is available on the Nunn Center's website, elements of the project include a video and podcast series produced by the Patty Wolfe Media Group.
The Nunn Center is recognized around the world as a leader and innovator in the collection and preservation of oral histories. Life's Work is the latest project between UK and Keeneland that focuses on the Thoroughbred industry.
"Oral history is such a powerful way to preserve the history of the thoroughbred industry," Nunn Center Director Doug Boyd said. "I am proud the Nunn Center can help connect these rich stories to a global audience."
"The preservation of our industry's rich history is at the core of our mission at Keeneland," Keeneland President and CEO Bill Thomason said. "We look forward to continuing our efforts to share the tremendous passion for Thoroughbred racing, which is woven throughout these stories. New vehicles and multimedia that are now available allow us to elevate these stories through rich and engaging content for the public to enjoy. It is fitting that the Keeneland Library is playing a role in capturing, celebrating and properly preserving the valuable stories of our industry for future generations."
The Keeneland Library was established in 1939 when Keeneland Trustee and Director William Arnold Hanger donated a 2,300-volume Turf collection of Robert James Turnbull. Today, the library is a public research and reference library that is one of the world's largest repositories of information related to the thoroughbred and the caretaker of many priceless materials.
The Thoroughbred Daily News is the world's largest and most widely read Thoroughbred eNewspaper, reaching 1.1 million individuals per year. Originally founded in the mid-1980s as a three- to five-page daily fax with 120 subscribers, the TDN now encompasses a website with breaking news, the daily paper, a mobile magazine (TDN Look) and video features.
The Nunn Center for Oral History at UK Libraries' Special Collections Research Center is recognized around the world as a leader and innovator in the collection and preservation of oral histories. The center is home to over 11,000 oral history interviews that provide a unique look into Kentucky and American history and represent an irreplaceable resource for researchers today and generations from now. The Nunn Center's collections focus on 20th century Kentucky history, Appalachia, Kentucky writers, agriculture, black history, the history of education, politics and public policy, the civil rights movement, veterans, the university, health care, as well as the coal, equine and Kentucky bourbon industries.