By Lorie Hailey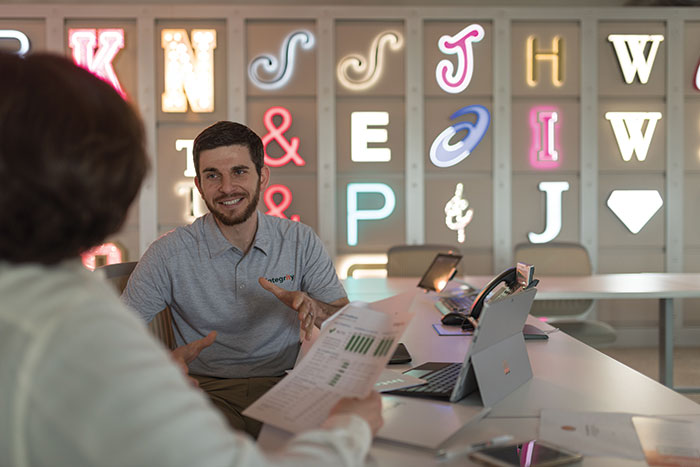 Lexington's highly educated workforce, low cost of living and lower business costs have led many highly technical and specialized business service firms to locate in Central Kentucky, according to Commerce Lexington.

Business and professional services is a targeted industry for local economic development, according to Commerce Lexington. In 2017, about 29,200 people were employed in Lexington's business and professional services industry, earning an average of $49,515 per year, Commerce Lexington said in a January 2019 report about the industry. Salaries averaged from $71,000 for primary services such as management of companies and professional and technical services, to $31,000 for secondary services like administration and support.
In July 2019, national customer service outsourcing company Faneuil announced plans to join Lexington's business and professional services sector. The company is establishing a new call center on the Coldstream Research Campus in northern Lexington, creating 450 full-time jobs over the next two years.
Faneuil provides a broad range of business process outsourcing, including customer care, back office and technical support. The company employs more than 5,500 people nationwide and provides customer service for commercial and government clients in sectors including transportation and tolling, health and human services, utilities, state and municipal governments and retail services.
Meanwhile, Conduent, which provides a multitude of business process services for companies across the globe, is already one of the largest business services employers in Lexington. Conduent was created in 2016 when Xerox split into two companies: a document technology company that retained the Xerox name, and Conduent, a business process outsourcing company. The latter has operated in Lexington and Richmond and other Kentucky cities for decades; today, it employs approximately 2,500 people in Central Kentucky.
With thousands of patents, Conduent is a leader in business process outsourcing and IT outsourcing across a variety of industries and the public sector. Thousands of companies rely on Conduent to help improve processes, manage client operations and their focus on core business. Conduent also specializes in IT solutions for levels of government. Its services include data center management, disaster recovery, network management services and help desk operations as well as high-volume solutions support, both statewide and worldwide.
---
IT'S FREE | Sign up for The Lane Report email business newsletter. Receive breaking Kentucky business news and updates daily. Click here to sign up
---
IBM, an industry leader in IT services and many personal and business products, has branch offices in Lexington and has been a staple in the community since it opened a large typewriter manufacturing operation here 60 years ago. Today, IBM operates as an information technology data center and its employees support sales and software development. It employs about 200 people.
Another big name in local professional services is Creative Lodging Solutions, which provides customized lodging programs to help corporate clients manage business travel. The company expanded its Lexington operations in 2017 when it was acquired by FLEETCOR Technologies, a global provider of commercial payment solutions. Now called CLC Solutions, it employs 300 in its southwest Lexington offices in Beaumont Centre. Since 2014, the company has invested $5.5 million to locate in a larger building and has created 245 new jobs.
Kentucky Employers' Mutual Insurance, the largest provider of workers' compensation insurance in Kentucky, also is located in Lexington. KEMI provides coverage to more than 22,000 policyholders in all 120 counties of the state, educates Kentucky businesses about workplace safety and invests in building community partnerships.
The decision by these business services companies and others to locate or remain in Central Kentucky is a testimony to the region's productive workforce and excellent business environment, Commerce Lexington said. Outside entities join in that high estimation. Lexington was named the No. 8 City with the Lowest Startup Costs by SmartAsset in 2016 and the No. 34 Best Place for Business and Careers by Forbes in 2017. In 2019, Lexington was named the 29th best place to live in the United States by U.S. News and World Report.
"Lexington is a place where big dreams happen. Our exciting city ranks high in quality of life; low in cost of living. We're overflowing with great restaurants, family friendly festivals, a lively arts and cultural scene, and a strong, diverse business community," said Linda Gorton, mayor of Lexington.
In today's business world, rapidly changing technology requires experts in specialized IT services. Central Kentucky has plenty of top-notch technology firms.
Lexington-based Integrity IT has seen the most growth in the past year among its existing clients who need help with cybersecurity incident response, investigations and security audits, said Joe Danaher, partner and chief information security officer.
Cloud services, such as Microsoft Office 365, are changing the way businesses operate and how IT companies assist them. Increasing concerns about cybersecurity are making an impact.
"Both (cloud services and security concerns) are driving technologies we are using to move our customers from on-premise email to the cloud and services and tools to keep their data and networks secure," Danaher said.
Integrity IT's partners come from different business backgrounds so
they can relate to their customers'
needs in a unique way, he said. The company also has a strong background in health care.
Integrity is just one of many information technology companies in Central Kentucky.
Lexington-based SIS, a 36-year-old technology solutions and services company, collaborates with its customers on innovative data center strategy, technology and application solutions in the cloud or on premises to drive better business results. SIS has 1,300 clients, small and large, across the country.
In early 2019, SIS was acquired by Converge Technology Solutions Corp., a Canadian company; CEO Steve Sigg is continuing in his role along with the existing SIS management team. Chris Sigg serves as president.
Working with SIS, Converge is introducing its hybrid solutions, including identity-based enterprise Blockchain, cognitive, cybersecurity, resiliency managed services and multi-cloud solutions to existing and new SIS customers.
"We are excited and honored to be part of Converge Technology Solutions Corp.," Chris Sigg said. "We have access to mature and compelling practice offerings across technology solutions we could not otherwise bring to market. It is powerful to see how this value to our clients can fuel our continued growth."
SIS has seen growth in the past year in many areas, including enterprise software, cloud and managed services, and data center infrastructure, Chris Sigg said.
"The markets and clients we serve are facing many more choices, complexities and infinite demands on technology to service their constituents," he said.
Kentucky Employers' Mutual Insurance (KEMI)
250 W. Main St., Suite 900,
Lexington, KY 40507-1724
(859) 425-7800
kemi.com
Kentucky Employers' Mutual Insurance (KEMI) is the largest provider of workers' compensation insurance in Kentucky, providing coverage to more than 23,000 policyholders in all 120 counties of the state. We provide exceptional underwriting, safety education and claims services to our policyholders. This, combined with our competitive pricing, responsible financial management and a focus on innovation makes KEMI the provider of choice for Kentucky businesses. We are proud to have earned and maintained an "excellent" rating by A.M. Best.
Integrity IT
3080 Harrodsburg Road
Suite 104
Lexington, KY 40503
(859) 253-4284
Integrityky.com
Integrity IT specializes in cyber security, managed services and project management in nearly all sectors of business with a strong history in healthcare. Its expertise strengthens and protects organizations, their customers and their brands. Integrity IT's solutions help businesses reach their maximum potential. Trusted technology. Stronger security. Better business.
Kentucky Capital Development Corp. (KCDC)
109 Consumer Lane
Frankfort, KY 40601
(502) 226-5611
Kycapitaldevelopment.com
KCDC provides opportunities for American and international businesses to move into the heart of the Bluegrass State while ensuring improvement in employment opportunities, private sector capital investments and the local tax base. Located in the capital of Kentucky, KCDC promotes Frankfort by finding alternative sources of funding for various development projects; promoting quality of life and assisting company locations and expansions by providing current, comprehensive market and property information. Since its inception, KCDC has helped created thousands of jobs in Franklin County. As job numbers continue to grow, we are hard at work guaranteeing our workforce continues to grow with them.
SIS
165 Barr St.
Lexington, KY 40507
(859) 977-4747
ThinkSIS.com
SIS, A Converge Company, offers world-class capabilities in data center, hybrid cloud, and managed services; enabling companies to leverage technology to streamline operations, enhance profitability, and create a strong foundation for future growth. SIS teams solve challenges and design solutions, leaving more time for clients to devote resources to core business strategies. SIS' proven methodology, experienced professionals and innovative technologies provide the highest quality of IT services to more than 1,300 clients.