By Matt Wickstrom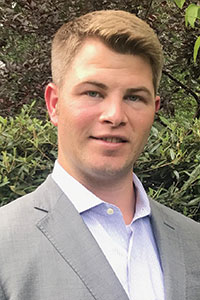 Approximately 1% of the population has some level of stuttering, according to the National Stuttering Association (NSA), and from a young age Doug Shearer recognized he was a part of that 1%. A stutter in his voice derailed his confidence speaking out in groups, and a lack of resources made it difficult to understand and cope with his condition or find others living through the same experiences.
In the years since, however, Shearer has learned to embrace the gift of his stutter. He has pushed past his own perceived barriers to a successful career as a project manager for Humana in addition to being president of the NSA's Louisville Adult Chapter, which he helped form in May 2019.
A 2012 graduate of UK's Gatton College with a bachelor's of business administration in finance, a 2015 graduate of Bellarmine's MBA program and Spring 2019 graduate of the Young Professionals Association of Louisville's (YPAL) Emerging Leaders program, Shearer has long had a vision of giving back to society and immediately noticed a potential void to fill in Louisville's stuttering community.
Shearer began to build confidence and embrace his stutter during a summer retreat while attending Trinity High School, then decided to use what he'd learned to help others dealing with similar experiences.
"I made a promise back then to my friends and family that I would do something to help make the world a better place," Shearer said. "Leading the NSA's Louisville chapter is one small way that I'm able to do that."
Shearer first heard of the NSA upon graduating college and attended the organization's annual conference in 2016 in Atlanta. The event was powerful and motivating due to meeting so many others with varying levels of stuttering, and put Shearer's own journey into perspective as well as providing a blueprint of sorts to connect the stuttering community in Louisville.
In fall 2018, Shearer got an opportunity to talk with Louisville Mayor Greg Fischer for a project he was doing as part of YPAL's Emerging Leaders program. After considering starting a chapter for several months, Shearer was pushed into action in May 2019 when an NSA director he'd met at the 2016 conference contacted him to suggest he do so. Reflecting on his conversation with Fischer, Shearer realized that he'd essentially volunteered himself to be chapter president, and committed himself to making it a reality.
The first Louisville NSA chapter meeting took place Aug. 13 with subsequent gatherings the second Tuesday of every month from 6-7 p.m. at the Louisville Memorial Auditorium, 970 South Fourth St.
In addition to providing a place for those with a stutter to meet, discuss their stories and build common ground to strengthen the community, chapter meetings aim to educate the community about stuttering and help employers learn how to respond to an employee or client who stutters. The community is out there, and it's just a matter of connecting the dots, according to Shearer.
"It's important for people who stutter to know that they are not alone," he said. "My goal is to help get the conversation started to help people turn their perceived weakness into their biggest strength."
The chapter's next meeting is Oct. 8. For more information visit WeStutter.org.