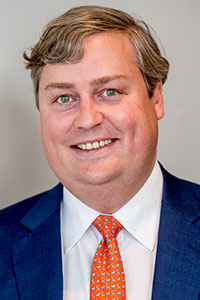 LEXINGTON, Ky. — The Breeders' Cup Limited Board of Directors voted unanimously Tuesday to elect former COO Drew Fleming president and CEO effective immediately, following the departure of Craig Fravel.
"Drew's track record at the Breeders' Cup speaks for itself," said Fred W. Hertrich III, board chairman of Breeders' Cup Limited. "He has already played an indispensable role in our work to promote and improve the industry, which he knows inside and out. Drew is the right person to lead the Breeders' Cup through this important time in our industry and into the next chapter of this great sport."
As COO of Breeders' Cup Limited, Fleming has led general day-to-day operations, including host track relations, long-term planning and growth, finance, sponsorships, marketing and legal. He works closely with future host site locations to ensure that the Breeders' Cup continues to be a first-class international event and to further improve the experience for all patrons. Additionally, Fleming has worked extensively in strategic planning and business negotiations to better position both the Breeders' Cup and the Thoroughbred industry for continued success and longevity.
"I am humbled and honored by the opportunity to lead the Breeders' Cup at a time when our industry is at a critical juncture," Fleming said. "The safety of our athletes and integrity of the sport will continue to be at the forefront of the Breeders' Cup's mission, and I look forward to expanding our efforts in this space through research, innovation and investment so the tradition and passion behind this sport can continue for future generations. Everyone in our industry has an important role in ensuring that horses and jockeys are racing under the safest and most transparent conditions possible.
"The Breeders' Cup will continue to lead by example and spearhead reforms until we get this right."
Fleming holds a bachelor of science degree in biology from Washington and Lee University and a juris doctorate from the University of Kentucky. He resides in Lexington, Ky., with his wife and son.
Fred Hertrich commented further, "On behalf of the board of directors, we feel lucky to have worked with someone like Craig for the last eight years and look forward to collaborating with him in his new role as CEO of Racing Operations at The Stronach Group. Thanks to Craig's vision and leadership, the Breeders' Cup has never been in a stronger position, which will provide a critical foundation for our work in the months and years ahead."
During his tenure as president and CEO of the Breeders' Cup, Fravel expanded international participation in the World Championships to its highest level and executed a long-term host site strategy. Other notable accomplishments that have cemented the Breeders' Cup's leadership role and strengthened the industry include negotiating an unprecedented 10-year partnership with NBC Sports to televise the World Championships through 2025 and successfully bringing the World Championships to two first time tracks in Keeneland and Del Mar.